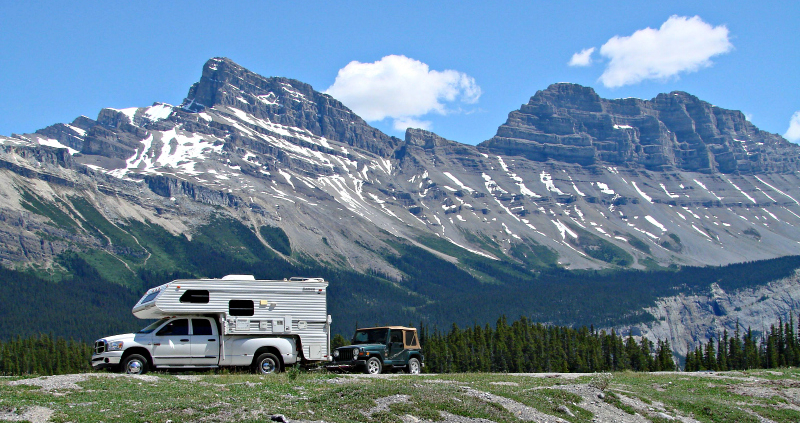 When Monty and I met in 1990 he was an experienced camper and I was clueless about the whole camping thing. I'd never actually camped at all, but Monty had spent many evenings around the campfire in his earlier years, riding dirt bikes, fishing or back packing in the Sierras while in dental school.
Monty had all the necessary gear for camping and I loved the outdoors so we started a journey that has taken us more places than we ever imagined and cemented our love for each other and the outdoors.
Tent camping can be a challenge but in Monty's words, if you sleep comfy, have good food and can get cleaned up you will love camping. I've learned he is as good as his word, and for four years we tent camped and loved it. Monty found the perfect sleeping bags that we still use to this day. The storage box trick, only paper products in the white box, only food in the blue one, blue cooler for meat, etc, and red cooler for cold drinks, kept us from continually searching thru the boxes. We were organized to the point of being out in the wilderness for a week and not running out of anything or needing a 7/11. Yes, we used lists then and we still use lists today when we load up the motor home.
The solar shower was the best. We laid the plastic shower bladder out in the sun in the morning and rode the ATV or hiked and when we arrived back at camp our shower was ready. Monty rigged it up in a tree and it was the best shower ever. Nothing compares to taking a shower out in the great outdoors. Clean bodies and a margarita and we were ready to fire up the grill.
Monty likes nothing better than building a campfire. I really think it is gender thing, guys like to build fires and keep poking the embers until there is nothing left. They just can't leave a camp fire alone. We've spent countless nights sitting by the fire, watching the flames, counting the stars and drinking hot chocolate. All of this worked great until we ran into a trip with inclement weather. Rain and tent camping do not mix well. It only took one vacation of rain to decide we were ready to move up to a camper.
We were living in a town house with Home Owner Association restrictions that limited our quest for the perfect camping set up. After some thought we decided to buy a house so we could get a truck and camper.  Now that is getting serious about camping! We found our perfect home in December of 1994.
We started getting serious about the camper and researched what we wanted, we looked at new ones and searched until we found a nice used one for sale. We bought a 1992 Lance camper from a fella in Tucson. We were pretty excited, we had arrived! The tent was good but this was really something. Of course we had to jack it up by hand (I always wondered why my arm was sore while we camped) but it had a stove and a refrigerator, and a great bed. We opened up the sleeping bags and threw them on top of the bed and we were all set for really cold nights. It had what is called a wet shower, one that includes the whole bathroom so the potty, sink and walls all got wet, but it had a furnace and there was even a furnace duct in the potty room. We loved that camper, and we used it in the Colorado mountains, Utah canyons, and the beaches in Mexico. We towed the ATV and loved exploring all of these areas.
When we decided a bit more room would be nice we upgraded to a 2000 Lance camper. We bought this one from a man in California who previously owned a Lance dealership.The manufacturer gave him a new Lance camper every year and his new one was waiting for him to sell this current one.
This was a fun trip. We scoped out a campground, to spend the night before returning home with our 'new' camper. We loaded a can of soup, sauce pan, some utensils and bedding in the truck and took off for Thousand Oaks, California.
We were very happy with the camper and Monty made the necessary adjustments to the truck, (tie downs and wiring was a little different) and loaded it on the truck on the first try. We stopped at the local market and picked up a bottle of wine and some cheesecake for dessert and we were all set to celebrate. We drove thru winding canyons and arrived at Leo Carrillo State Park just outside of Malibu. It was a treat to watch the sunset on the Pacific Ocean. We walked on the beach and slept with the hatch over the bed open and watched the stars. Life is good.
The 2000 Lance was a bit bigger than our 1992 camper, but that was just the beginning. First off, we didn't have to jack it up to get it on the truck. Monty simply pushed a button and the automatic jacks lifted it up and he drove the truck under it. OK, it was a bit of a tight squeeze, with the truck bed only about an inch wider than the camper, but no problem for my guy. We had a 'dry' shower (a nifty shower curtain keeps the potty, sink and mirror dry) sounds like a little thing but trust me, it was a big deal. We had a generator at the push of a button, and an absolute wonder, a micro-wave. We have arrived! This camper kept us snug while enjoying the Colorado, Utah, the western National Parks and Canada. We kept it even though we had the travel trailer and then the 5th wheel. We took one last trip in it with, our grandson Tommy, in 2012. It is the only thing we've sold that we really hated to say good-bye to. OK, we miss the ATV a lot too.
When we retired in January of 2002 we finally got to think about traveling as opposed to camping. Really, they are two different things. The thought ran thru our minds that maybe a little bigger traveling house would be nice. We still had the camper and it took us to the Florida Keys and the Pacific northwest and our first trip to Canada, but maybe… we needed a bit more room if we were going to take longer trips. After some research we decided on a travel trailer, in 2003 we bought a Starcraft and thought it was going to be the answer. Well, to make a long story a bit shorter we took one trip in that beast and slapped a 'For Sale' sign on it when we got home. To say that we didn't like the trailer would be an understatement. There was nothing we liked about it.
Although it was nice to have the extra room while traveling, the trailer was not the answer. We were driving a big dually truck so the only logical next step was a 5th wheel to tow. We looked around until we found what we wanted and then watched for a used one. We found it in Colorado a couple of months later. We drove up to South Fork and really liked the young man selling the 5th wheel and liked the rig, so off we went with our new traveling home.
The expression 'nothing is perfect' came about because people were looking for the perfect conveyance to use for several weeks on the road. The 5th wheel was spacious, had wonderful windows, glass enclosed shower, ceiling fans, and loads of storage space but .. . it was a pain to park and once it was parked you were stuck driving around in the big dually truck. Try that on Cape Cod!!
In 2012 we moved into the well loved 2008 motorhome. We have finally found our 'perfect' traveling conveyance. We're keeping this one until the wheels fall off. (motorhome story told separately)
http://carriebonello.com/wp-content/uploads/2018/05/home-away-home.jpg
451
800
cbonello
http://carriebonello.com/wp-content/uploads/2018/06/new-carrie-logo.png
cbonello
2018-05-31 15:46:56
2018-08-20 14:38:03
Home Away From Home