Mentioning the Bluegrass Festivals in the Colorado 2015 trip brings to mind the many Bluegrass festivals we have enjoyed. We didn't know much about bluegrass or traditional music when Monty started playing the resonator guitar, aka dobro. He had an old banjo that he plunked around on from time to time but he never had the time to put into serious playing. Retirement provided the time he needed to learn to play. After playing with it for a few months he decided he'd rather learn to play the dobro than continue on with the banjo. It was about 2009 when he sold the banjo and bought his first dobro. Thus began a whole new era in our lives.
Bluegrass is a form of music inspired by the music of Appalachia. It's American roots music and a sub-genre of country music. Think of front porch pickin' in the early 1900's and it brings to mind family gatherings with everyone pulling out something to play and old songs that were part of the fabric of their lives.
Now bluegrass can be heard around the country and the beauty of this genre is the people gathering to play. Someone will suggest a jam and people will show up to play. The Desert Bluegrass Association holds jams several times a month at various locations around town. It is an opportunity for anyone who wants to show up to play. Traditional bluegrass usually includes guitar, fiddle, banjo, mandolin and bass. The dobro is an added bonus for these gatherings. A jam may consist of a banjo, bass, and maybe a couple of guitars , fiddles or mandolins. Lots of people play more than one instrument so if the balance isn't what is needed they simply switch to another instrument.
Monty has worked through the challenge of learning to play a new instrument, even when there was no dobro instructor in town. Learning to play using books and on line videos isn't the easiest way to learn a new instrument.  He has gained a vast array of friends from every walk of life, from truck drivers, and ranchers, to a Ph.d. from Harvard and a neuroscientist, the bluegrass community is diverse. He can go and play at a jam almost every week, in addition pickers invite others over for house jams. They have monthly jams at an assisted living center, the State Nursing Home for Arizona Veterans, and a quarterly jam at an Alzheimers facility. He claims these are great places to play because the older people don't have very good aim when they throw things. He plays at the courtyard at Trail Dust Town and several restaurants around town and every year at the County Fair. Plus he has discovered a country western jam every Wednesday afternoon that he loves. We plan our week on a bluegrass calendar.
It is amazing to me that Monty can decide to learn to play a complicated instrument and persevere until he can go out and play with others who have been doing this for years. Many of his friends have been playing since they were kids, some came from families where everyone played and it was just a matter a fact thing that they all played at family gatherings. That leads to another challenge. Most of theses guys know a
lot of bluegrass songs that they have been singing and playing for years. Everything Monty learns is a new song for him. I can't even begin to imagine memorizing all of those lyrics! Bluegrass jams do not utilize any written form of the music. You have to learn to play each song.
The Desert Bluegrass Association has a beginners workshop each week, Monty faithfully attended this workshop for several years and learned a lot about playing music with others and the etiquette of jamming. In fact he taught a class of 'junior jammers' for a year to help newcomers learn how to go out and jam with a group. The art of choosing a song, and being the lead singer plus including others to play leads is a ballet of sorts. Monty does it well.
Monty was attending the workshop at the same time there were several other people at his intermediate level coming up through the ranks. A group of them formed a band and played a bit.  It was good experience but convinced Monty that he didn't really have any interest in playing in a band per se. He quickly discovered a band selects a few songs and plays them over and over again and calls it a rehearsal. He didn't want to play the same few songs repeatedly. Most of the bands that form play together for a month or so and then everyone moves on. He just prefers to do his own thing and that works great.
Monty has written a couple of songs that are really nice and although jams are usually for the traditional bluegrass songs he has a chance to sing and play them at the country western get together. He has a really nice singing voice and it is fun to listen to him.
This whole community of bluegrass has brought us so many friends. Bluegrass festivals are a great way to meet folks from around the country who want to sing and play. After hours at festivals everyone brings out their instruments and a jams are set up around the various campsites. These people might start the weekend as strangers but after playing together for a couple of nights they are friends.
One of our favorite festivals is held in March at Lake Havasu. The weather is usually pretty nice and the music is held in a park right at the lakeside. There may be a hundred RVs parked in the parking lot with awnings out and lots of chairs scattered around on the outdoor carpet spread on the asphalt. Many of the attendees are snowbirds escaping the cold weather to enjoy the sunbelt. There is music in the bandstand all day and at night music flows from the campers. One year when we were there, the campers next to us invited Monty to play and share the special home made apple pie moonshine she made for the event. I laughed at the tiny little communion glasses she had for the moon shine but it was tasty and the music was excellent.
Speaking of excellent music the bands that come to play at festivals are always enjoyable. Of course some festivals have a better selection of bands than others but what's not to like about sitting in the great outdoors and just kicking back and enjoying the music. Not to mention the opportunity to play every night with different groups of people.
We have gone to many festivals over the years, Tucson, Wickenburg, Benson, Casa Grande, and Lake Havasu in Arizona. Medical Lake, located near Spokane,Washington, Dothan, Alabama and the two festivals this year in Colorado. We tend to like a variety of music, New Grass is gaining popularity now with a lot of the younger fans. Some of the old Bluegrass folks are really tied to the traditional music and aren't anxious to incorporate the newer sound into some of the old festivals. We pick and chose the festival based on the bands. Both of the Colorado festivals this year were great, a nice variety and really not too much of the really old stuff. This year was our first time at Pagosa Springs, but we were in Westcliffe four years ago. We really enjoy the host band from the area, their band selection is top notch and the setting is spectacular.
One story that makes us laugh every time we think about it is about one of the bluegrass players and his wife who didn't particularly like bluegrass music, she especially disliked the old traditional Bill Monroe music of the early days. One winter she had been really sick with the flu and was sleeping in the guest bedroom. Bob had been practicing in that room earlier in the day and had some Bill Monroe music on the computer. In the middle of the night the computer ticked on and Bill Monroe started singing loud and clear. Barbara rolled over and said, "Oh my God, I've died and gone to Hell.' Bill Monroe sort of has that affect on us too. One or two songs from that era and that's about enough as far as a festival goes. At home we listen to Dire Straits, The Eagles, Neil Diamond and Pink Floyd, throw in Marc Cohen, and some country and you have a mix. No bluegrass on our 'favorites list'.
Monty always takes his dobro when we travel, we check the Internet and search out local jams and he arrives dobro in hand to sit in.  That's one thing that bluegrass provides that no other form of music does. The opportunity to just show up and play. The bluegrass community is very friendly and open to new comers. He has played at a pub in Missoula a couple of times and got an invitation out to a ranch by the lake to play. Also this last trip to Durango he played at a local brewery. Mt. View Arkansas is a perfect venue for playing and we have enjoyed stopping there twice on our travels. Music is what brought Dianne and Stuart into our lives and we have enjoyed meeting them around the country to play together.
As said this has opened up a whole new world for  us and we have certainly enjoyed it. Oh, don't mention  Pink Floyd or Dire Straits to anyone OK?  Word might get back to the bluegrass community!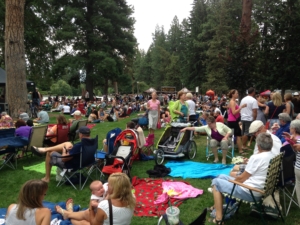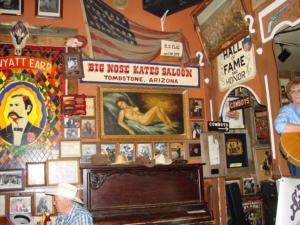 http://carriebonello.com/wp-content/uploads/2018/06/Tombstone-Bluegrass-2012-025.jpg
2304
3072
cbonello
http://carriebonello.com/wp-content/uploads/2018/06/new-carrie-logo.png
cbonello
2018-06-27 20:57:51
2018-06-27 20:57:51
Bluegrass