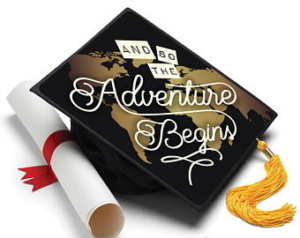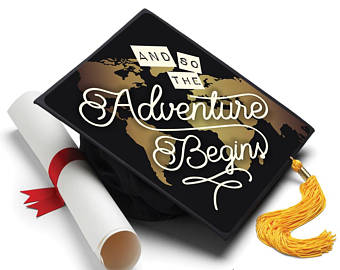 This is the time of year we celebrate graduates. Like many families across American ours was caught up in the festivities.    
We have nine grandchildren, seven live in Phoenix and two in Colorado. Our oldest grandson has two sons of his own.  As you can see there are a lot of opportunities for graduations.  By our calculations we have probably attended our last high school graduation.  The next in line is Will in Colorado, he just graduated from pre-kindergarten last week. His brother, Max, will have his first birthday this week.  I think it is optimistic to think we will be standing in the high school football stadium cheering Will's high school graduation in 2031!  
Our grandson, Tommy, graduated from High School in May, along with four hundred and nine of his best friends.  He is the youngest of my daughter's four children.  He has survived living in an estrogen filled house with his mom and three older sisters so I think he is more than ready to start dorm life at Arizona State University (ASU). He won't be alone at ASU, his sister Sarah is there studying Nursing and sister Rachel is studying Business.  Katie graduated two years ago and started her career in business..  My daughter, Tricia, will be joining the empty nesters, rattling around in a house that used to be filled with young people.  
In May, ASU held college graduation and Jordan graduated with top honors and a degree in Engineering.  Her older brother, Daniel,  graduated last year with a Business degree, and her younger sister, Hannah will graduate in December with a degree in Construction Management. Their parents, my son Greg and his wife Debbie, deserve to be proud of this bunch.  Greg and Debbie have two grandsons to keep them busy, I don't think they will notice the empty nest.
Watching graduates cross the stage is such an emotional event, it always tugs at my heart strings.  I love the cheering families, and the tears of joy.  The young people are breathing a sigh of relief, four long years of sitting in class and they finally arrived at this night.   The graduates are all wearing big smiles along with the  funny caps and gowns.  The older folks are thinking of everything these kids have ahead of them.
Graduation milestones deserve the wholehearted celebration they receive, but they are really stepping stones, there is so much more to come, careers, marriage, families, this is just the beginning.  Let the adventure begin!
Congratulations to all the graduates!
http://carriebonello.com/wp-content/uploads/2018/06/il_340x270.1387021127_15t2.jpg
270
340
cbonello
http://carriebonello.com/wp-content/uploads/2018/06/new-carrie-logo.png
cbonello
2018-06-13 13:25:14
2018-07-03 17:03:47
Graduation