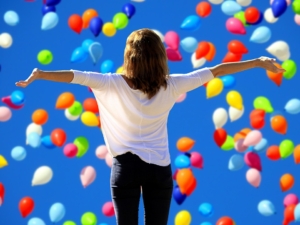 What does joy look like to you? Joy comes in many shapes and forms. I think we all agree joy is found most profoundly in the tiny newborn, a child, grandchild or great grand child, the joy at their birth is overwhelming. What a miracle to be entrusted with this bundle of joy. Although this new life may be the pinnacle of our joy, where is your everyday joy?
For me, joy starts first thing in the morning when I wake up and take Monty's hand, as we make room for Zoe to snuggle in with us we hold hands and talk about our day. There might be something special happening but the majority of the days would be considered ordinary. Maybe he is going to play music with friends and I'm looking forward to finishing the book I've been reading. Maybe I'll run over and visit with my sister, that's always a treat. Joy comes in many forms.
When I step up to take a walk on the treadmill I have pictures of lakes, beaches, deserts and mountains to enjoy along with positive words of healing, support and choices. A couple of my favorite affirmations read: 'Joy is the simplest form of gratitude'. ''My heart is overflowing with joy. Making a choice to be happy is not always easy but I know it is worth doing.'
When we start the day holding hands and talking, it sets the tone for everything that is to follow. I'll admit seeking the joy in stressful situation is like a treasure hunt, but we are lucky to be able to see the humor in almost any situation. Maybe because we have learned to laugh at ourselves.
One thing I know for sure, joy is meant to be shared. The joyful encounters I've had with perfect strangers linger in my memory and make me smile. Do you ever just stop and tell a stranger that their hair is beautiful, or you love their colorful blouse. Their faces lights up with a smile that is truly joyful. Try it!
Smiling and adding hello or good morning to the people you pass on the library steps or the parking lot brings eye contact and usually a response and smile. OK, not always, I don't look like a serial killer so I like to think they were just lost in their own joy.
Last summer when Monty and I were traveling through Colorado we experienced a moment of pure joy. We were riding along a narrow two lane country road through a meadow of green grass, the snow capped mountains surrounding the meadow looked like we could reach out and touch them. The sky was a glorious blue and the cows in the meadow were gathered at the edge of a pond. As we passed there was an instant of reflection in the pond. We saw the blue sky, snow on the mountains, green grass and brown and white cows all at once in the pond. It was such an incredible flash of beauty we both gasped and shouted. " Did you see that". I can't adequately describe that perfect flash in time. This has been one of our favorite joyful moments.
One of the best parts of the day is aptly named 'happy hour'. We pour a glass of wine and adjourn to the patio where we sit side by side, watch the mountains turn pink as sun sets, listen to the wind chimes and talk about our day. Our chairs have to be just the right distance apart so Zoe can squeeze in-between them and feel a part of the ritual.
Another quote on my wall " Find ecstasy in life; the mere sense of living is joy enough", Emily Dickinson.
Hopefully you have many joy filled memories you take out and revisit often.
http://carriebonello.com/wp-content/uploads/2018/06/joy.jpg
719
960
cbonello
http://carriebonello.com/wp-content/uploads/2018/06/new-carrie-logo.png
cbonello
2018-06-06 13:45:02
2018-06-06 13:45:02
Joy