Earlier travels on this blog have been from a book I wrote for family about our travels. The trip is after the book was printed. We might start Volume 2 with this trip. Maine seems to be popular destination for us but every time we go there it is a different route. This might prove to be one of our favorite trips. I hope you enjoy it as much as we did.
We have several east cost destinations in mind for this trip, a couple with lobsters in mind. There is a lot we want to see on the way so the final turn-around point hasn't been determined. I guess when we get tired we'll turn around. We plan to see some of America's heartland on this trip. In our travels we have somehow missed both Iowa and Nebraska and we intend to correct that oversight. We have been paying less that $2 a gallon for gas so that is a real plus!
Usually our trips head north and the first stop is Flagstaff, a welcome relief from the 107 degrees in Tucson but this time we headed east to New Mexico and up through the state into the plains of Colorado. Not much to say about New Mexico, really not one of our favorite states. Although both of the state parks we stopped at were clean, nice and a bargain at $14.
Colorado is one of our favorite places but since we have spent a lot of time in the Colorado Mountains we decided to cross the Continental Divide in New Mexico and head north on the eastern side of the Rockies. We followed the red line on the map (state road) passing through Last Chance, they had a stop sign, Pumpkin Center didn't. Rocky Ford, a farming center, appeared to be a thriving community. It is nice to have a chance to drive at a slower pace and enjoy these places. It doesn't bother us to leave the Interstate to the trucks.
Next stop was Ogallala NE. Love that name, it reminds me of the orangutan and the dog on the commercial with the song by Roger Miller. This is a big agricultural area, as is most of Nebraska. We enjoyed the drive across the mid section of Nebraska to Grand Island, lovely green rolling hills and lots of corn. Wasn't high as an elephants eye yet, tho! Grand Island isn't a large place, about 50,000 people. Kind of odd but they have camping in what amounts to a city park, right in town. Like camping in Reid Park at home, but this park has two lovely lakes. Lots of families camping, kids playing, swimming and fishing. I think it is a bit strange for people to camp 5 miles from home but as Monty says, "It's the plains, the scenery doesn't change much so why drive 100 miles for the same scenery." I guess he has a point.
We went to the Stuhr Prairie Museum, I read about this years ago and had it on our list. It was an odd place, a huge piece of land, I couldn't guess how many acres. Since this is billed as Prairie Museum we expected rustic buildings and such. There was some of that but the main building was a huge white marble structure that looked more like a mausoleum than anything else. There were white columns all around and the most unusual thing was the moat, yes a 20' wide moat running all around the building. It was just the strangest thing we'd ever seen. We were so awe struck by the building it was difficult to get back on track to view the displays. Actually there wasn't much on display, in this building but a few artifacts from the early 1800's, a dentist chair and what appeared to be implements of torture. It was kind of gruesome. There was a nice display of old railroad photos that we found interesting.
The railroad town was charming with people in period dress in the stores etc. One of the main houses that was moved to the property in the 60's was built in the late 1800's. It was a lovely five bedroom home with interesting furniture. It was occupied by the same family until the 1930's. The chandelier was set up with both acetylene gas and electricity. Since electricity was developed primarily for businesses it was turned off when the businesses closed. Kind of defeats the purpose of electric lights but I guess the gas worked and we had to admit the chandelier was ingenious.
We are learning a lot about our smart phones; one thing we learned is that my phone is smarter than Monty's. When we entered the Central time zone my phone made the adjustment to Chicago time but Monty's connected to Denver time. They were an hour different. We had to laugh when we each made the adjustment to the wall clock he moved it one way and I was right after him to move it the other. Then we couldn't decide for sure who was right. Of course we both thought we were right after all our smart phones confirmed it!
Once we decided what time it was we made an appointment to tour the Hornady ammunition factory. That sounds like a strange thing to do but we've found factory tours to be one of the real treats of RV travel. Our most memorable tour was the Harley Davidson factory in Pennsylvania a few years ago. That year we also toured the Corvette factory in Bowling Green, Kentucky. Neither one was giving out free samples. This tour of Hornady was very interesting and the guide was excellent. We saw lead being melted and copper jackets being made and saw the shooting range where they test seven bullets from each lot number. We watched as the ammunition was inspected and packed by hand.
One of the most interesting things was the extensive Ruger collection on display. There must have been over fifty Rugers on display, all with the same serial number. They get one every year from the Ruger manufacture. In the 80's the company suffered a tragedy when a small plane carrying the top three executives went down in a storm. Although it was devastating, the family owned company continued on and Hornaday is now the number one ammunition manufacturer in the world. The guide was delightful and loves this company for the way they treat their 300+ employees and she was proud to be part of this organization. It was refreshing.
Oh my gosh, when the sun disappeared the fireflies came out. They are truly magical little guys. I absolutely love them. We turned out the lights and enjoyed the light show. The environment must have been just right because there were so many of them. It was delightful, what a treat!
Making our way from Grand Island up to Omaha we found a camping spot in a large country park just outside the city. We spent the afternoon at the Heartland of America Park in Omaha. This is a beautiful park in the heart of Omaha's old Market District. We loved the lakes and water features. There were lots of young people in the park most of them using their phones to 'find' Pokeman creatures. We think this is what's going on but we really don't have a clue. They were all having fun and they were outside so that is a plus!.
I've read so many good things about the zoo in Omaha that I really wanted to see it. Little did I know it was impossible to see it all in one day. This is a wonderful zoo, it is huge and such a beautiful place .To find one exhibit we had to find the elevator building. Really an elevator building in a zoo? The elevator went down two floors and after wandering through the silver back gorillas and orangutans we arrived outside again. The facilities remind us of Disneyland, everything is clean and neat the habitats are spacious and the inhabitants looked well cared for. The jungle building was unreal, we entered on the main floor and found ourselves in a tree top jungle walkway enjoying the sights and sounds of the jungle along with all the birds and monkeys. Ropes stretched across the paths for kids to swing on. Tarzan would have been right at home here.
In the safari area along with the animals found in the African Savannah there is a tent camp for overnight safari stays. Now that would be fun, sleeping next to the lion enclosure and watching the animals at night. The concrete walkways were made to look muddy with tire and animal tracks. The kids loved the helicopter and the land rover on display, each had a key and made the appropriate noises when it was turned. The whole place was set up like a safari camp. We really enjoyed it.
We took the sky way chairlift over many of the enclosures. It was fun just dangling our feet over the herd of giraffes. We were anxious to get back to the other side of the park to see the bears being fed but the skyway was not working because of the threat of lightening. We had to walk up and down hills to get back to see the feeding of the bears. It was much easier taking the skyway! We finally found the bears but those pesky little kids were all up front and it was difficult to get any good pictures.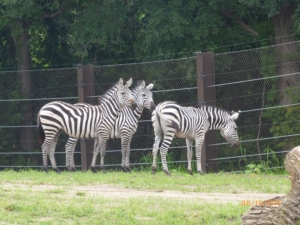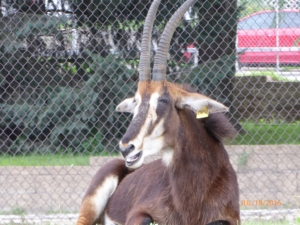 We finally stopped for a break and we were almost glad to see the first rain drops. We ducked into the desert dome, all the usual suspects were housed there, it was such a labyrinth we almost didn't find our way out! The rain was still falling and people were leaving so we headed home. Long story short, a great zoo! Wear good shoes, pack light, prepare to stay for many hours. We have great pictures of many of the animals, I really love the big cats.
Nebraska is in our rear-view mirror, we are in search of the butter cow! Yep Iowa. We are a little early for the Iowa State Fair but I'm sure Duffy Lyon, the butter cow lady, who carves the butter cow has already started her project. She has been carving the butter cow for forty years. Iowa is very pretty, Mother Nature threw down a green velvet carpet interrupted only by the acres and acres of corn. The rolling hills make wonderful contours and the farmers use the whole hill. One thing we learned about Iowa, in the summer you mow and in the winter you shovel.
We enjoyed a stop at the Amana Colonies. We read about these colonies a couple of years ago in our travel bible, 'One Thousand Places To See Before You Die' . We are on page 793, what happens when we finish it? YIKES! In the Amana colonies, German settlers bought 26,000 acres and set up seven communal colonies between 1855 and 1862. Each colony is set an hour oxen drive from the other. The communal effort worked well until the Great Depression when people stopped buying their handcrafted items. The colonies are small groups of houses, each is lovingly cared for, freshly painted, with flowers and of course, grass from the foundation to the street. Lilly Lake is outside the Middle Amana Colony. It is covered with big flowering lilly pads. There is an Amana plant nearby that makes appliances. I think it is now Westinghouse. There are about 1,700 descendants of the original settlers still making fine woodwork, crafts, pastries and bread. We stopped at the bakery twice in one day and decided it wasn't good for our health to stay much longer. The almond, vanilla custard stuffed pastry was to die for.
Our friends, Dianne and Stuart suggested we stop at the Herbert Hover Museum and Library. What a treat that was. We didn't know too much about Herbert but we now appreciate what a great humanitarian he was. He was born into a Quaker family in West Branch, Iowa, near Cedar Rapids. He was orphaned at the age of 10 and sent to live with an aunt and uncle on the West coast. Two dimes were sewn into his jacket and he was given a basket of food for his solo trip on the train. He graduated from Stanford, becoming a mining engineer who traveled all over the world. But his accomplishments go way beyond both his mining career and his presidency. He was elected president just before the stock market crash and bore the brunt of the blame for that. Although according to the information at the library he told President Cleveland that a crash was coming but his advice was ignored (afterall, this is his museum) He fell out of favor with the public for several years but Harry Truman appreciated the contributions he had made to the country and they became good friends, Herbert was back in good graces again. The museum was very nice and we learned so much about American history, as well as the man who was the 31st president of the United States. Take a minute and Google his humanitarian efforts, I think you will be surprised.

We were looking forward to a tour of the John Deere factory in Waterloo. We don't know much about tractors but why not learn from this well known tractor company. The cab factory wasn't offering tours at this time so we went across town to the plant where they assemble engines. We made reservations for Friday morning not knowing that the next week was the summer shutdown. A huge facility that usually housed about 450 employees was staffed by a skeleton crew of about 25. So, although the guide was very informative telling us what a particular machine did, it wasn't the same as seeing the machine actually do it. The tour was divided into three groups. Ours consisted of 18 University of Iowa engineering students and us. They were nice young men and let us sit up front in the tram since we'd never be able to see around them. Big boys! Good thing there was a tram because the plant was so large that one door was in Cedar Falls, Iowa and the far door was in Waterloo, Iowa. John Deere employees about 5,600 people in the valley.
We moved up toward the Volgo River area intent on traveling some of the scenic byways along the Mississippi River and of course more hilly farms with corn and soy bean crops. We stopped at some lovely small communities then ran into a detour and promptly got lost. Really this corn all looks a lot alike. We wandered around for a bit and finally discovered we were many miles in the wrong direction. Oh well, this is what it is all about. You know what they say, 'Not the destination but the journey.' We camped near a lake between two small towns, Fayette and West Union. We picked up the local newspaper at the
produce stand and discovered stock car racing on Friday nights in West Union. You know, we don't spend a lot of time at stock car races but what is more all-American than Friday night at the raceway. We jumped in the car and headed over there. The noise of those healthy, deep breath ing engines vibrated our bones. We were standing and cheering like the locals when those good old boys hit the throttle. Honest they hit the start line on three wheels and kept it there all the way through the first turn. There was only one roll over, no injuries, and one fire in a nitro burner but other than that it seemed like just another Friday night.
Gosh I love this stuff! When I was in high school we had a quarter mile measured off on Limberlost between Oracle and Stone (it was out in the sticks then) We'd drag race out there until the cops showed up. But it was the same kind of excitement.
We are ready to say good-by to Iowa and head up to Wabasha, Minnesota to visit the National Eagle Center. We are not traveling in a straight line on much of this trip. The drive was delightful, again we are on the little red state roads and the scenery is green and relaxing. We are still seeing lots of barns with quilt designs above the doors, I believe they are part of the Barn Quilt Road through this part of the country. Every design is different. There are many big barns, silos and charming farm houses. We are traveling on a Sunday morning and the Amish people of the area are on their way to meeting. We slowed to 15 MPH as we passed each horse drawn buggy. Some buggies were small with husband, wife and maybe a baby on mom's lap. Others were drawn by two horses, one in particular, dad was driving with mom and there were 4 or 5 little boys in the back, all in their matching church clothes and straw hats. I found it heart-warming.
We found our way to the only RV park in Wabasha, this being the weekend the city park was full of boaters. This little town is right on the  Mississippi River and it seems like everyone has a boat and a tricked-out truck to tow it. We've never seen so many red trucks or so much chrome. Lots of 5th wheels and travel trailers, not too many motorhomes. Here again, people like to camp in the city parks and tailgate.
We were looking forward to visiting the National Eagle Center and it turned out to be even better than we anticipated. The Center is located right on the Mississippi River and this particular location was chosen because at this point the Mississippi is joined by the Chippewa River and the mix of water makes it a bit warmer so the river doesn't freeze here. The eagles use it as a nesting ground and actually hang around the area so they can catch fish all year. Speaking of nests, we were surprised to hear some eagles keep adding to their nest year after year until it can reach as much as nine feet across and weigh hundreds of pounds. There was a huge replica of a nest in the lobby. We could walk around in it! In fact, they had a newspaper article abut a black bear hibernating in an eagles nest in Wisconsin. The young gal that presented the program and showed us one of the eagles was so dynamic and full of fun we not only learned a lot but had a good time doing it. It was without doubt one of the best programs we have heard. I was somewhat disappointed to learn that eagles don't necessarily mate for life but are actually more interested in keeping in touch with their nest than their mate. Apparently location and housekeeping are more important than the bond. I guess if the nest is there but Hazel doesn't show up next year Henry just attracts another female. (probably younger!!) The mating dance is fascinating with the two eagles meeting high in the air and actually almost holding feet together and spinning around toward the ground. The daring of how far to actually dive toward earth before pulling up and the ability of the birds to dance together is the way the birds decide if each will be a good mate.
There were about seventy people, young and old listening to the trainer tell us about the eagles. When she asked for volunteers a man from the left side of the room got up and a young lady from the middle section got up. They were instructed to hold hands in the front of the room and turn around (like ring around the rosie) After they turned and dipped up and down a few times the trainer pronounced them married. The man looked back at his wife and said , 'I'm sorry  honey, I didn't know! Everyone laughed and then he introduced his 'new' wife to his son in the front row. After they sat down the trainer requested a child come up to the front. A little girl was there celebrating her tenth birthday and she was eager to participate. She stood still while the docent started a guessing game about how much the average eagle weighed. The little girl wasn't sure but she was eager to hold one. They got out one of the big gloves, which are deceptively heavy, and the little girl held her arm up while the trainer went to get the eagle. When the trainer came back she burst into the room with fan fare and threw a big stuffed eagle in the little girls arms. The poor kid was so panicked she screamed and spit out her gum. To be honest we all screamed! The trainer explained that they really couldn't let her hold the eagle. I think she was just as happy to be able to sit down. It was just so much fun, we really loved this place.
There were three bald eagles on display, which is a misnomer, after the age of five they have beautiful white feathered heads. The golden eagle does not have the white head and looks a bit like an overgrown hawk. The birds are very territorial and they will call and squawk when eagles fly by on the river to let the strangers know this is their part of the river. Eagles are loners and do not cozy up to each other or to the handlers. We watched as Angel, a 17 year old eagle enjoyed her fish dinner. She was not a dainty eater and simply threw the parts of the fish she didn't want on the floor.  In the wild she probably would have eaten all of the fish but she knows there is dinner again tomorrow so some of the spine she just spit out. Eagles digest everything even the bones! After lunch she went to her bath tub and washed her face. According to the menu they passed around (it looked a lot like a menu from Chili's) they enjoy a variety of fish and sometimes other tasty treats. One of the handlers said they especially like Fridays when rats are on the menu.
After visiting with the eagles we enjoyed dinner at Slippery's, (no rats on the menu). Slipppery's a great place right on the Mississippi River, we scored a table out on the dock and enjoyed watching boats of every kind on the river. The setting was lovely and we wandered down the river a bit and found a nice bench surrounded by flowers. We loved the houses right on the river, all of them had small docks with chairs and an umbrella table waiting for happy hour. We wanted to move there.
We left Minnesota and headed back down to Baraboo, Wisconsin. There are a couple of things we want to see here. Accommodations are at a premium, there are lots of families in the area to go to the Dells. We finally found a RV Resort that was pretty nice. Lots of activities for kids; pool, miniature golf, and canoes and kayaks right on the river. Families come to this resort to spend the week.
Our first stop was to see the House on the Rock. This is a very strange place. Again you might want to Google it. Some eccentric guy decided to build a house on a rock. Literally he used the rock as the base, created rooms around it. I have no idea why, then he continued to add wings and create a huge house full of stuff. I can't even begin to explain all the rooms and stuff that are displayed. Mostly, I thought it was really creepy. There was even a little town with shop windows full of evil looking dolls, strange lamps and puppets, all very dark. The huge room displaying sailing stuff might have been interesting except for the life size whale and giant squid fighting it out in the center of the room, it was all unsettling. The definition of gaudy was the carousal room; unbelievable. Monty finally said he had to get out of there, there was so much going on, the carousal was huge with animals and mermaids and everything else with thousands of lights, the room was hung with angels and fairies and 'things'. It was so overwhelming we were happy to shut the door on the whole place. You are probably asking yourselves why we went there, actually we are too.
We've heard good things about the International Crane Foundation located in Baraboo and that was a stop on our itinerary. Did you know there are only 15 kinds of cranes in the whole world? This group is devoted to protecting them and the habitats the cranes use. The movie, and tour were very informative. The movie showed people dressed all in white with funny head gear and a crane-like head with a beak used like a hand puppet to feed the baby cranes.
They want the birds to imprint with something that actually looks like a crane instead of a person. I thought this was as stretch, but I'm not a crane.
In complete contrast with the high energy presentation from the Eagle Center the Crane presenter was very low key. I guess cranes require more sophistication. Many of the cranes are endangered because their wetlands throughout the world are disappearing. This Foundation works with many countries to help them preserve their wetlands through education and helping them replant. This group has fought to bring back the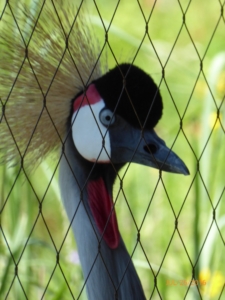 Whooping Crane from a mere 30 birds to 600. The cranes mating dance and unison calling behavior are fascinating. At every enclosure the birds come to the front of the fence. At first you might think they are curious about people but actually they are defining their territory and telling us to stay away. They were all beautiful birds and the grounds were very nice. Hopefully we have some good pictures to share. I think Monty was more impressed by one of the girls on the tour who must have been 6'3". We'd never seen such a tall girl. As Monty said, "She'd be shade in the summer and warm in the winter!" I said, Humph!
For years we have heard about the Dells in Wisconsin, mainly that it is a paradise for kids. We were so close we had to at least drive by. It was indeed a kids paradise, everything a kid would want to do was housed in a Miracle Mile. Strange looking buildings housing magic shows, Indiana Jones rides, wax museums, amusement parks, the largest outdoor water park in existence, and another one indoors, and go carts to name a few that come to mind. It just went on and on.
We finally succumbed to taking a DUCK tour of the Wisconsin River and surrounding areas. We've seen these WWII amphibious trucks other places and the riders always seem to be having fun, we have to admit it was a good time ripping through the forest and then racing into the river and floating. Then the wheels come down and you are out of the river again. The tour guide had lots of corny jokes and we got wet, all good clean fun
Day 13 and we can't find our way out of the corn maze! The landscape is still green rolling hills but we are getting a little tired of corn fields; it has come to, "Oh look, soy beans, yeah". This is a day full of road construction, closed exits, and bridge repair. Nobody ever said this kind of travel was easy!
Would you believe in our travel plan I included both the Waterloo John Deere factory and the one in Moline, Ill. Never would I have imagined we'd go to both of them. I thought it was an either/or situation. But since the first plant was not really operating we should give the Deere another chance. They didn't disappoint us this time. We went to the combine factory and it was up and running and gave a great tour. Did you know they sell combines that have a blade across the front that is 45 feet wide and the things run by themselves! The operator sits on the porch and programs the on-board computer and it goes to work. Of course the things can cost up to 1 million $'s depending on the set up and it only works during the harvest, the rest of the time it sits in the barn!
The painting process was the most interesting part of the tour, huge lifts hoist the parts into various baths before robots apply the familiar green paint. The robots were fascinating to watch the wands move just like arms and they can paint very fast. Two people in space suits finish the touch up. These are really professional tours conducted by retired John Deere workers. They are enthusiastic about the plant and the product. It was interesting to see men and women working side by side building these huge machines. I believe they said there are about 50 robots used for repetitive work but about 1,900 people working at the Moline factory.
We stopped in Springfield, Ill to see the Abe Lincoln Museum and the home he lived in while he and his family lived in Springfield. We enjoyed the home tour, interesting to see the house and original furniture. The National Parks Service has set up a neighborhood so it looks like it might have looked when the Lincoln's lived there. There were even a couple of ladies in hoop skirts with parasols walking in the area.
The Lincoln Museum is at another location and we were so glad we made the trip over there. It was an incredible experience. There was a play about the Lincoln Library with an actor, or maybe he was a hologram of an actor, we honestly couldn't tell. We do know the ghosts of the various characters weren't real tho. It reminded us of a living history presentation we saw at Gettysburg several years ago. This one also touched on the Civil War years and was very meaningful.
The second presentation, called the Eyes of Lincoln, was in a theater with a hologram of the artist who painted Lincoln some years ago. This too was very moving, talking about Li n coln 's li f e an d the ev en ts surrounding it. There were actually three large screens in the theater and during the Civil War years the cannons boomed and the seats vibrated at the sound and smoke rings filled the theater with the smell of the firing. It was really something. These two events were actually topped by the displays in the museum. Everything was laid out in such a way that one thing ran into another in various segments of his life. It was like winding through a labyrinth of history. We'd be hard pressed to choose one thing that was 'best' a bout the whole Lincoln experience. We enjoyed it all.
Moving south through Illinois was to experience road construction like ground hog day. I guess the cold states have to do all their road work in the summer but it makes travel a challenge. We were looking for a particular State Park to stop for the night and it was just not possible to get there. Between the detours and the lack of signs on the little detour farm roads we were beside ourselves. We finally found a State Park on a lake that we could actually get to only to find there was no one there, we mean no one. It was a bit spooky. There were several trailers that looked permanent or at least permanent for the summer but no people. We pulled into a vacant spot and stayed for the night. In the morning there was a gentleman at the park shack, he said most of the people from town just leave a trailer there for the summer and come out on the weekends. Some trailers are indeed permanent, since it only costs about $100 to leave it for the winter.
Camping in the Midwest is different from the Southwest. In our part of the country most of the RV parks are geared to retired folks staying for the winter or traveling through. In the Midwest most of the parks are geared to families with kids. Every park tries to outdo the next one with things to attract kids. When the families come, that means grandma and grandpa arrive also, so everyone camps for the week or weekend. We stayed at one place called Grandpa's Farm, indeed they had tractors and livestock, swimming pool, and a game room. When we stayed in one place I asked the woman cross the drive if she was familiar with the area. She replied, "Not really, I live about 8 miles that-away". We have tried, but can't figure out why someone would come eight miles to camp in a tent trailer (in the rain) when they have a home a few miles away. I mean, if you aren't going to see something different what's the point. Guess we just don't get it.
We met a nice younger couple from North Carolina in the park in Springfield. They were on their way home from their first two week trip with a new trailer. Would you believe they drove from North Carolina to Arizona to take the train from Williams to the Grand Canyon. They said it was really nice and they enjoyed it, BUT they drove 4 days to get there to do it and now were on their way home. Wow. Love meeting people on these trips. We are going to put the Williams trip on our schedule.
We stopped in Zanesville, Ohio, established in 1800 at the junction of the Licking and Muskingun rivers. The old stone court house was built in 1874, it is an impressive building even today. We can't picture this town in it's heyday but they have no less than six huge brick or stone church buildings. There are about 25,000 people in the area now but we wonder about its past. This weekend they are involved in Civil War activities and we saw the paddlewheel boat, the Lorena, travel down the Mississippi to a battle ground less than mile from our RV park. We never pass through a town like this without wondering what it was like thirty or forty years ago.
The reason we are here is to take a safari tour at the Wilds Wildlife Park here. The Zoo in Columbus, Ohio bought nearly 10,000 acres here, some of it reclaimed mining land, and created one of the largest conservation centers in America. We rode in an open air safari bus and had a great guide, this was her second summer at the park and she was knowledgeable about the animals and laughed when she told us of some of their antics. Like the camel that went on a walk about and is now happily sitting under a ramada all by herself while hubby and kids are back where she left them a couple of weeks ago. We saw some of the usual suspects; giraffes, Grevys zebra, both Southern White Rhino and the Greater One-Horned Asian Rhino, Bactrian Camels, and Bactrian Deer. The African Painted Dogs were intriguing; such interesting coloring, similar to a calico cat, and you might think cuddly but they are known to be fierce hunters. They are smart and will take down a much larger animals. The Sable Antelopes were beautiful, the Scimitar- Horned Oryx has been extinct in the wild since the 1970's but in 2007 an oryx born her e w as sen t t o Tun i si a f or a reintroduction project. They are well suited to the desert, not sweating until the temps reach 115 degrees and limiting water loss through specialized kidneys. The strangest looking animal was the Sichuan Takin, he must have been designed by a committee with a sense of humor. He had the body of a small cow, the horns of a wildebeest and the head/face of a guinea pig. They share the bamboo with giant pandas and since pandas are pretty cute they are claiming more of the habitat.
We have been on the road for three weeks and traveled about 3,500 miles. These are not miles as the crow flies, but more like a butterfly. There is a grand plan, but sometimes you have to zig and zag in order to get it all in. Mentioning butterflies brings to mind the Wilds again, they had a big butterfly area full of flowers planted in circles. Hannah, our Wilds guide, said the butterflies are not so much attracted to the flowers but to the circles. Weird, huh?
We loved the beautiful forested areas of Pennsylvania, the back roads are just delightful. We didn't make any significant stops in western Pennsylvania, but we have plans to see some things on our way back down in the eastern part of the state. We drove by the Football Hall of Fame in Akron, Ohio. Lots of activity there, you know the huge stadium you see on TV for the Hall of Fame introductions etc? It is really only about a quarter of the size of a football field. The stands are very high but the field is really small.
Camping by the River
For everything baseball you have to see Cooperstown, New York. After driving on a small two lane winding road for miles it was a surprise to see several crisp green baseball diamonds along the river. We have arrived in Cooperstown in the midst of a national baseball tournament for 12 year olds. Someone said there were over 100 teams competing; kids, parents, and grandparents everywhere. We met a young family from California, in Cooperstown for their son to play in this tournament. Mom was so proud that her boy was living his dream to play ball here. His team has already won six games to get to play again that day.
The Baseball Hall of Fame and Museum was very nice. It was big enough to have everything, but cozy enough that you felt a part of it. A room set up like a locker room with open 'lockers' full of memorabilia from players with retired jerseys. Randy Johnson's, jersey, bat, glove, ball, etc from the Diamondbacks was there along with so many others we lost count. There were so many quotes and stories from players it was impossible to read all of them. One that sticks in my mind is that baseball is like 'a ballet without music'.
That got a nod from me, watching the beauty of the throw and catch is like a dance. Casey Stengel said, 'To be a good manager it is best if you keep the players who don't like you away from the ones who are still undecided'. That brought a smile. One of the most touching stories was from Hank Aaron. He told of saying good-bye to his mother while she cried in the front yard of their house. He got on the train with two dollars and some sandwiches; it was the first time he'd ever been around white people.
Monty recalled seeing Willie Mays, Willie McCovey, Orlando Cepeda, and Juan Marichal playing for the Giants while he was attending school in San Francisco. They were all part of the museum and it brought back fond memories for Monty.
There were stats about everything imaginable. Without a doubt one of the best things about the experience was seeing the dads and their boys making their way through the museum talking about this player and that and of course the stats. It was really heartwarming. The Doubleday lunch spot was filled with an entire baseball team, assorted umpires and a few locals stopping in on lunch break.
We took a trolley ride through the town and it is absolutely gorgeous. The 1,800 full time residents have picture perfect two or three story homes with huge trees, flowers and grass. I told Monty in my next life I want to live here; well, until the trolley driver happened to mention they had eight feet of snow last year and that was about average. Cooperstown is on Lake Obsego fed by the Susquehanna River. While we were looking at the beautiful homes we saw a couple of rowing shells. Rowing is such a beautiful sport. The skill and athleticism demonstrated is incredible. Monty read the 'Boys in the Boat' a few months ago and this week we watched the PBS special 'The Boys of 36'. I believe they are making a movie of 'Boys in the Boat'. Something to look forward to, it is a story of dedication and perseverance under difficult circumstances.
Today we took a jaunt in the car to see Ft. Ticonderoga. We have driven through upstate New York several times and it always amazes us. It is a rural setting filled with small rustic towns. Many of the towns seem prosperous, with thriving main streets, others not so much. The roads can be six lane highways or two lane rural roads. We took some of each to reach
the fort this morning. The fort states it is dog friendly so we decided to take the Zoe dog. The trip was a little long to leave her in the motorhome all day, but she can be a handful sometimes and I didn't want her to take away from our experience at the fort. Of course she proved me so wrong, she  was absolutely perfect, meeting both small children and adults sweetly without startling them, never a bark or tug at the leash. She even appeared to be listening as the English Militiaman told us all about the fort and the many battles surrounding its history. We are not that far from the Canadian boarder and there were times when the fort was under French control and others when it was under American or British control. They have an interesting way of presenting the fort history by selecting a year to focus on for the entire year. This year is 1777 next year is going to be 1755. This young man rattled off dates and battles for over an hour. We followed him all around the fort stopping at various places to hear about yet another battle. If there was a test at the end of the presentation I was doomed to a failing grade. It was a lot of information but presented so well it was a treat.
We watched a girl in a long dress, bonnet and heavy boots making soup, grilling the meat over an open fire and cutting the greens and a couple of carrots to toss into a pot of water. Since she was preparing it outside and the veggies were laying in the dirt before entering the pot I assumed it wasn't the actual lunch menu.
We saw the tailor who makes the uniforms and clothing the history re- enactors wear. The cobbler makes their shoes right there, the same way they were made in the 1700's.
The most meaningful part of the day was when the fife and drum corp sent up the flag. It was a perfect, blue sky and when they unfurled that flag it made me want to cheer. Later they demonstrated how muskets were used and the art of loading, firing and the ballet of changing positions while one person fires and the other loads.
We stopped to look at the King's Garden and enjoyed a stroll through the arbor with people in period dress. One gal was bouncing along the path swinging a skinned chicken. It was not a rubber chicken but the real thing. We saw some nesting osprey just outside the garden. Of course the binoculars were in the car, I mean, who needs binoculars to look at a garden.
On the way to the fort we passed the Lake George Recreation area. Gosh it is a beautiful place. The lake is lovely and the houses along the lake front are freshly painted and of course have grass and flowers not to mention the huge trees. Pretty nice way to spend the summer for people living in big cities. They have a couple of lovely RV parks in the area, but we didn't stay in those! We have managed to end up in two RV parks that are set up to be used as summer places for town folk. They bring up a trailer set it on a spot and then landscape around it. Unfortunately the landscape occasionally includes all the stuff they decided not to use and don't want to take home. It is an interesting mix of gazebos, screened porches, lawn furniture and cast off building materials, and gas grills. The people all know each other and spend the weekend with gatherings of friends. We are pretty much foreigners to this whole concept but it works for them.
Instead of Rest Stops, New York has Texting Areas. They have signs stating 'next texting area is five miles, it can wait.' Billboards with an ambulance and slogan, 'don't let them respond to your text' and a reminder that three texting violations and you lose your license.
Our worst fears have come to pass, we are stuck on an endless narrow two lane road in Vermont. You may hear the expression size doesn't matter but trust me, when it comes to narrow two lane roads in Vermont it does matter. Monty swears these roads are no more than 12 inches wider than the motorhome and the shoulder is non existent. I can see the fear in the eyes of the bicycle riders that see us coming! The road dips and buckles and it is similar to riding a roller coaster. Many years ago we drove for two hours on one of these Vermont roads before we found a place to pull over and discovered that indeed, we were on the wrong road. On this trip, we spent almost four hours to travel 160 miles! Every little village has a 25-30 MPH and when the speed limit changes to 55 it is right before a sharp curve that is posted 15 MPH.
We entered into New Hampshire with a sigh of relief, Vermont and NewHampshire are not very big but they are formidable opponents of the RV traveler.
We were hoping to just zip (if you call 30 MPH zipping) across both of them and get into Maine, but it is just not meant to be. The park we have our eye on in Maine doesn't have an opening until Monday so we are looking for a park outside of Concord, NH called Sandy Beach . Unfortunately the GPS is suggesting a great little road with a charming covered bridge. It is a nice bridge, built way before an yon e ev er t hought of b ui ld i n g a motorhome. It is tall enough for a horse and buggy or a Porsche. Now we are searching for a way around the bridge; we are going to need a beach break if we can ever find the place. In spite of the GPS and her constant harping we figured it out and arrive at Sandy Beach. There is a nice little beach on a lake. The owners say it is a pond but it looks like a lake to us. Lots of nice trees and we can certainly stay here for a day or two and relax.
The next park turns out to be our favorite so far. We are staying in Boothbay, Maine at a lovely RV park. It just happens that they have sites numbered from 1 – 135 and some overflow sites x , y , a n d z . Fortunately for us, x marks our spot and we couldn't be happier. No one is close to us and we have lots of shade and look out our front picture window at a lovely pond surrounded by cattails and ducks. The grass is perfect for Zoe and if we sneak around back of the pond we can even throw the ball for her. We could move here, except for that winter thing.
It turns out that although Boothbay is off the beaten path it appears to be a tourist mecca. We assumed, since it was a bit of trouble to get here, most people would ignore it but we should have known better, people will drive for miles to pick up a t-shirt and take a selfie. So instead of cruising the shops we found one of the top five lobster shacks in Maine down the road a bit. OK ,it was actually about thirty miles, but hey, when you have driven 4,000 miles to enjoy lobster it doesn't matter.
As they say, 'I don't eat lobster every day but when I do, I go to one of the great lobster shacks in Maine'. We agree with the reviews, Five Islands was one of the best. Before we ever visited Maine I thought lobsters were only served in fine restaurants, oh, and Red Lobster, but that doesn't count. I have since grown to appreciate the shacks on the wharf with walk up windows and picnic tables outside by the water. What could be better than watching the sail boats go by and the lobster boats come in while wiping the dripping butter off your elbows. Eating lobsters is a barbaric sort of experience but they are so good. We each ate a one and a half pound lobster with potatoes or corn for about $24 total. All of these places are BYOB so our bottle of wine was tucked into a basket with a cork screw, goblets and table cloth. That's my idea of fine dining.
In our quest to see different parts of Maine we headed to Searsport outside Belfast. This was more a campground than a true RV park but it turned out to be great fun. This place has a beach on the bay and a place to hold lobster bakes on the beach. We got settled in our site and met the family next door. They were having an annual reunion and invited us to join them for a sing fest that night. Talk about fun, Monty played his dobro, there were guitars and a fiddle, and we all sang campfire songs. The kids toasted marshmallows and one of the gals puts'mores together. They were passing, what appeared to be, a bottomless bottle of wine, it just kept coming around and around. We lost count of how many people were in this group, but more than 25 including kids. Everyone laughed when the campgr oun d watchdogs arrived at exactly 10 pm to make sure we were going to close it up for the night. Actually we were just getting warmed up but we were good campers and called it a night. The next night there was music on the porch at the recreation center and our neighbors knocked on the door to make sure we were going to come and play. The camp hosts made remarkable potato chips that were delicious. It was a memorable night of music and fun. We found another great lobster shack for dinner. Life is good!
We took in the sights around Searsport and in the process of looking over Belfast we parked in front of the police station. When we got back in the car the battery was dead. We went into the station to see if they could suggest someone to call and they just brought their charger out and boosted the car and told us where the closest auto parts place was located. Belfast is a funky little town, sort of a throwback to the 70's, hippy kind of place. We appreciated the homey atmosphere and friendly service, the bakery was awesome.
A lady we met in Boothbay suggested we stop in at the Maritime Museum in Searsport. It was a wonderful multi-building museum with lots of boats and several original houses belonging to sea captains. It was amazing to us that Searsport has always had about 2,500 people even in the 1800's. This town produced over 200 sea captains, most of their ships were merchant ships trading as far as China. Some captains married and took their wives with them on their voyages. One notable woman lived twenty years on the seas with her husband and raised seven kids all on ships.
There was a special photography display at the museum that we loved. Think back to a time when postcards were popular. Not only were they used as a way of communication but they actually ranked third as collector items. Stamps, coins and postcards. Who knew! The postcards were wonderful, this was a time when photographers came to the small towns and took pictures of everyday life and sold them as postcards. Mom would buy a postcard at the postcard store, maybe even a picture taken of her neighborhood, write a short note to a friend and wait for the postman, buy a stamp and hand over the postcard to be sent. These traveling photographers took the pictures using glass plates rather than film. This particular postcard store in Belfast opened in 1909 and when they closed in 1947 all the plates were put into storage. Now the museum is digitizing these thousands of plates and there is a wonderful history of early Maine. It is an awesome project and the pictures are just so great. We loved this display.
We did our best to keep the lobstermen happy on this trip but it is time to move on. On Saturday morning everyone who lives in Maine is heading for the coast for the weekend. Kennebunk and Ogunquit are two of the lovely villages along the coast, they are popular with visitors and locals alike so traffic is at a standstill again. While we are in the stop and go traffic, Zoe likes to ride on the dash board and look out the window at all the people. They look at her and smile, many point and then poke their friends to look at the dog, and many wave. Really waving at a dog? I just wave back, it only seems polite. We finally clear all the traffic and race through the countryside at about 35 miles an hour.
We drove through the Pocono Mountains and some of the resort areas there. I remember hearing about the Poconos many years ago, I think a lot of comedians got their start at the small clubs in this area and it was a popular summer vacation spot for people from New Jersey and New York. We found an RV park that was probably in its heyday about forty years ago but was really tired now. They had a huge barn with a stage, and seating for over a hundred that hadn't seen any use in years. If you were real quiet you could imagine the musicians tuning up. We would have loved to see some of the old village in the Delaware Gap area but alas, there was no place to pull over and park. One of the drawbacks of RV travel.
The next stop on our itinerary is a tour of the Martin Guitar Company in Nazareth, Pennsylvania. This tour was excellent. The starting point was a beautiful museum with pictures and testimonials from Martin guitar users through the years. The quotes from old time western singers like Gene Autry, country music greats like Johnny Cash and Hank Williams, and rockers like Paul McCarthy, and Eric Clampton were fun to read. So many beautiful guitars on display it was exceptional. Our guide for the tour has been working for Martin for over thirty years, needless to say he knew everything about the place and the guitar making process. They have over 650 employees and every area was busy, from the beginning process of bending wood, to form the guitar bodies, to applying glue and trim beading, in some cases, pearl beading, is used for a little flash, then the application of lacquer finish and buffing. The buffing alone was about a quarter of a block with different areas for different types of buffing. They do special orders for many of the stars and the up and coming players that want something special. In fact a large part of the factory was devoted to one of a kind special builds. At the end of the line there were several guys sitting at work benches playing the just finished guitars. Guess they have the best job! Oh, no free samples on this tour either.
After a lengthy discussion about the pros and cons of driving into Philadelphia we decided to move on. We'd love to see the city but it just seemed like a major headache trying to find our way around and getting a place to park, etc. Next time!
Next stop is Hagerstown, Maryland. This may seem like an odd choice but Monty plays the dobro, or more officially called, a resonator guitar. He has a Mike Auldridge guitar made by Paul Beard. The Beard Guitar company that makes these guitars is located in Hagerstown. We gave them a call and they suggested we stop in and see their operation. It was a treat to meet Paul and the guys that work so hard to create these amazing instruments. Monty got to play one of the newest guitars, the Black Beard. YIKES, I was hoping he wasn't going to get too attached to it. I think if he could have just taken one home he would have been sold but there is a seven month wait to get one made! (thankfully a cool down period, chuckle). These guys were so nice, each one shook our hand and as they showed us through the facility they talked about how each guitar was hand made and lovingly finished. Needless to say this is a much smaller operation but certainly much more personal attention. They tuned up Monty's guitar while we were there and were just so nice. It was a good time. They even posted a picture of us on Facebook!
Continuing our trek, you know you are in the South when the signs read, 'Buckle up y'all, it's the law', I swear I saw a bumper sticker that claimed 'Rebles 0, Yankees 1, Halftime', ya' just gotta love the South. We planned on taking the Blue Ridge Parkway from Waynesboro, Virginia down to Asheville, North Carolina but after the first sixty miles we decided that wasn't nearly as much fun in a motorhome as we thought it might be.
The road is charming with lots of ups and downs and turns; where's that Porsche when we want it! The pull-outs for information and historical posts are very small, if we could fit in the spot no one else would have room to join us; time to re-group. We were interested to learn that the Appalachian Trail actually parallels the Blue Ridge Parkway for a hundred miles in this area. We loved the book 'A Walk in the Woods' by Bill Bryson. The movie was just out this year but the book is really better. We saw a guy walking with a huge back pack and figure he must be a hiker taking a break.
Since being flexible is a necessity on these trips we moved to plan B and spent the night off the parkway and selected another route. Of course leaving the RV park we took one of many wrong turns on this trip and ended up on a small rural road with no end in sight. This road wasn't even on the map although it did have a county road sign. Gertie, the annoying GPS, finally just quit talking to us. After several miles, we decided there was no use continuing down this road to wherever. We found a narrow driveway, stopped and disconnected the car, moved it down the road, and then Monty backed between two fence posts with an open gate and turned the RV around and we started back the way we came. When we got to the place where it all went wrong we reattached the car and started again. We repeat, 'It's all good' no harm.
Monty said not to tell you about the BBQ place he discovered in the North Carolina bluegrass book so I'll only mention it briefly. (good thing he doesn't censor this) This was advertised as down home old time family dining with a barn dance cuisine. To say it was less than advertised is being kind. We should have given up when we couldn't find the place, but some biker dude with long hair and tats heard us asking for directions and suggested we just follow him since he lived near there. We had visions of a large gathering of bikers around a campfire out in the boonies and we weren't far off. He did show us the right road about 25 miles from where we met him. It was all sort of a surreal experience. Monty kept mentioning something about chainsaws! They did have BBQ, sort of, and the music was pretty good but we had to leave before dark simply because there was no way we would find our way out of there.
Asheville is one of our favorite cities, it is a charming old town snuggled in the mountains. We were here a few years ago and toured the Biltmore estate, a not-to-be-missed experience if you have the opportunity. This time we were content to enjoy a tour of the city on a trolly and hear the history and some of the long time gossip surrounding some of the houses. In one case a woman's husband decided to go on a 'walk about' and left one day and didn't return. In those days that was about the worst thing that could happen to a wife. Being the brunt of that much gossip was the kiss of death to her social life. Thinking quickly she announced he died, they had a big funeral and 'buried' him in the town cemetery. She then held the respected status of widow. About nine years later hubby returned home in the dead of night. She escorted him up to the attic and locked the door and when he finally did die years later she quietly buried him. That house is now a B & B and you can stay there if you book early!
We've spent the last ten days in Tennessee and Arkansas. I'm beginning to talk with a southern drawl and holler dibs on the hush puppies at every meal.
Whenever our travels take us east of the Mississippi we enjoy some time in Nashville with our good friends, Ruth and Charles. I was a newly wed when they when they moved in next door to us in 1960. Some years later they had a son so we had one, then we had a daughter so they had one. It has been a very special relationship for all of these years.
We spent time catching up, Ruth and I usually play tennis but I've kind of hung up my racquet. I'm trying to talk her into pickleball but so far my powers of persuasion aren't working. Nashville has a few more people than Tucson but it feels much more vibrant and busy, there is a lot of new construction, especially downtown and it is a happening place. They also have more freeways, at one intersection three busy freeways come together. I held my breath while cars shuffled like a deck of cards. No one gets on the freeway in the lane they want to get off!
Ruth usually finds something uniquely Nashville for us to do and this time it was the Hatch Letter Press Company. I don't think any of us knew exactly what to expect from this tour but it was great. We learned about rough cut wood blocks used for pictures and lettering and the 'furniture' that holds the print in place while each poster goes through a three color printing process. Not only did the old printers use wood, but linoleum or metal type was also molded to use in the press. Although this company was established in 1879 and was located downtown, it was recently moved into shared space with the Country Music Hall of Fame. The Country Music Hall of Fame is a must-see when you are in Nashville and as long as you are enjoying history of country entertainment the Hatch Show Print fits right in.
We were just in time to see one of the old presses actually putting on the first color on a special event poster. Each color requires a special set up with the art work and lettering and will be hand passed through the press. There were thousands of wood blocks along the wall that had been used for the artwork for over a hundred years. They have a master carver who creates new blocks but the posters are printed the same way. When they tore down the original building they rescued large wood blocks for posters of FDR and Herbert Hover. Through the years the wood has been used over and over, they still ink it to keep it seasoned. After watching the press put on the first color we moved to a workshop and we each added the third color to a skyline poster of Nashville. During this time we enjoyed a history lesson about the original traveling medicine shows, vaudeville, revivals, and of course the circus. In those days folks didn't have the Internet and Ticketmaster to promote their events and the posters hung around town were the main advertisement. There are still artists who call on Hatch to create their eye- catching, iconic posters. Now that we know what we are looking for we are anxious to spot some of these posters on display.
It is always hard to leave Nashville, but it is time to head over to Mt. View, Arkansas to see Monty's cousin, Danny and his wife, Alice. Mt. View is the Folk Music Capitol of the World. I know it is true because they have flags on the downtown courtyard that say so. This is not folk music like Peter, Paul and Mary, or the Kingston Trio. This is traditional mountain music with, guitars, banjos, harmonicas, auto harps and dulcimers. Not too many dobros here but they are happy to have Monty sit in on the jams. There is music every night in the park, just show up and join a group. On this Saturday night there were four groups in the park and a performance on the court house steps.
There are about 2,900 people in Mt. View, I'm thinking that includes the folks in the 6 RV parks! Music is the draw here and people come from all over to 'pick and grin'. We are in the RV park next to the Ozark Folk Center State Park. This unique State park is dedicated to the preservation of traditional Ozark Mountain crafts and music. There are 24 buildings, plus outside performance areas, housing traditional artists recalling crafts from 1820-1920. Each artist is dressed in the period clothing of the late 1800's, they are not only there to display their craft but provide an in- depth history of their art. We especially enjoyed the young lady spinning wool, and weaving fabric. She gives workshops on weaving and although th e loom sh e was using looked complicated she assured us it was all just logic and common sense. People have been making fabric for thousands of years. She mentioned that both men and women practiced the art of weaving and while women made 'homespun' in the frontier days, men wove more intricate designs for 'special' cloth. The men closely guarded their craft secrets because they certainly didn't want the women to learn their techniques. I mean after all, if these women had all day to just sit around and weave, then how would the men compete?
We spent this morning at the Blanchard Caverns just outside of Mt. View. We were kind of ho-hum about a cavern tour, after all, we've recently been to Kartchner Caverns outside Tucson. But this was a beautiful cavern. There is a whole room full of soda straw formations hanging from the ceiling, and in another room there is a huge formation that looks like an old sailing ship way up near the ceiling. There are two tours available, we took the one hour tour and thought the cavern was stunning. I'm sure the longer two hour tour deeper underground was beautiful also. Something about the seven hundred stairs was a bit of a put off!!!
There is so much more to tell about both the Hatch Show-Print and the Ozark Folk Center, and the caverns, I know I'm not doing any of the them justice.
It is getting to be that time again, time to head home. This has been such a great trip, we've loved all of it. Wish y'all could have stayed right here in the motorhome with us it would have been a great time! Bring on those hush puppies!
http://carriebonello.com/wp-content/uploads/2018/06/P1000554.jpg
3000
4000
cbonello
http://carriebonello.com/wp-content/uploads/2018/06/new-carrie-logo.png
cbonello
2018-06-24 14:19:35
2018-06-24 14:40:23
Maine with Great Stops Along the Way 2016