It all started in 2012 when we turned into Craig's list junkies.   After years of towing a 5th wheel around with a Dodge dually or loading the 11′ Lance camper on the truck and towing an ATV trailer, or jeep, we decided to downsize.  We turned to Craig's list and sold the ATV and trailer on the first day.  The 5th wheel was the next quick sale.  After one more trip to the high country in Colorado with the truck and camper, we posted another ad and soon watched them pull out the driveway. This was fun!!
Now we could focus on the next phase in our life………little gray haired folks driving a motorhome the size of a Pepsi truck!  Consolidating might have been a better word than downsizing; but surely one motorhome would be easier to use and maintain than a truck, camper, 5th wheel, ATV, and    trailer.   Just tires and batteries alone kept us busy!
Our new adventure started when we found the perfect motorhome on line. After talking to the owner, and seeing pictures, we headed over to see this motor home for ourselves and maybe bring it home. After lots of head scratching, the best plan we could come up with was to tie the tow bar on the front of our 2000 Jeep Wrangler, drive to Texas, and then tow the Jeep home with the motor home. (sheer genius!)  If you have ever had the pleasure of riding in a Jeep Wrangler you know they are not exactly spacious.   Monty and I aren't very big people, but Zoe, our standard poodle, does require a bit of room.       There is no sense picking up a motorhome and then eating out and staying in motels on the way home, so we packed the Jeep with a few essentials; sheets, pillows, towels, a soup pan, skillet, various utensils, cups, bowls, dog food and assorted toys for the dog.   Unfortunately that didn't leave much room for Zoe.   Hmmm!   So, with a little effort Monty took the back seat out of the Jeep.  Now we were cookin'.  Did I mention this motorhome was located east of Beaumont, Texas?
That  is  practically  within  spitting  distance  of Louisiana!
I was a little apprehensive about the trip over there since the Jeep is not much competition for those semis rolling down the highway.  When we set out, we had no idea how long it would take since, we'd never tried to drive half way across America in a Jeep before.   We just set the cruise control, inserted disc number one of the audio book, and headed east on I-10.   To our surprise, it was cozy and really quite comfortable.  The miles flew by and the  trip  was  uneventful  except  for  the  heat  and humidity; July in Texas!  Not wanting to leave Zoe in the heat while we went in to eat, we brought burgers out to the Jeep and we all sat in the sun-baked parking lots.  Looking back I'm not sure how this helped, but at least none of us were comfortable.  I guess it's the misery loves company thing.  Bless her heart, Zoe is a good traveler; as long as she is with her people and gets a few french fries, she is happy.
We found a nice pet-friendly motel near Beaumont and thought we'd leave Zoe where it was cool and finally go out for 'real' food.  We gave her a nice new chew toy and headed out.  As we walked down the hall from our room we heard her scratch at the door and just as we started back, the door opened and Zoe came zooming down the hallway!!   Can you believe a dog who has mastered the door knob principle?   So there we were, all of us, eating burgers in the Jeep again.  Did I mention the danger in fast food – it's addictive –  I'm still craving burgers and fries, burgers and fries!!
The next day we met La Verne, a delightful eighty-five year old widow.  She and her husband and a neighbor couple traveled together for years.  Each couple had owned several motor homes and if my math is correct, LaVerne and her husband bought this one new when she was 81 years old.       She and the neighbor regaled us with stories of their trips and even an astonishing tale about changing drivers while still moving down the highway!  YIKES! These two must have been  pretty agile for a couple of octogenarians. We are still trying to erase that image from our memory!
We did buy the motorhome; a beautiful 2008 Fleetwood Bounder, 32 feet, with gorgeous full body paint to help take the sting out of the Arizona sun.   No more unfolding the 5th wheel stairs or hoisting yourself up into the camper.  Open the door and the stairs glide out to meet your foot.  Automatic leveling, what a concept!  No more searching for the blocks, positioning them, and perching the truck or trailer on top to get level.  The awnings on the camper and 5th wheel were manually operated, which meant we needed the manual every time to operate them.  This is one touch of the switch and presto the awning is out, and if the wind comes up it retracts automatically. We have arrived!
The ride back, towing the Jeep, was  certainly  more  comfortable  but  a little hairy too, since neither of us had ever driven a motor home.   I expressed concern to La Verne but she   patted my shoulder and said, "Just keep the white line in your left mirror, sweetie, and you will be fine".  We  were getting comfortable and understanding the share the road concept until we came to Houston; six lanes of traffic in the space of an original four lane freeway.  The big trucks on both sides were a little intimidating,  but we figured we were big enough to hold our own this time.
Zoe was   glad to have the extra room after the trip over in the Jeep.  In the past, when we traveled in the truck, she rode on the console between us with her right paw wrapped around my arm.  She couldn't seem to make this work with the new set up and seemed genuinely perplexed.  I admit I let her lay across my lap for a bit just so she would  feel good about the new digs. Surely this won't become a habit.
Back in Tucson the next item on the agenda was a trip to the Arizona DMV.   An experience that strikes terror in the hearts of even the bravest souls.  Nell, the Notary in Texas, just kept shaking her head at the paperwork and  repeating, " I never do this kind of stuff, Caroline is in charge of this stuff and she's not in today, let's see do you think we signed everything, I don't know, what do you think La Verne?"  As we left Nell said, "Well if it isn't done right you can call me."  We weren't sure how much help that would be while standing in the DMV in Tucson, but OK.  As it turned out, Nell came through with flying colors and Betty, our new best friend at the Arizona DMV, had us out the door with new plates, title, and registration in record time with no hassles. Whew!
Thinking back, one day was inadequate to learn all we wanted to know about this motorhome before we drove off in it.   We just adjusted the seat and the mirrors and headed down the road.   Monty turned the driving over to me somewhere in the middle of Texas.  I couldn't understand why it was so noisy with me driving until I realized I was hugging the rumble strip on the right. Bump, bump, bump.  I was more than willing to stop at the first rest stop and take over the co-pilot seat again.    Now we are busy getting more familiar with the rig; our new check list is in a plastic cover sitting on the driver's seat, and we're determined to learn what all these switches are for. Then we will hit the road.
So when you are traveling, if you happen to see a little gray-haired couple driving an RV the size of a Pepsi truck, with a large white poodle sharing the passenger seat, be sure and give us a wave.
P.S. 2020 Update – The motorhome is still our favorite RV for the comfortable, spacious interior and windows.  Gosh, we love the windows.  Huge front windows allow a panoramic view while driving.   Picture windows over the couch and dinette, make  inside  just like outside without the  misquotes! We refer to it as our apartment on wheels.
In 2018 we lost our beloved dog, Zoe, she was such a good sport, she'd traveled all over the country with us. Our first trip together was when we brought her home to Arizona from New Hampshire.  We stopped at every other rest stop to between NH and AZ for potty breaks.   She loved to ride on the dash and look out the window, folks were always smiling and waving at us when she was up there.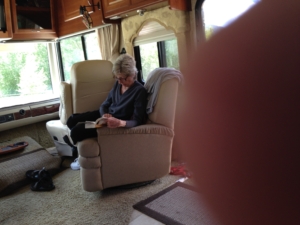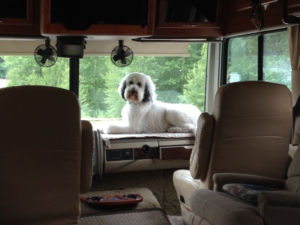 http://carriebonello.com/wp-content/uploads/2018/06/IMG_0048-scaled.jpg
1920
2560
cbonello
http://carriebonello.com/wp-content/uploads/2018/06/new-carrie-logo.png
cbonello
2018-06-17 01:26:33
2020-08-06 09:20:22
Our New Motorhome