Utah was the first place Monty and I camped together and it quickly became a favorite destination to spend a week hiking, and riding the ATV. The red rock country is not only beautiful but it has a special warm inviting feel that we don't find everywhere. Bryce and Zion National Parks have two different types of canyons that are magnificent but there are many other canyons in Utah that are spectacular and we have loved sitting on the rims and enjoying the view and the canyon swallows that zoom around the rims.
One of our favorite areas is above Natural Bridges National Park, a place called Bears Ears. This is a high mesa with aspens and pines and lots of roads to ride the ATV. The camping area we found was perfect and we called it home for a week every year for many years. We've been back several times since we retired.
We just can't stay away from this country.
One of the main draws is a canyon about a half mile from our favorite camping spot. I don't think there is any way to adequately describe the beauty of Arch Canyon. There is a small viewing area just off a dirt road but our favorite view is around to the West that requires some hiking. At the first sight of this canyon you can't help but wonder if you are the only ones to ever see this glorious place. Arch Canyon is huge with steep sided cliffs and spires. If you time it right you can watch the sunset light up the cliffs with a warm glow. We have done this dozens of times and it is truly a spiritual experience.
Each night we'd walk over to the edge of the canyon and sit and watch the sunset light work magic on the rocks. From our rock ledge perch on top of Arch Canyon you can see across the canyon and mesas all the way to Ship Rock, New Mexico, the La Salle Mountains near Moab, and the San Juan Mountains in Colorado. Along our walk we'd see deer grazing in the area and often times we'd hear the hawks and ravens calling over the canyon.
Two canyons come together where we watch the sunset. Texas Canyon is to the right and extends further west toward our campsite. This canyon is more up close and personal and you can easily see the ledges and trees as they descend to the bottom of the canyon. We attempted to hike down into Texas Canyon once but after several hours of hiking we didn't seem to be any closer to the bottom at all. These canyons are deceptive and it is wise to use caution when hiking in the area.
One evening we walked over to Texas Canyon to watch the sunset and looked down in the canyon and there about a hundred feet below us was a large honey colored bear foraging for berries. We watched him for a long time and when it started to get dark we headed back to our tent. We sat around the fire and began to wonder just where the bear went after dinner. We were really hoping he wasn't looking for dessert!
The following year, our friends, Linda and Nelson, came with us to camp and while we walked over to the edge of the canyon we told them about the neat bear we saw the previous year. We reached the edge and peered down and would you believe, there was another big bear in the same spot. This bear was a dark brown color so we assume it was a different bear. Apparently this is the dinner spot for bears in the area.
On this same trip we were exploring an area called Long Point around the South edge of Texas Canyon and saw a momma bear with two cubs. I was so excited I jumped off the ATV to grab the camera to get pictures of them. In hindsight that might not have been the best idea but I was so thrilled to see them. Luckily everyone else kept their heads and quietly watched as the bears sauntered along, ignoring us.
This was the trip we were blessed with a full moon, and after dinner we grabbed blankets and headed out on the ATV's for a sandstone ledge along the top of Texas canyon. We laid there and watched the moon come up over the edge of the canyon and fill the huge expanse of sky. Awesome experience to be sure.
We took a very long ride over to Beef Basin to show Linda and Nelson an isolated Indian ruin in this remote canyon. This is the ruin Monty showed me on our first trip to Utah. It is a very large dwelling and it is holding up to the elements quite well. The biggest danger to these wonderful artifacts are people bent on destruction.
Dark Canyon is a wilderness area a few miles from our camping spot. Most wilderness areas are closed to any form of motorized traffic but there is a narrow dirt road referred to as a cherry stem, down the middle of the wilderness that allows ATV's or Jeeps. We took this drive and discovered an old prospector's cabin that was still used as a shelter for back backers traveling through the wilderness area. It was stocked with a few pots and pans and some very old canned goods. It was fun to imagine who were the first settlers to built it, and how many people have used the cabin.
One night while Monty and I were sitting under the stars with our campfire, drinking hot chocolate, we spotted some small shiny lights on the ground at our feet. We couldn't figure what these strange small green luminescent things were. After scooping up some dirt and poking around we discovered a little worm that was glowing in the fire light. We've done a lot of campfire sitting and that was the only time we ever saw those worms. It was a very strange and curious thing.
Monty loves maps and we never went camping without a topographical map of the area. He is a whiz at reading maps and memorizing the terrain. Although I can tell you something was in a general area, he can tell you exactly how to find it. This whole area is so vast I can't begin to describe where everything is in relation to our camp on Bears Ears. So I'm just going with Mule Shoe Canyon is off the highway between Moki Ridge and Natural Bridges National Park. Whereas Arch and Texas canyons are huge and not very accessible, Mule Shoe is a perfect canyon for hiking. This beautiful canyon, is not too deep and the bottom is lush with cottonwoods along the stream bed. The hiking is delightful, when we worked our way up the canyon we found an old Indian dwelling and also an intact granary.
Monty taught me to search the North side canyon wall for dwellings facing south into the canyon. We have stumbled on some very nice dwellings over the years. Some have names and are pin pointed on topo maps and others are more obscure and out of the way. Many dwellings are not accessible, the Indians built structures primarily in alcoves high-up on the canyon wall. They devised ladders, ropes and hand holds in the rock to access the dwelling. This made it sort of a fortress to protect them from other tribes or animals. There is always a spring or creek in the bottom of the canyon. I can't imagine carrying water up to some of those alcoves. We always keep our binoculars handy to peer across the canyons.
Once, while searching for a dwelling referred to as the 'doll house' we parked the ATV and took off hiking. Mattie was hiking with us along a narrow part of the trail at a canyon's edge and she spotted a snake. She jumped about fifteen feet and kept looking at us like we were nuts. We could almost hear her shout, "Are you crazy, don't you see that thing." I have to admit we jumped when she did but the snake was crawling along the trail edge, minding his own business and since we didn't see any rattles, we were going with gopher snake. Mattie was not convinced he was harmless and Monty finally had to pick her up and carry her past the snake. We gave Mattie credit for being careful, as opposed to Zoe who was so curious to check out a snake she got bit by a rattlesnake in our own backyard!
Thinking about snakes, I remember when we were tent camping out in the back country, we were busy brushing our teeth in the morning and while bending over to keep the toothpaste off our shirts we looked right down on a coiled up rattlesnake. It was a shock to all of us. Needless to say we backed away from the snake and apologized for the whole toothpaste thing. It was still cool in the morning and he wasn't ready to move around much until the sun warmed him up. We were a little concerned he might decide to spend the day in our tent, but we didn't see him when we returned later in the day.
We've made several trips to the area around Arches National Park outside of Moab. The highway to Arches passes right next to Wilson Arch. I've included this picture because Wilson represents the first of many beautiful arches to be seen in this area. We've stayed in the park once but more often in the outback area surrounding the park. There is an area called Behind the Rocks that has miles and miles of ATV/Mountain bike riding that we have enjoyed exploring. Pritchard Arch is one of the biggest arches we have seen and although it is a long rough ride it is worth it to see this beautiful arch. One time coming back from visiting the arch we encountered a rocky part of the trail that was only meant for traveling down not up. It took us quite awhile to move enough rocks to built steps of a sort to get the ATV up the trail. Fond memories all!
In this same general area near the Monitor and Merrimack, two rock monoliths standing tall in the desert, you can find Gemini Bridges. These twin sandstone bridges are narrow, thin spans across a deep rugged gorge. They might be possible to walk across but too scary for us. No guard rails or fences, guess they are relying on common sense to keep people off of them. Wonder how well that works?
We took the ATV around to the bottom of the gorge and looking up at the bridges was almost scarier than seeing them on top.  From the bottom you realize just how narrow and relatively thin the strips of sandstone are.
It was in this canyon that we found a nest of ravens high up on the cliff face. Momma raven was feeding several squawking juvenile ravens, they were so loud screeching and carrying on, and the noise was amplified off the face of the cliffs. She left the nest looking for more lunch and the minute she left the kids shut up. It was like flipping a switch. When she came into view the kids started calling to her and making a racket. She'd provide the meal and headed out for dessert and as soon as she was out of sight they shut up. When she came into view they started up again. I guess instinct told them, when their protector was gone they better be quiet. From mom's point of view I bet she was going to be happy when they flew off on their own, what a noisy brood. We stayed there and had our lunch and laughed at them.
Driving through Moab is always a treat, this community of about 5,000 people is all about the outdoors. It is a mecca for mountain bikers riding the sand stone ledges, river rafters using the Colorado River, along with jeeps and ATV's taking advantage of the back country roads. There are some nice shops and restaurants and even a movie theater in the town but Moab is definitely geared to outdoor adventures.
The Colorado River runs right alongside Moab and if you head out of town and follow the river north you come to some beautiful red rock spires called Fisher Towers. There is small campground there and a nice hike, but the big draw is the climbers using ropes to scale the towers. These young people have some guts, let me tell you. We have hiked the trail several times and always stop to watch the rope climbers navigate the top of the tower. How they manage to use ropes but leap from one spire to another is beyond us.
At one point on the hike there is a narrow ledge along the mountain side with a ten foot drop off the edge. When we hiked with Mattie she wanted to lead, of course, and she was careful always to stay on the inside close to the mountain. Once she found her place there she wasn't about to move over but she needed our help to get down the ledge. Monty managed to squeeze by her and climb down the ledge and then turn around and coax her down far enough that he could grab her. It wasn't too hard to get her down she was willing to jump into Monty's arms but getting her up again was a challenge. I went up first and prepared to grab her as Monty lifted a fifty-five pound squirming dog over his head. Of course once up there she claimed the widest part of the ledge and took the lead like 'yeah, look at me I'm bad'.
Speaking of Mattie, we were walking along a road in Utah when Monty decided to explore further toward the canyon edge. I decided to stick to the road, Mattie didn't know what to do, go with dad or stay with mom. She finally settled the question by simply sitting down. She wasn't moving unless we were going together and she was going with us. She wouldn't budge. I decided the canyon edge looked good and the three of us moved on.
Mattie had a phenomenal sense of smell and direction and she always knew exactly how we got someplace and could take us right back to the beginning without a hitch. If we stopped and stepped off of the trail at a view point or overlook, on the way back she would wait there to see if we were going to stop at the same place again. We were constantly amazed at her ability to follow our trail.
The sandstone found throughout Utah has unique properties that make it perfect for climbing and hiking. The rock is porous and since your shoes tend to grasp the stone, it feels a bit like spiderman climbing around the canyons. The good news is it is relatively easy walking, the bad news is the ease of the walk lures you higher and higher up the side of the canyon. More than once, after walking for a while, we turned to look down and were startled to discover how high we were.
On one of these occasions Monty suggested we just climb up over the top and walk along the canyon edge for the return to the truck. That seemed reasonable until we realized the very top of the canyon had about twenty feet of shear sandstone all around the edge. We walked back and forth looking for a possible way up and we finally found a hand hold on a small juniper tree. It was a struggle finding footing, watching for rattlesnakes, and keeping our eyes focused on the top, looking down was too scary. One slip and we'd be rolling down that sandstone until we hit the bottom of the canyon. This was the first time I ever wondered what we'd do if one of us got hurt out here. I'm confident Monty could get me home but I wasn't so sure I could get him back to the truck if he couldn't manage on his own. Guess that's the reason we aren't bushwhacking any more.
Blanding, Utah is the closest town to our camping area, it has a population of about 2,500 people, it's a quiet community. If you happen through Blanding be sure to stop at the Edge of the Cedars Museum. This museum has more Anasazi pottery than anywhere in the four corners area. We were astounded by the beautiful displays in this tiny out of the way museum. There is a story behind some of these marvelous artifacts, some people in the area were raiding the Indian sites all over the four corners area. Ultimately they were caught selling the stolen artifacts, some of the artifacts were collected and placed in this museum and the people thrown in the slammer for violating the antiquities act. We look but don't touch in the Indian ruins we find.
On one trip riding the ATV outside of Moab, we took a winding trail from a mesa down to the Green River. The trip was unremarkable until we rounded a bend in the trail and there sitting on a rock right next to the trail was a big vulture. They are just the strangest looking creatures. He had no intention of moving away from the trail even when we rode right up beside him. He just sat in his spot and watched us. We could have reached out and touched him. We talked it over and hoped he wasn't trying to tell us something about the trail ahead.
No story about Utah would be complete without talking about the Piaute Trail. After we bought our first ATV we were looking for places to ride and we found this incredible area in Utah. The Piaute Trail consists of a thousand miles of ATV riding trails throughout Southern Utah. The small towns along the trail welcome ATVer's and encourage them to drive into town for lunch and gas as well as enjoy the mountains around the area. Most ATV's weren't 'street legal' when we were riding so it was necessary to trailer the ATV to the trail heads. Having the ability to ride out of the park or in town was a totally new experience. We stayed in a small RV park just across the highway from the Big Rock Candy Mountain. Yes, there really is a mountain called Big Rock Candy Mountain. Makes you feel like singing doesn't it? We have always referred to this place as the Bates RV Park because it was a little strange and frankly kind of spooky. We could ride right out the back gate onto the trails though and that was great. We still pass this place on our way up through Utah on our way to the Northwest.
We met an unusual couple at the Bates RV Park. She had recently inherited some money and was willing to spend it. She and her boyfriend, who was several years younger, had brand new ATV's and toy hauler trailer. They had some experience with the trail so we rode with them the next day and found them to be interesting, if different.
We came back to the Pauite Trail several times and rode through the high mountains, camping in forested areas instead of the RV park. I remember a particularly nice ride along Devils Backbone and Posey Lake.
Over the years we established a pattern of going to Utah over Memorial Day and Colorado for the July 4th holiday. Memorial Day is early for mountain activities in either Utah or Colorado but it was more likely that the weather would be milder in Utah and the deserts. Many miles of the Pauite Trail are up in the mountains of Utah and a couple of times we hit some chilly weather. I remember one Memorial Day we made our way up a mountain portion of the Trail and came to a locked gate. The posted sign stated the gate would be opened after June 10, this had been mild a winter and there wasn't any snow anywhere. We were lamenting the situation when another couple rode up to the gate from the other side. They couldn't come down the trail and we couldn't go up and no snow! We gave a moments thought to climbing the fence trading ATV's and meeting back there a few hours later but decided that was really not necessary. They shared stories about their part of the trail and we told them about ours and we all retraced our steps.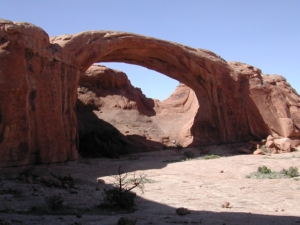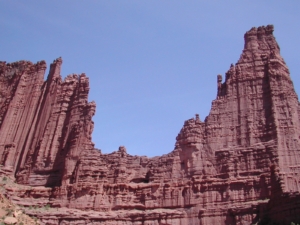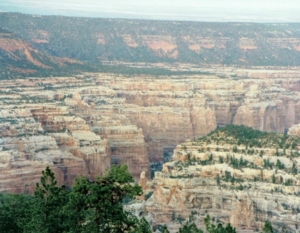 http://carriebonello.com/wp-content/uploads/2018/06/MoabNov04-001.jpg
1024
768
cbonello
http://carriebonello.com/wp-content/uploads/2018/06/new-carrie-logo.png
cbonello
2018-06-27 19:50:15
2018-08-20 14:51:20
Utah - Through the Years