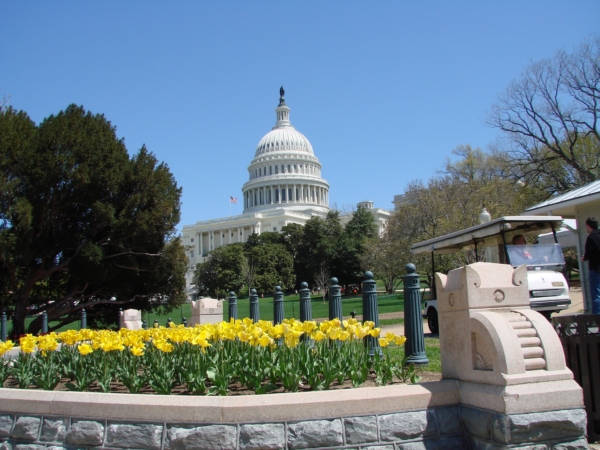 We left Tucson on March 26, 2009 early in the morning. First stop was at the Motor Vehicle Department to get the 5th wheel registered and affixed with a new AZ plate. We have had lots of experience with the DMV, some good, some not so good, so we were a bit apprehensive about getting the 5th wheel inspected and so forth. But our concerns were for naught the whole procedure went smoothly and we were on our way on this trip by 9:30 a.m. We bought the 5th wheel in Colorado two months ago and were anxious to get it on the road and try traveling in a little luxury. Well, luxury is a relative term, I guess, but after fourteen years in a truck camper this is luxury.
This trip was unusual for us in that the weather was not very cooperative. We admit, we are spoiled with Tucson weather and we seem to operate on a very narrow window of good vs bad weather. But the first day out we stopped at a road side park for lunch and when I opened the door to the 5th wheel the wind was so strong it whipped the door out of my hand. At least it was a tail wind, but that is the only good thing to say about it. Expect more weather updates to follow.
We have traveled to the East coast a couple of times, taking our time and seeing lots of the beaches and parks along the way. This trip had a definite destination with reservations. We planned four days in Cherry Hill Park to see Washington, DC during the second week in April. On the way we intended to enjoy some of the Florida beaches.
The first night out heading east is always at Fort Stockton, Texas. There really isn't much of anything at Ft. Stockton and it seems most of the rigs traveling east or west thru the area are camped at the local Walmart. Over the years it has gotten really crowded. I think we were the tenth or eleventh rig to pull in this night. We were late, 9:30 Tucson time, 11:30 in Texas time. Who would expect the Walmart sign to be such a welcome sight?
Next stop was Austin to see Monty's son, Michael. We usually stay at McKinney Falls, a state park about ten minutes from Michael's place. Arriving on a weekend, the park was full, so we found another state park, Beausher, about 60 miles outside the city, near Smithfield. Texas parks are more expensive than most because they charge a per day use fee for everyone. The use fee may be as high as $7.00 per person per day. That sure adds to the cost of your campsite. It was chilly and windy, we went for a short hike, the wind made it very unpleasant. We talked to a recently retired couple with a motor home. They lived in Corpus Christi and were trying to make plans to go to Florida but were having trouble getting reservations. We told them of our luck traveling without reservations and having no problems. Well, we should have paid more attention to them. This trip might be forever remembered as the trip 'without reservations'. You'll hear more on that later. We went to dinner with Michael at the Salt Lick Barbecue. An old homestead out side of town with huge trees, picnic areas and a pond. The atmosphere was great, the food was good, it was a nice time.
We headed on our way Sunday morning, the next stop was Lake Charles, LA. We chose a familiar park, Sam Houston Jones State Park. We first stayed at this park in 2002, when we tried it the second time a recent hurricane had Louisiana closing all state parks that year. So this was our second stay with Sam. This park is nice with a river on one side and swamp on the other. Lots of turtles and geese, last time the geese kept me in the camper, they were mean and chased me every time I tried to go outside. We also saw a couple of snakes here in 2002. This year we were there on Sunday afternoon and there were a lot of people using the park for the day. One of the best parts of traveling is the people we meet. One family with two boys was busy catching crabs, they had a whole cooler full and they were glad to share their theories on how to catch and cook them. The guy was a little strange, asked Monty where he was from and then a minute later turned to me and asked me the same question. Like we didn't walk up together? Then there was the guy from Canada that wanted to be sure he told us just how to park the 5th wheel and the couple that actually sat at our picnic table to watch us park it, people are interesting.
In 2002 we heard about a story telling lady that gave swamp tours. We missed her that time and now she has passed on. We found another swamp tour place and drove down there for a couple of hours in the swamp. The two old boys at Bill Munsons' Swamp Tours in New Ibera, were exactly what you'd expect in a back country place. The tour was OK, saw some gators, a couple of water snakes, raccoon, a beautiful blue heron and a couple of graceful egrets. We weren't fond of the nasty vultures that hissed at us. A couple from Canada joined us on the tour, they spoke some English but mostly French. The tour guide spoke a Cajun French so they were able to communicate pretty well. Remember a lot of the cajun people originally came from Canada and spoke French. We stopped at the Blue Dog Café for cajun food on the way home from the swamp tour. It was a little too upscale to be fun and the food wasn't as good as we enjoyed on our last trip thru the area. I had pasta with Tasso and seafood Alfredo sauce. Tasso is a kind of sausage served in the South. Pretty rich.
A nice addition to this trip was Cleo. Cleo is the name we usually associate with off shore psychics, so we thought it was the perfect name for our navigation system. She acted like she knew just what we were thinking but as you will see she has a mind of her own. She did a pretty good job most of the time. In fact, finding the Blue Dog Café might have been difficult if it wasn't for Cleo. She just says, "Follow the highlighted route" and then continues to tell you left or right and which lane to be in and how many feet until the turn. Pulling the 5th wheel it proved to be invaluable. Although sometimes she got a wild hair and took us thru small towns with rights and lefts every couple of blocks, we always got where we wanted to go but I'm sure there was a more direct route.
We arrived at St. George Island off the Florida Panhandle on Tuesday afternoon. We were able to get a reservation for two nights but nothing after that. When we pulled up to our camp site the young man in the site next to ours was sitting on his picnic table in a small lake. It had poured that afternoon and their campsite was just a pool of water. They were a nice couple and even though several days of their vacation had been rained out they were in good spirits. We had more bad weather this trip than on all the other trips combined. It was rainy everywhere we went. After two days of cool and cloudy/rainy weather we just weren't done with the beach. St. George is still one of our favorite places and next time we hope to spend four or five days there.
As usual we traveled without reservations and this time it was a problem, everything seemed to be booked up and we were really glad we brought the laptop to check on alternate places and the cell phone to attempt reservations. We were able to get one night at St. Joseph's Peninsula State Park. When we made the reservation we told them the size of the rig but when we went to the site there was no way we were going to get the 5th wheel into that site, we called the office and they had room in the second campground Gulf Breeze, the one for the larger rigs. It was nice and right on the beach but it isn't our favorite choice of parks. After the one night there we decided to head for an RV park and do the laundry, connect with Internet, etc. The Ho Hum park we stayed at in 2002, was booked so we stayed just down the road at Carabelle Beach. It turned out to be a nice park although the one nighters didn't get very good spots. The park has some possibilities though, nice pool, laundry facilities, etc.. Lots of kids and a great place for them, the beach is right across the highway. No trouble, just carry the chairs across the street and enjoy the sand and water. The weather cleared up so we decided to go back to St. George and stay there for another day.
After a few really nice days on the beach we figured it was time to head north on the way to Washington, DC After exhausting all the choices for parks on the coast we finally found one inland in South Carolina that we thought might be nice. On the way to Santee State Park we saw lots of billboards for something called Pedro South of the Border, really colorful ads with sombreros and the whole works. When we finally passed the place it was a huge facility of ticky tacky stuff from Mexico. It was a really strange sight in the middle of the South.
Santee State Park did turn out to be a nice place, huge trees, lake, cabins, etc. It too was crowded and luckily we only wanted two nights because that's all there was available. Met some nice people and talked about their various trips. Not really much to do at this park unless you are going to fish or use a boat. We walked some but the weather turned cold and windy again,second day was better. We wandered over to a wildlife refuge and looked around a bit. They had a small but nice visitor center and an interesting Indian burial mound. Apparently when the chief dies they simply cover his house and belongings and build the new chiefs house on top, after while the mound gets pretty big, they had a staircase about two stories tall going to the top.
We moved on to North Carolina and the Outer Banks. Museums seem to be big in this area of the South. We saw signs for the Eva Gardner Museum, the Tobacco Farm Life Museum and of all things the Farm Life Ballet. Now doesn't that conjure up a picture of cows in tutus and pigs in tights? We had a good laugh about it but we were tempted to stop at the general store just to find out what a Farm Life Ballet was.
Of course the county side is beautiful in the South. The trees and plants all had new growth and everything was that spring-time green; there is so much green it is almost a shock to the senses. We are looking forward to seeing the Outer Banks and the National Seashore and of course, the Wright Brothers National Memorial.
The Outer Banks is composed of Kill Devil Hills and Kitty Hawk on one end and about 90 miles down the island is Cape Hatteras, home of the famous lighthouse. From Cape Hatteras you can take a ferry over to Ocracoke Island to another campground. The Wright Brothers Memorial and Museum in Kill Devil Hills is well worth seeing, we enjoyed it very much. It is just fascinating to see how these two brothers, who were bicycles builders, built the first air plane. Their genius at solving problems and sticking with the project through daunting odds was amazing. They built everything themselves and their story is inspiring. The grounds of the Memorial includes: markers with the distance the early flights took, a huge memorial tower on a hill, and a beautiful sculpture of the plane and people pushing it off the ground into flight. Inside they have a replica of the first plane on display and the Park Ranger gives a nice talk. There is another building with a movie theater and displays that include local interests, weather information, stories about ship wrecks in the area and sea rescues. One of the interesting displays was a rescue system with a square wood box with wooden dowels protruding from the bottom. A rope is wound around the dowels in a specific pattern. The design allows the rope to play out without loops or snags. On the end of the rope is a metal harpoon. A gun is used to shoot the harpoon and thus the rope over long distances. It is an ingenious invention, we have pictures of the box from the Wright Brothers Museum and pictures of the gun from the Cape Hatteras Museum.
We have been to National Seashores in Florida and on Cape Cod and they are beautiful pristine places. The Outer Banks are very different. The island is long and narrow with the ocean on one side and bay on the other. On each end of the island there are several small communities of homes and a few businesses and lots of beach rental property. The middle of the island is mostly vacant land. Of course there is a lot of sand and some sea oats or grass. The really strange thing about this place is the use of the beach. This is a fishing community and most of the vehicles are trucks or SUVs with big racks on the front to hold fishing poles and coolers. Fishermen drive on the beach until they find the perfect surf casting area and park the truck and fish. There are big trucks all over the beach. It certainly isn't a beach towel and good book type of place. There are two National Park Campgrounds, one near the entry to the island and one about 70 miles down the beach. We took the first one, instead of pulling the 5th wheel all the way down the island. That was an excellent choice since it is a narrow two lane road. The campgrounds have potties but that's it.
On the first day we were there the weather was cloudy and cool. We decided the storm in New Mexico at the beginning of this trip just followed us for weeks. We spent the day at Kitty Hawk and the Lost Colony Museum. The Lost Colony refers to a group of 117 men, women and children who arrived by ship from England in 1587 and waded to shore in North Carolina. They suffered the usual misfortunes and struggles of settlers in a strange land. Their leader went to England to find help for them and encourage more people to come and help settle the area. When he returned the original group had disappeared. There was just nothing left of the group and to this day there seems to be no explanation for the disappearance. There is a museum and grounds and in the summer they have a re-enactment of the lost colony.
There was a tremendous storm during the night. The lightning was enough to keep us awake, and we felt sorry for the people in tents. The next day we headed down the island to see the Cape Hatteras Lighthouse. This brick lighthouse, built in 1870, is over 208 feet tall. In 1999 the lighthouse was moved 2,900 feet inland to protect it from the encroaching ocean and undermining the structure. There is a ninety minute movie showing the lighthouse move. The movie was done for PBS and replays here all day long. The lighthouse is beautiful and the feat of moving it was amazing to watch. Sometimes they only moved it 20 feet in a day and other days as much at 300 feet. People from all over the world came to witness the event. At times there were as many as 15,000 people flooding the island to watch. Of course all this was accomplished amongst great controversy, the old timers on the island wanted everything left as it was for fear the lighthouse would come crashing down or picturing the engineers trying to dismantle the structure and re-assemble it. The move went off without a hitch and they even moved the light keepers house and several other structures.
It was a good day, we enjoyed lunch at Dirty Dick's Crab shack. Mostly so we could say we'd been there! Unfortunately by the time we got back to Jockey Hill to see some of the annual kite festival it was getting cloudy and the lightening was putting on quite a show. The wind came up and the temperature must have dropped 20 degrees in as many minutes. We were going out to the dunes area and everyone else was hurrying to the parking lot. We just took a look at the dunes and headed for the visitor center. It was one of the nicest visitor centers we have seen with lots of weather information. Some of it stressed how dangerous it was to be on these dunes in thunder storms. So that was the mass exodus we witnessed, everyone anxious to get off the dunes before the lightening got serious.
We headed on to our next stop, Chippokes State Park in Virginia. We mentioned this park to several people and no one seemed to know anything about it. We were pleasantly surprised by the area and enjoyed our one night stay there. We arrived on Easter Sunday and they were having the traditional Easter egg hunt and other activities at the Plantation home. This plantation sets right on the James River and is actually just a stones throw across the river from Jamestown, where we visited in 2004. This is the oldest continuously working plantation in America. It originated in the 1640's and is still farmed. They had four museum buildings displaying farm equipment, a petting zoo for the kids, gift shop and of course the main house and beautiful grounds, all this surrounded by the state park and a nice campground. The Park historian was giving tours of the main house and we enjoyed the stories she told and the history. Both confederate and yankee troops came through here and fortunately for the plantation, the owner made awesome peach brandy and sold equally to both sides. Neither side was willing to torch the place and loose access to the brandy. The owner also owned the right of way to the only road leading to the river. He created a toll road so other plantations had to pay to get their goods to the river. Humm not a very good neighbor!
We had a funny incident happen at this park. The park recently installed washers and dryers in the bath house so I took advantage of the opportunity to get the laundry done before we hit Washington, DC. I threw in the wash and returned to the RV, later saw some people come up and unload a car full of laundry. I was already occupying the two washers. I watched the time and headed back to move the clothes to the dryer when a young lady came up and apologized for throwing her children's p.j.'s into our laundry. She thought it was her friends laundry in the washers. We talked for quite awhile about our travels and where they lived, etc. Then when the washer stopped she proceeded to pick out the clothes "this is my daughter's, this must belong to your husband, oh this is my son's, this must be yours, etc." It was really pretty funny. After sorting all the laundry she decided to wait until her friend showed up to use the dryer she said, "You have just been so nice about all this, when I grow up I want to be just like you, thank you"
We headed off to College Park, Maryland on Monday morning, arriving at Cherry Hill RV Park about noon. It is a nice place and we had the primo spot. (No. 1131) There was a buffer next to us with trees and grass and it is perfect for our big windows. The main office and bus stop are about a two block walk from our spot. There is a nice lounge area, huge laundry facility, and two swimming pools. Spring isn't quite here yet in this part of the world. Even though the Cherry Blossom Festival has come and gone the weather just isn't cooperating. This afternoon was pretty cool and they are expecting rain tomorrow and Tuesday. We decided to spend the afternoon kicking back and going to the orientation for visitors to DC. The orientation was great, we learned about using the local buses and the metro, and even purchased our metro tickets.
We got up bright and early the next morning and headed over to the bus stop, umbrella in hand. We looked over the maps and figured out which metro line we needed and where to get off. That worked pretty good, (except for the kid throwing up on the metro it was a pretty nice ride). We managed to get off at the right stop but then had no clue which way to turn. We asked a handsome young man in a nice suit for directions to the Air and Space museum, and we were on our way. One thing we discovered, everyone in DC is very helpful, I don't think we ran into anyone who was rude or short tempered. They were eager to offer help and directions.
We spent the morning at the Air and Space Museum and loved it, then, since the National Gallery is right across the street we decided to do that while we were there. We left the camera at home, it was rainy and there didn't seem to be any reason to carry it all day and not take pictures. We did notice lots of people taking pictures in the National Gallery though. I guess if you don't use a flash it is OK. It was impossible to see all of the gallery, there are several buildings and I don't think we fully covered even one. But after a while the paintings and artists all run together. Of course we saw the biggies; Monet, Rembrandt, and those other guys. In certain periods the topics all seem to be Madonna and Child or a variation of that theme. Many of the portraits brought a chuckle to us. It looked like the men had their heads on backwards. They had necks as wide as their heads and narrow shoulders. Their shirts draped funny off the neck and had no buttons or collars. It was odd looking. I'm guessing that is not the usual reaction to the National Gallery.
We met my nephew, Geoff, and his wife, Lucia, at their home on T Street, actually Geoff met us at the metro exit, we had a hard time getting our bearings in this big city. Their home is a very interesting place. 18 1⁄2 feet wide, 100 feet deep and three stories tall. They have completely restored the house and were in the midst of a new kitchen remodel. We loved seeing the house and the lovely neighborhood that is being restored one house at a time. We went to dinner at a Tai restaurant that was excellent. Everything here on the East coast is so different from what we are used to in the West. Lots of people and unique neighborhoods that are fascinating. Geoff drove around Washington showing us the sights with all the lights, what a beautiful place. The Lincoln Memorial was speculator, the pools and sculptures are stunning. Luckily he drove us home, or I fear we would still be trying to find our way back to Cherry Hill.
The next day we managed the bus and metro again and spent the day seeing more of the sights. We contacted Gabby Giffords office and they arranged for a tour of the Capitol with a young intern from Arizona. Nick was entertaining and knew his history, we got a terrific, head of the line, private tour, and he showed us how to use the underground tunnel leading to the Library of Congress. Did I mention the rain, Argh!!!
The Library of Congress was the most beautiful building we've ever seen. The architecture is gorgeous and the artwork is breath taking. We walked around a bit and decided lunch was in order, found our way through the tunnels to the Madison building and ate at the cafeteria. That worked out well except we couldn't find our way back to Library of Congress. Someone finally took pity on us when we passed them a couple of times apparently looking as lost as we felt. This young man let us in on the secret of the painted walls . The corridors are all painted different colors but, if you know the code, you can follow a color to your destination. Apparently we left our decoder rings at home. Back at the Library of Congress we joined a tour that was informative and fun. We love guided tours, we see so much that we would just walk by without a guide. We took the metro to our bus stop and waited in the sleet for the bus to take us to Cherry Hill. Is it necessary to mention the weather again.
Geoff took the next day off work to show us around and we made a full day of it. I loved the Natural History Museum, and Geoff and Monty were happy with the American History Museum. We saw the Hope diamond and gorgeous nature photography. The war memorials were so meaningful and touching. My favorite was the Korean Memorial, so haunting, and of course, the Vietnam Wall is awesome. The WWII memorial was very different. Geoff explained some of the controversy surrounding this memorial and it was interesting to get an 'insider' view of things. We declined the dinner invitation, as Monty and I were both totally pooped. I'm glad we didn't wait a few more years to do this or we would have to stay a couple weeks just to see what we have seen so far.
The next morning we were off again, starting with Union Station, a magnificent place. The Botanical Gardens were beautiful and the Native American Museum had the best lunch in town. We are pleasantly weary and ready for some down time.
Our next sojourn was out to Fishing Creek, Maryland where Geoff and Lucia have a summer place. Oh my gosh, this place is so charming, you expect it to be part of a movie set. Just lovely and right on Chesapeake Bay. Geoff drove us around to see the island and Lucia worked her magic in the kitchen making crab cakes, it was a delightful day.
We were off in the morning, heading for New Hampshire. We have been torn about getting a puppy. We lost, Mattie, our traveling companion last year and we really miss having a dog to share our lives. Arlene, the lady we got Mattie from, wrote to tell us she has lots of new puppies this spring and suggested we just come and get one. Monty picked up Mattie there six years ago and Arlene was anxious to replace her if she could. Soooo, we will go and look, well, everyone who knows us knows how this turned out. We found our Zoe, a shy, quiet, calm, laid back, bundle of fluff, peeking out from the background behind all her jumping litter mates. I have to say, she maintained that quiet, calm demeanor all the way home. After that all bets were off and her wild and crazy personality won out.
The first night we stopped in New York State on the way home and it snowed. Monty tried to walk little Zoe but they were both too cold to have any fun. Bad Weather!!!! We stopped in Nashville and Ruth and Charles said all the nice things you say to people crazy enough to drive thousands of miles in a truck with a new puppy. We have to admit though, Zoe did really well, never a single accident. Of course, we stopped at every other rest stop between Colbrook, New Hampshire and Tucson, Arizona. It took us almost forever to get home. But when we arrived Zoe looked over the yard and the house and you could almost her cheering, I don't live in a truck, I have my own yard, I have a house and even my very own cat. Life is good!!
http://carriebonello.com/wp-content/uploads/2018/07/DCTrip2009-295-e1533929424216.jpg
450
600
cbonello
http://carriebonello.com/wp-content/uploads/2018/06/new-carrie-logo.png
cbonello
2018-07-02 13:08:51
2018-08-19 12:58:58
Southeast - Washington, DC - 2009