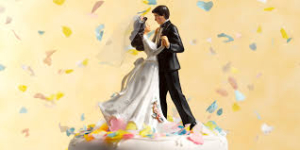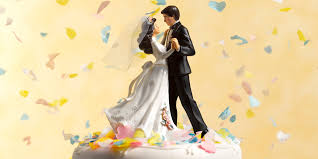 I remember 1960 like it was yesterday.  I graduated from high school on a Saturday in  June, turned 18 on a Wednesday in September and got married on a Friday in December.  
I'd read a couple of romance novels; you know the ones with bare chested Fabio on the shiny cover, so I knew everything there was to know about love, sex and marriage.  In hindsight, we were a couple of kids who knew nothing about any of it.  
We'd seen Pillow Talk, Love in the Afternoon, and Pajama Game, recognize the theme here?  My first reality check came when we got our Christmas tree about a week after our wedding.  There I was prancing around in my peignoir carefully placing second hand ornaments on our Charlie Brown Christmas tree.  My new hubby wasn't making goo goo eyes at me, or helping to decorate the tree. This wasn't working out like the novels I'd read, and this scene belonged on the cutting room floor. I pictured a romantic interlude and he was busy catching up on the sports page. That might have been when I started my first stamp book.   You know a book where you paste a stamp for every misdeed, disappointment or hurt.   Why share my disappointment now when I could save a few stamps for later.  We didn't know how to be married.
His mom was a strong person, from a country background; never afraid to tackle anything, from cleaning the distributor on her car to dismantling a stove or washing machine and putting it back together.  She could whip up a country meal of chicken and dumplings with a side of collard greens quicker than I could read the instructions on the Kraft mac and cheese box. 
My mom never drove a car, let alone knew anything about them.  She took care of the inside of the house, dusted, vacuumed, cooked, washed clothes and ironed every week, dad took care of everything else. Dad washed the outside of the windows, while mom washed the inside.  Dad cut the grass every week and planted flowers for mom.  My understanding of marriage was based on this dynamic.  Dad said a man's responsibility was to take care of these things.  I'd watched plenty of  Father Knows Best episodes, why would I doubt my dad.  
It is pretty easy to recognize the different backgrounds and expectations that we brought to marriage.  I knew the marriage 'rules' and couldn't figure out why my hubby didn't know them.  It never dawned on me that his 'rules' were different from mine.   
I was fourteen and he was eighteen when we met and started dating, he was my first boyfriend, he had a car, I was thrilled.  We dated all through my high school years, looking back I can't imagine how we could have spent that much time together and never pictured what our married life would look like.  Well, in hindsight, maybe we did but the pictures were different.  
After eighteen years I had stamp books full of 'you owe me' stamps for various 'perfect marriage' infractions.  My husband was, and still is, a good old boy, but we never learned how to have a partnership.   We never talked about our expectations, future plans, or checked in to see how we were doing.  
In the end we threw around a lot of 'd' words; discontent, dissatisfied, disappointed, and of course the big one Divorce.  It was 1979, none of our friends were divorced, I'm not sure we even knew any divorced people.  We used the standard 'we grew apart' answer to the questions.  When, in truth, we just never grew up. 
http://carriebonello.com/wp-content/uploads/2018/10/images-1.jpeg
159
318
Carrie Bonello
http://carriebonello.com/wp-content/uploads/2018/06/new-carrie-logo.png
Carrie Bonello
2018-10-23 13:35:14
2018-10-24 11:28:20
Nineteen -Sixty Plus Nineteen