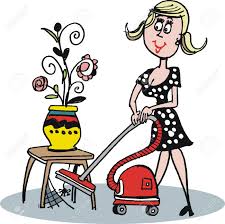 The vacuum cleaner is not my friend.  Several years ago I bought what I hoped would be my last vacuum, but it died an early death and I'm interviewing prospective replacements. I'm firmly convinced  vacuums were invented by men who disliked their mothers, and I know these men are secretly snickering.   I swore I wouldn't buy another vacuum until I could zoom around the house like the guys on the riding lawnmowers.
I am the first to admit I don't take loving care of my vacuum, but try as I may, I can't see this bulky hunk of plastic, with screaming brushes and loud sucking noises as a friend.  Monty has replaced the plug on every vacuum we've owned. Maybe my expectations are too high, but I think the cord should be long enough to vacuum a 10×10 bedroom without having to yank the plug out of the wall and plug it in closer to the action. Monty constantly reminds me it is the 'yanking' that is the problem.     
When Zoe was a puppy she barked and chased the vacuum  until she wore herself out.  Like a dog chasing a squirrel, she was as shocked as I was when she actually caught it, in the ensuing battle she bit the wheel off and ran outside with her treasure.  
I've owned a couple of nice canister vacuums but now I find myself  tripping over the hose and running into the wall with the canister while dragging the monster down the hall. (something to do with the missing wheel I suspect.)  
I've avoided upright style vacuums because they are too hard to push around.  The last upright I dealt with was my mom's old Kirby.  I remember it was such a big deal when dad bought it for her.   Those were the days when a wife was actually excited to receive a new vacuum for her birthday.  That vacuum was a monster that would pull the carpet right up off the floor.  It was similar to trying to push a couch through shag carpet.  When we finally got rid of that beast, we had to hire movers to haul it to the Goodwill, I was glad to see it go. 
The chance of me finding the perfect vacuum is somewhere between slim and none.  Even Mr. Dyson isn't going to convince me I will be happy skipping around the house pushing his state of the art machine.  
http://carriebonello.com/wp-content/uploads/2018/11/images-3.jpeg
224
225
Carrie Bonello
http://carriebonello.com/wp-content/uploads/2018/06/new-carrie-logo.png
Carrie Bonello
2018-11-03 09:14:20
2018-11-03 09:14:20
Vacuum Dilemma