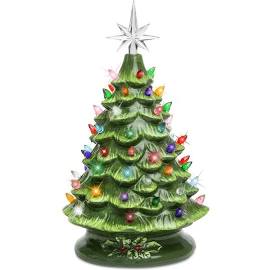 Christmas time arrives with so many memories. Nothing starts the flood of emotions quicker than looking through the boxes of ornaments and what-nots that we only enjoy for a week or two during the year.  
The first thing I found this year was the green ceramic tree that I made for my mom, in the early '60's.  You remember these little fifteen  inch trees that sat on a  base holding a nightlight.  When plugged in, the night light shown through tiny colored plastic gizmos that were set on the end of each branch.  
Mom loved this little tree, one of the best discoveries is the perfect  box it is stored in.  My dad carefully wrapped the little tree in shredded paper and his handwriting on the box identifies it as 'the Christmas tree Carrie made'.  When mom passed away I inherited the Christmas stuff from her shed and this treasure was included.  
So many reminders of the past are stored in the Christmas box.   I remember the first time mom declared it was too much trouble to put up her artificial tree and decorate for Christmas.  I was aghast that she wasn't going to have a tree.  That started our tradition of spending a Saturday afternoon together to put up her tree and wrap packages.   I'll never know if she really didn't intend to put the tree up or if it was just the perfect ruse to get me to come and spend the afternoon.  Which ever, it worked and I remember those many years with great fondness.   
The next box held the original 'elf on a shelf'.  When Greg and Tricia were very small,  one of the ladies at church gave them each an elf for Christmas. The one I still have is identical to the 'new' elf on a shelf.  He sits next to the fireplace now, the stuffing is squeezing out of his seams but if he is turned just right you hardly notice.
Snuggled next to the elf are the three carolers dressed in plaid.  They hold song sheets, with their little mouths perfect 'O's .These hold a special significants because they came home with us from our time in the military at Fort Ord.  That was in 1963, the year Greg was born.   
Then there is the macrame Santa, who for some reason, keeps stretching and now looks more like Father Time than jolly old St. Nick. I went through a crafting spell when the kids were little and macrame was a new thing. This Santa had a nice white beard and jaunty red hat.  Now the beard looks like he dribbled soup on it, the hat lost its furry trim long ago and was replaced by cotton balls.    
In the '70's  I carefully hung different colored ornaments on long ribbons and arranged them in an arch in the front window of our house.  It gave a nice frame for our beautiful white flocked Christmas tree.  We bought that tree at an after Christmas sale in the '60's.  It might have been a special buy because white flocked trees were losing favor with the Norman Rockwell set.  The kids still laugh hilariously whenever that tree is mentioned but I rather liked it.  
Another decorating feature that was always present was the Christmas card tree.  You know, when you anxiously wait for each Christmas card, hoping for the perfect bright portrait card for the top, the next row consists of two landscape cards, followed by several portrait cards, the next row is more landscape cards and so on, until you have a giant Christmas card tree.   As the years have gone by it is harder and harder to create a very big tree, just not as many cards to work with.  
One Christmas memory I will always cherish is the time Tricia and I spent wrapping gifts together.  I remember wrapping paper, ribbon, boxes and tape all over the bedroom floor; but most of all I remember a very special mother and daughter time.   
Through the years we have tried to downsize and minimize the number of Christmas boxes stored in the garage.  I'm not ready to part with some of the things I hold dear.  There are a few newer ornaments and decorations but they haven't established a place in my heart, they are just bobbles.  
Wishing you a very Merry Christmas!
http://carriebonello.com/wp-content/uploads/2018/12/Unknown.jpeg
270
270
Carrie Bonello
http://carriebonello.com/wp-content/uploads/2018/06/new-carrie-logo.png
Carrie Bonello
2018-12-07 15:13:01
2019-12-20 18:59:33
Deck the Halls