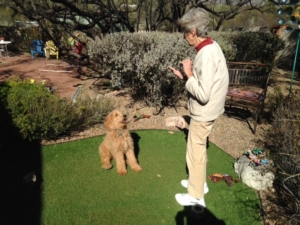 Life with a puppy, or are you smarter than a five month old?  We keep reminding ourselves we only have to be smarter than a puppy, but when we finally turn out the lights at night we aren't sure who won the day.  
The first few weeks of life with Miss Daisy our conversation was focused on potty talk.  Outside, pee pee, good pee pee, that's a good girl, nice boomies, don't step in it, too late, yuck, damn, it wasn't your fault, you were a good girl,  you pottied outside.    
The doggie door is a life saver for house breaking.  After Monty and I passed some tasty chicken back and forth through the door several times she figured it out.  She can go out to do her business and cruise  the yard looking for the perfect stick or rock to bring inside.  
We laugh at her when she has a stick that is too big to fit through the doggie door.  She will make several tries to push it through and then stop and turn it just enough so she can get it through the door.  Once inside she proceeds to chew the stick into tiny pieces to be scattered across the kitchen floor.  There is a lot of sweeping going on at our house.  Of course, that doesn't happen while she is the kitchen because she grabs the broom and shakes it like the vicious broom fighter she is.    
In a Martha Stewart moment, I decided to put a tablecloth on the kitchen table.  I carefully tucked the edges up so little paws wouldn't notice anything different.  The next time I passed the doggie door the tablecloth was half way outside with Miss Daisy doing her best tug of war impression.  
Monty is eager to get back into the morning walk routine with his new companion.  He walked every day with both Mattie and Zoe, that's about fifteen years of trekking through the neighborhood.   After we lost Zoe he just couldn't bring himself to walk without her.  
Most dogs love to go for a walk. When we attached the leash to Daisy's collar it seem to trigger a silent signal to jump around like a trout on a fishing line .  We thought this dog would never learn to walk nice on a leash but lo and behold she is a perfect lady on the leash now.  Both Monty and Daisy are ready for a walk every morning.  
It didn't take Daisy long to figure out the morning routine.  First everyone has breakfast, dad always saves her a bit of cereal milk and some days she even gets a mini wheat.  Mom and dad disappear into the back of the house for teeth brushing and hair combing.  Daisy stands at the kitchen gate and 'talks' about a walk.
Yes, we still use a gate at the kitchen door.  We've made every effort to encourage Daisy to respect the rest of the house but it has fallen on deaf ears.  She seems to think the gate is like a bull rider gate at the rodeo.  When it is open she comes charging out and races around the house like a dog possessed by the devil.  We have literally just stood in the middle of the living room  watching in amazement and waiting for the body slam we know is coming.  After a few minutes we can't take it any longer and she goes back to the kitchen.  Actually she seems perfectly happy there, she can hear what's going on and can watch us, she doesn't complain.  We are looking forward to the time she will join us on the couch but we aren't there yet.  
Last week we dug out the tomato cages and PVC to set up jumps for Miss Daisy .  She is a quick learner if we can hold her attention. She will make both jumps and turn around and do it again.  Next step is to raise the bars, but I think we will bask in the glory of this accomplishment for a while.
Miss Daisy earned a puppy certificate from the Complete Canine School, she wore a graduation cap, and had her picture taken and ate cake.  OK, we admit Jeremey was very generous with the certificates.  I would post a picture Daisy with her blue graduation cap but the picture was a blur of shaggy dog and teeth ready for cake.  
Our next group of classes is in the park, so it is a whole new experience.  Outside is much more fun, although there are more distractions.  This class is run by volunteers from the Old Pueblo Dog Training group.  They have been around for about sixty years and I swear some of these gals are part of the founding members.  We were  excited to see Lydia, our puppy class instructor.  We loved her when we took Mattie to these classes sixteen years ago.  I remember thinking she was kind of old at that time, but she hasn't changed a bit, still delightful and loves puppies.  
There are ten puppies in the class, all under six months of age.  Yes, it is chaos, but in a good way.  There is plenty of 'meet and greet' time for the pups, and lots of new things to learn. The three of us look forward to Sunday afternoons in the park.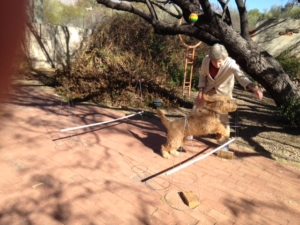 http://carriebonello.com/wp-content/uploads/2019/01/IMG_2494.jpg
480
640
Carrie Bonello
http://carriebonello.com/wp-content/uploads/2018/06/new-carrie-logo.png
Carrie Bonello
2019-01-25 16:24:54
2019-05-19 09:05:28
Are You Smarter Than . . .?