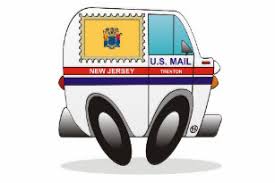 Before 2018 ended, I carefully wrote 2019 on the first twenty checks in the check book.  Twenty checks will last until September and by that time I should be used to 2019. I also made a trip to the Post Office and picked up several books of stamps because it annoys me to pay a nickel more per stamp.   
The cost of a postage stamp was never something I spent a lot of time worrying about.  When stamps were twenty-five cents we might have given it some thought but it certainly didn't keep us from mailing cards, letters and paying bills.  
Gradually stamps went up to forty-eight cents. What an odd amount, you could guess the fifty cent stamp wasn't far behind.  After all it was just a two cent raise. 
The Postal Service is struggling now, people aren't buying stamps, and both the brown truck and the grey Prime van are better at delivering packages.  Six days a week the dedicated mail person drives that familiar  old white truck up and down the street stuffing mailboxes with bulk mail.
How often do you actually get a letter in the mail that you wanted?  Something that wasn't addressed to 'occupant' or 'current resident'.  My daughter, sees no need to go to the mailbox, she didn't ask anyone to send her mail addressed to occupant.  Does the Post Office need a middleman to collect bulk mail from the mail box, and pitch it in the recycle bin?  I have to admit, she has a point.  My son doesn't like mail because he insists, nothing good ever comes in the mail.  What about the fifty years of birthday cards I've sent?  
On January 1, 2019 stamps went up a nickel. Yep, folks, that's fifty- five cents to wish someone a Merry Christmas, Happy Birthday, Get Well Soon or pay the Chiropractor .  Five dimes and a nickel, two quarters and a nickel, one quarter, two dimes and two nickels.  That nickel just hangs out there all by itself, it doesn't fit in anywhere.    
The postal service is rising rates because we aren't sending enough mail.  Apparently while the post office was sleeping Al Gore invented the Internet and now we pay bills through auto-pay,  and send birthday wishes via social media. The bureaucrat's solution is to raise the cost of sending mail. Is that really a solution?
I can hear the last gasp of the little white trucks.  
http://carriebonello.com/wp-content/uploads/2019/01/images-11.jpeg
183
275
Carrie Bonello
http://carriebonello.com/wp-content/uploads/2018/06/new-carrie-logo.png
Carrie Bonello
2019-01-19 10:22:59
2019-10-29 14:05:46
Go Postal