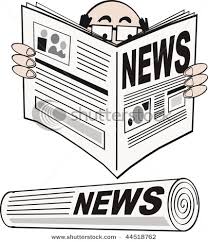 So this is it, no more playful banter while Monty tries to read the sports page and I constantly interrupt with important issues from Ask Amy. The sections of the newspaper passed back and forth like a football over the cereal bowls.  It is coming to an end.
The letter arrived yesterday and it is over. Tucson Newspapers unashamedly announced their new subscription rates.  This is the second rate hike in the last year and this is the final straw.  
We grumbled when the last hike seemed unreasonable, but we justified the expense  with the fact that it was Zoe's job to run up the hill and get the paper every morning.  We loved the ritual of sending her up to fetch the paper and she seemed to be smiling as she raced down the driveway clutching her treasure.  We didn't want to threaten her self esteem by telling her she no longer had a job, so we just paid the price.  Sadly, many of life's little joys ended when we lost Zoe.  
When we were working we didn't sit down with the paper until after dinner, but when we retired in 2002, we started sharing the paper over coffee in the morning,  It has been an enjoyable way to start the day, probably because Monty sticks to the Sports section and I pick up the human interest stories and advice to the love lorn. We eschew the political headlines and avoid letters to the editor.  
In 1949, when the Johnson family arrived in Tucson, mom and dad subscribed to the Tucson Citizen.  I grew up with Don Shelly, a local columnist, and of course Molly Mayfield the syndicated advice guru. When I married in 1960 my new husband and I continued the tradition. Even as cash strapped newlyweds we never considered life without a daily paper.  It was a grownup thing, adults read the paper, and after all we were adults now. (sort of).
All of those years we stuck with the printed paper: through delivery issues, papers tossed in the cholla patch,  plastic bags and wet papers, annoying fold over advertisements that obscured the articles, and of course, ink on the fingers.  
In our ire over this latest rate hike we called the 1-800 number provided in yesterday's letter. Monty spoke with a nice young lady located 'offshore'.  She had no authority to help us and her supervisor didn't care that we've been supporting Tucson Newspapers since before she was born.  Maybe they simply didn't understand us any better than we understood them.
We will miss Pickles and Dilbert, I'm not sure how I'll  solve problems without Amy's advice, although, in truth, most of the problems she tackles are beyond my comprehension.  I guess it is satisfying to realize we don't actually know these dysfunctional families.    
I think of Marilyn Heins as a friend who offers sound parenting advice.  I enjoyed her child rearing column when our oldest grandchild was still small. Daniel now has children of his own.  Greg Hansen will  have to solve the Pac 12 problems without Monty's help.  I'll miss the Arroyo Cafe, but Fitzsimmons is getting too caustic to enjoy. 
So we'll say good bye to the luxury of a second cup of coffee and chatting over the newspaper.  Call it mental telepathy but we know Sam Levitz is having a sale and Jim Click will celebrate President's Day with  a special on Hyundais.  Go figure that one. We don't need to see their full page ads. 
On the plus side, no more fishing the paper out of the prickly pear, no more spreading the wet paper all over the kitchen to dry, no more recycling. Yeah!  I'm tired of refolding the paper to stuff it into the recycle bin.    Think of the trees we'll be saving.  
Maybe there is an upside to this after all.  
http://carriebonello.com/wp-content/uploads/2019/02/images-14.jpeg
242
208
Carrie Bonello
http://carriebonello.com/wp-content/uploads/2018/06/new-carrie-logo.png
Carrie Bonello
2019-02-08 17:12:23
2019-02-08 17:12:23
End of an Era