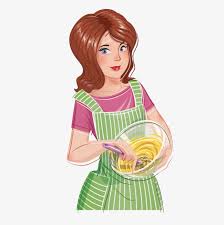 Memories of my mom speak to me in February, her birthday month.  She passed away twenty-seven years ago at the age of 84.  Still, when something happens, significant or mundane, often my first thought is what will I  tell mom.  Some times I can see her smile and other times I see her shaking her head in disbelief.  I was fifty when I lost my mom, certainly old enough to manage on my own, but are we ever ready to be without our moms? 
My mom was typical of her generation, the greatest generation, I might add.  She and dad had a classic marriage for the day.  She did all the inside work in the house, dad took care of everything outside.  Even to the point of window washing, mom washed the inside and dad washed the outside.  
Mom was not a housewife but a homemaker.  She loved to bake cookies and cakes,  her delicious sweet rolls had sticky caramel tops covered with pecans. She enjoyed exchanging recipes with her friends and collecting recipes from the magazines that arrived at our door every month; Ladies Home Journal, Good Housekeeping, Family Circle and my favorite, McCalls.  
 McCalls had the Betsy McCall paper doll insert every month and mom would help me cut out the doll clothes.  We carefully cut the paper clothes, ever mindful of the little tabs that were folded over to hold the clothes on the cardboard Betsy. 
My brother and sister were thirteen months apart, they grew up together. A perfect plan, until I arrived twelve years later.  Oops might have been the first word I heard.  I grew up in a different family than Bert, or Marilyn; I was pretty much an only child.  The downside is there weren't other kids around to laugh, fight or share secrets with, but the upside was I had my mom's undivided attention. 
We moved to Tucson when I was six, Bert joined the Army and didn't  move with us.  Marilyn was eighteen and it wasn't long before she married a fella from Davis Monthan air base and moved to Colorado.  All of mom's family and friends were back home in Chicago. Mom and I were marooned here in the desert together while dad went off to work six days a week.  Mom never learned to drive, so other than waiting for the mailman to bring letters from home, there wasn't much excitement.
When it rained mom walked from window to window looking out at the falling rain; she was so frightened by the  summer thunder storms in Arizona that she would coax me to sit under the dining room table with her.  When the storm calmed down we would drink coffee with lots of cream and sugar  and eat buttered rye crisp. I would dip my rye crisp in the coffee until there was a yellow butter slick on top of the coffee.  
I never remember a time when there wasn't a giant Hershey bar, with almonds, in the fridge.  Mom had a sweet tooth and she could be found breaking off a square of that candy bar at any time during the day.  She wasn't concerned about gaining weight, she never gained any, and healthy eating wasn't the main topic of every conversation in those days.  
Mom loved to sew and made most of my school clothes.  In sixth grade I was voted the best dressed girl in the class.  She taught me to sew, and by the time I was in high school I made my own  clothes. When I learned to drive we would take the car on dads day off and spend time at the fabric store, browsing the huge pattern books.   Simplicity, McCalls and Butterick were our go-to books. It was exciting to find the perfect pattern, write down the number and begin the search through the file cabinet for the pattern.  The quest to find the perfect bolt of cloth was next;  feeling the texture of the cloth, scrutinizing  the end of the bolt for washing instructions, and fabric content.  It was a fun mother/daughter thing to do and sewing fit into our budget.    
After I was doing my own sewing, mom switched to making aprons, potholders and various other craft items.  She covered metal hangers with cheery fabric and used ribbon to attached small clothes pins on the bottom. These made a perfect hanger for drying stockings. In those days, stockings came two in a package, you know one for each leg.  
Mom made adorable clothes pin bags styled like little dresses. The fabrics might have been scraps but there was always enough of this and that to create a cute design.    I was at an estate sale recently and discovered a similar little bag hanging near the closet.  Several young women were looking at it wondering if it was a doll dress.  I almost bought it just because it brought back so many memories. 
Few people hang clothes out on the line anymore, but it was an opportunity for mothers and daughters to have meaningful conversations over wet sheets and towels, panties and bras.  Note: the panties and bras always hung on the inside lines, discretely hidden behind the rows of sheets and towels.  We didn't want the neighbors to see our unmentionables. 
In Junior High mom helped me make heated starch on the stove. We'd  dip my crinolines in the cook pot until they were dripping with warm gooey starch.  We'd run out the back door with crinolines dripping all the way to the clothes line.  We were both covered with starch by time we got them all spread out on top of the line so they dried in a circle.  What a mess it made, but the circle skirts she taught me to make looked marvelous laid over the top of those crinolines.   
 I grew up, married, and moved across town, but mom and I still had good times together; going to the store, exchanging recipes, and talking about married life and the grandchildren.  Mom was never one to offer advice, in fact, if I was in tears, crying about some problem or other she would wait it out.  Just when I thought she was going to offer some sage advice she'd ask if I'd seen the new chicken recipe on the Campbell's soup label.  She was not going to get involved in any unpleasantness. 
Many years later, while shopping in Mervywn's department store we got separated. Although I was a towering 5' 4", mom wasn't very big.  The shelves were all taller than either of us.  I looked up and down every aisle for her, I was relieved to finally find her sitting by the exit door.  She'd planned to wait in the car but she couldn't get Mervywn's heavy door open. 
Since she never drove a car she had no need to worry about the size, color or where it was parked.  On top of that she had the odd notion that if she was between the white lines in the parking lot, cars wouldn't hit her. Needless to say I was relieved she didn't get out of the store.  
In later years when I worked full time and had a family to care for, it was hard to find time for everything.  I would take her to the store on the weekend but it had become more of an obligation than a pleasure. She wanted to wander up and down the aisles and look at everything.  Goodness knows she didn't need anything.  I wasn't the shopping companion she needed and I'm ashamed to admit I wasn't always good natured and kind.  
Thinking back on those days, I can't help but wish I had a chance to take mom shopping one more time with the grace she showed me for so many years.  
I will always remember the occasion  I apologized to her for being short of patience and she answered, "It's OK, I have enough patience for both of us".  
I miss my mom. 

http://carriebonello.com/wp-content/uploads/2019/02/images-18.jpeg
225
224
Carrie Bonello
http://carriebonello.com/wp-content/uploads/2018/06/new-carrie-logo.png
Carrie Bonello
2019-02-28 08:26:14
2019-10-29 16:07:40
Happy Birthday Mom