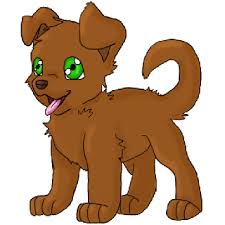 When we brought Daisy home she was a cute ball of fluff.  She has grown from six pounds of fluff to thirty pounds  and she is still fluffy. She has endearing curls on her face, but short of using hair gel they won't stay out of her eyes.  
Her hair is about four inches long and stands straight up all over her body.  She is so round we thought we must be over feeding her.  At first we thought all the fluff was  her puppy coat and any day the fuzz would change to beautiful curls or waves.  After seven months we were beginning to wonder if fluffy was her permanent look.  
We decided a trip to the groomer was in order.  We told her she was going to spend the morning at the spa.  No sense telling her she was spending her morning on senior discount Tuesday at PetsMart.  
We started using Petsmart years ago with Zoe.  At that time Shelia was our favorite groomer, she really seemed to love Zoe.  When Shelia moved across town we followed her.  When she got  promoted to trainer we found Bethany.  Bethany took care of Zoe for several years. When we lost Zoe, Bethany sent us a nice note and a picture she'd taken of Zoe.
It was a pleasant surprise to see Shelia at the store today, doing some training for new groomers.  Bethany told her we would be coming in today and Shelia wanted to tell us how sorry she was about Zoe.  It was so nice of her to make the effort to wait and talk to us.  I have to say we are very pleased with PetsMart and the caring staff.
Back to the beauty treatment.  Apparently a morning at the spa can work wonders.  Daisy's transformation was like an extreme makeover.  All the fuzz is gone and underneath is beautiful wavy fur.   We can see her eyes are a beautiful brown with a mischievous glint.  
We made another discovery this week.  I think I've mentioned that Daisy likes to be up close and personal and stands on her hind legs all the time.  I read a suggestion to carry a book and when she starts to jump simply put the book at waist level and when she bonks her head she'll get down.  At last we can put that dog training book to good use. Stirring the spaghetti sauce and putting the pasta on to boil is tricky with a book in one hand.  
The jumping is really annoying to us and guests are overwhelmed.  So now we have a solution, we just issue a book to each visitor.  If we throw a party we'll have a good use for that set of encyclopedias. Do you want to reserve the popular  L – M or the seldom used XYZ?
Daisy presenting her side of the new look:
This is my before picture.  As you can see I'm perfectly happy playing with my toys. OK, I can't see my toys very well but I'm happy.  Even though mom brushes me every day this coat is like a bad hair day, every day.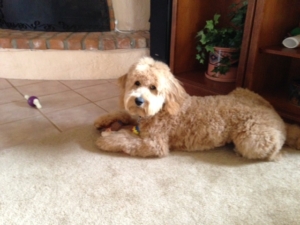 Bethany is my new best friend, but it seemed like I was standing patiently for days, while I got brushed and clipped.    I'm lookin' good though don't you think? I take after my dad, Charlie, a red poodle , with the softness of my mom, Sarah,  a Golden Retriever.  And look how slim and trim I am.  I told mom I wasn't getting chubby.   
http://carriebonello.com/wp-content/uploads/2019/03/images-5.jpeg
225
225
Carrie Bonello
http://carriebonello.com/wp-content/uploads/2018/06/new-carrie-logo.png
Carrie Bonello
2019-03-29 08:15:02
2019-05-19 08:54:08
Extreme Makeover