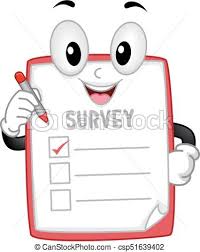 When did companies become obsessed with surveys? I have to admit at first it was exciting to think someone actually wanted to know what I thought.  That was about 10,000 surveys ago.  
On a scale of 1 to 10, one being least satisfied, and 10 being euphoric, please answer this brief, twenty question survey.  Nooooooooooo, I don't want to play 20 questions with you.  Your service hasn't improved since the last survey – fool me once, but not twice.
There are surveys for everything.  Drop in to see your primary care physician, order ink jet refills from Amazon, attend a seminar at the library. The surveys follow you home via e-mail, everyone wants a gold star for their good job. 
Why does the grocery checker ignore me for ten minutes and then hands me a receipt with a smile and asks me to fill out their satisfaction survey on their website? Does anyone go home and scurry to the computer before they put away the ice cream so thrilled to fill out another survey? 
We took Miss Daisy to the vet, and since the follow-up survey was addressed to Daisy, I'm not sure how I should reply.  Daisy appeared to like the vet but she wasn't happy about having her temperature taken, she liked the treat, but not the rabies shot.  So maybe the vet gets a 'somewhat satisfied'.
I called my health care provider the other day to verify some specific coverage and before I was even connected to a representative I was asked if I wanted to take a 'brief' survey when I was through with the call.  My curt 'no' answer is met with an equally cool 'fine', I'll connect you to the next available representative. Apparently the rep who can help me is on a coffee/smoke break, but 'Someone will be with me shortly'. I don't want to appear cynical here but do you think I'd get better service if I'd offered an enthusiastic 'yes' to the survey question?
Our e-mail is overflowing with requests to answer a few brief questions about the service received: the timeliness of the answer to our question, the shipping process, whether the delivery guy was cheerful and freshly bathed, if the package arrived in good condition. 
We have several delivery people in our area that invariably transpose the numbers in our address. If a delivery hasn't arrived in a timely manner we go down the street to knock on Ms. Peabody's door and see if she has our package.  In return we loaded her new vacuum cleaner in the car and delivered it.   
Last month Monty was anxiously waiting for a new gismo from Amazon. The on line tracking detective said the package was delivered.  We scouted around the house but there was no package.  Amazon insisted they delivered it and even had a picture of the package sitting on the porch to prove it; the only problem……it wasn't our porch.  As far as they were concerned it was a done deal.  Off we went checking front porches all over the neighborhood.  To save knocking on doors we stood at the street comparing the Amazon picture with each front porch.   Amazon definitely did not get 'meets expectations' on their survey.
Due to an unfortunate backing incident (don't ask) we ordered a new tail light for our car.  The delivery person didn't bother to knock on the door but simply left the new tail light in front of the garage door.  Got the picture?  I hit the garage door button, jumped in the car and backed out right into the box with the new tail light.  If it would have been in the center of the garage door I could have backed over it but noooooo, it was left directly in line with the tire. Fortunately I heard the crunching sound as I started moving.  The delivery guy gets a 'needs improvement' but the packaging guy gets an 'very satisfied' for the number of peanuts packed in the box that saved the tail light.  Oh, I also get an 'excellent' for quick application of the brake.  
I hope your day gets an 'outstanding' rating.  No one wants a 'needs improvement' kinda day.  
http://carriebonello.com/wp-content/uploads/2019/04/images-19.jpeg
252
200
Carrie Bonello
http://carriebonello.com/wp-content/uploads/2018/06/new-carrie-logo.png
Carrie Bonello
2019-04-12 15:08:31
2019-04-12 15:10:21
Take a minute . . .