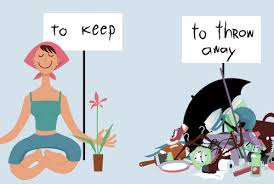 It's that time of year again.  Time to take a hard look at the accumulation of stuff around the house.  I don't think we have a lot of clutter, I mean, the stuff is stashed in closets and the doors do close, so it's not really clutter, right? Where to start? I always think garage, but Monty watched one session with Marie Konda and is convinced everything in the garage brings him great joy.  How can I argue with that?
In our twenty-five years of marital bliss, I have suggested numerous times we might sort through the clothes closet we share.  Monty meets my suggestion with a smile and proclaims great joy at having every shirt he owns hanging where he has easy access.  The mere suggestion that we create a change of season box for winter/summer items is met with a firm NOPE.   Periodically I cull some of my clothes but Monty looks a little anxious when I announce my stuff is going to find a new home. He laughs and asks if he has to peek through the bag to make sure none of his shirts are being re-homed.  He's joking, but I recognize the anxiety in his voice. 
Re-homing some of my clothes is a joke really.  I mean the good blouse I wore to work in 1999 is still my good blouse. A girl can't just get rid of the good blouse.  No one else would grant this distinction to my favorite blouse so I just keep it.  
A couple of weeks ago my good friend Susie, proudly showed me pictures of her closet and drawer re-do. It was magical, socks rolled to perfection, everything in color coordinated bins with easy access.  Her shirts were hung like a rainbow.  Marie Kondo should award Susie a gold star.  I was in awe of the whole thing.  I admit a little closet envy snuck into my voice as I congratulated her on a great job.  It's just never going to happen at the Bonello residence.   
Since nothing was going to change in the clothes closet I took on the   mission to sort through the travel closet, yes, we have a closet devoted to travel. It is filled with Motorhome magazines, each one with yellow stickies touting the wonders of a trip to . . .  almost anywhere a motorhome can take you.  We have old fold-out maps for almost every state and topo maps for the West.  The maps take up a lot of room because I don't have the required PhD in map folding. 
The task of clearing  brochures, flyers, and assorted pages from various magazines some dating back to 1995, is not a simple job.  You'd think with all the information available on the Internet we'd simply chuck all this stuff, but that yellow sticky with the hint about a roadside attraction outside of Memphis  might be just the thing to tickle our imagination  for our next trip.  
Long before we retired in 2002 I started saving travel articles.  We have a huge accordion file with fifty folds.  Each one represents a state and contains information on State or National Parks, must see  waterfalls, and scenic drives. When the file got too heavy for me to lift I resorted to marking magazines with tabs identifying the travel articles by state.  I can pull a stack of magazines and quickly flip through the tabs. Then there are the four 16 gallon rubbermaid boxes marked, Northeast,  Northwest, South and Southwest.   Let's face it nobody gets too excited about a trip to Kansas unless grandkids live there.       
 I resolve, this time I'm going to be ruthless with my decluttering and toss the Mississippi 2004 events catalog.  On second thought many events are held yearly and we might want to be reminded of the Crawdad Festival the second week in April.  I better save that one.  Oh, and then there was that special trip to Maine we loved.  The list of the ten best lobster shacks in Maine will never be tossed out.  No surprise, I didn't make a significant dent in the travel closet.  
Some people might think it is foolish to save all this stuff, but it brings Monty and I great joy to remember past trips and plan for new adventures.  I think even Marie would say it's OK to let it be.
 One thing for sure, wherever we go, we are going to have clothes for every season at our finger tips.   The clothes closet will never get a re-do
http://carriebonello.com/wp-content/uploads/2019/05/images-23.jpeg
184
274
Carrie Bonello
http://carriebonello.com/wp-content/uploads/2018/06/new-carrie-logo.png
Carrie Bonello
2019-05-16 16:55:27
2019-06-24 15:12:35
Clutter?