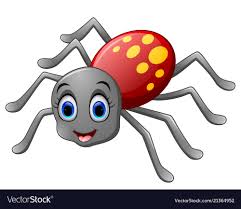 When Miss Daisy woke up this morning she immediately took off after a rather large spider she spied on the floor.  In her exuberance to pounce on it, the spider took off on all eight legs. 
The first I knew about it was when I returned from opening up the house and Monty was down on the floor shining a flashlight under the bed, while Daisy danced a jig next to him.    To my obvious question he announces they were  trying to get a large spider that went under the bed.  YIKES, does anything strike terror in your heart quicker than the thought of a large spider under the bed?  
I was on my way to the potty so this whole scenario  would have to wait a minute.  When I returned to the battleground I was anxious to know if they got the spider.  Monty nonchalantly announces, no, they couldn't find him but there are some dust bunnies under the bed the size of small farm animals.    
Now gentleman, I ask you is this the right answer?  NOOOOOO. The right answer is yeah we squashed that spider flat as a pancake.  He won't be bothering us in the middle of the night.  This is the perfect time to use the little white lie.  No one wants to know there is a spider the size of a saucer loose in the bedroom and especially not under the bed.  I won't sleep a wink. 
OK, about the dust bunnies, I looked and they weren't THAT big, a couple of them actually looked like little bunnies, kinda cute really.  In my defense, I run the vacuum under the bed but Monty has a large plastic container full of sweaters under the bed.  The container was wedged in the corner and prevented the vacuum from doing its job.  
That could bring us to a whole discussion on the need for sweaters in Tucson.  Apparently these are all favorite sweaters that started their lives in Colorado where sweaters are a fashion statement.   I might add Monty moved to Tucson in 1984!  I've never quite grasped the need for sweaters in Tucson.  Sometimes it feels like sweater weather here, but even if it is cold enough outside it is too hot to wear a pullover sweater indoors.  That being said, there was no use mentioning it.  
I hauled out the vacuum and switched attachments to the crevice device and swished it around under the bed.  The dust bunnies disappeared but I didn't see any spider clinging to the crevice tool.  I'm not comfortable with this whole spider thing.
I don't know where Monty and Daisy are sleeping tonight but I got dibs on the couch.  
http://carriebonello.com/wp-content/uploads/2019/05/Unknown-7.jpeg
209
241
Carrie Bonello
http://carriebonello.com/wp-content/uploads/2018/06/new-carrie-logo.png
Carrie Bonello
2019-05-30 15:20:13
2019-05-30 15:20:13
The Spider