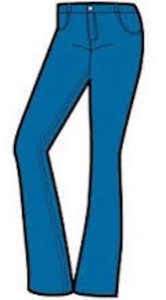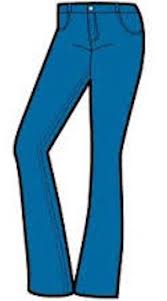 Who wears the pants in this family?  Apparently who ever gets to them first.
While preparing to do some spring painting I looked everywhere for my old work pants,  you know, the ones with the hole in the knee and the multicolored paint spatters.  The old favorites that I couldn't bear to see relegated to the rag bin. Nope, not in the back of the closet, not under the old tennis shoes, certainly not hanging up next to the cherished prom dress.  I give up.  Maybe I did toss them out.  
Before I stormed out of the closet I spied a pair of Monty's old work  pants.  These were real genuine Levis, the bottoms and pockets were frayed to white threads.  Giving them that well loved look,  there was a mysterious tear mid thigh, that appeared to be a box cutter accident.  If I had a pair of suspenders to hold them up I'd be all set.  Surely he wouldn't care if I painted in these. 
I was feeling pretty good about the situation after I untangled my foot from the box cutter tear and managed to slide the Levis over my tennies.  I jumped around a bit and stood to fasten that legendary brass button.  WAIT a minute, what's going on? To my chagrin, these pants fit me perfectly, they were made for me.  How can this be? Either Monty has been sucking in his gut the whole time he wore these OR my butt is a lot broader than I thought.  I love these pants.  Let me look around, maybe Monty has others I could wear, you know good ones.  
I took off the raggy pants and started trying on other pants from Monty's side of the closet. I found a perfect pair of black Levis that looked pretty darn good on me.  They found their way to my side of the closet.  
As excited as I am to have new pants there is something fundamentally wrong with this situation.  Maybe he wears his pants form fitting and I prefer mine with wiggle room.  Surely that's it.  I've heard of couples that live together so long that they begin to look alike, but this is carrying things too far.  
Now if Monty feels his pants are getting a little snug he can just hand them over to me.  I've turned the heat up on the dryer, soon I'll have a whole new wardrobe! I don't think I'll ever find Monty trying on my old bell bottoms but I'm going to keep my eye on him.  
As I walked out of the bedroom, Monty smacked me on the butt and announced lookin' good momma.
I'm not sure I'm feeling the love!
http://carriebonello.com/wp-content/uploads/2019/05/images-26.jpeg
301
167
Carrie Bonello
http://carriebonello.com/wp-content/uploads/2018/06/new-carrie-logo.png
Carrie Bonello
2019-05-24 10:02:36
2019-06-24 15:19:18
Who Wears the Pants?