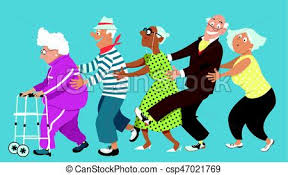 The cast of characters in this story include, my sister Marilyn, 89, Nat, 90, Biddy, 93, and the kid Brent 72. Bit parts are played by Jim, Mary, and Buddy.  The names have not been changed-no sense spoiling their fun now.
Fellowship Square is a large independent living complex for seniors, on Tucson's Eastside.  The four story buildings are generously referred to as Villas. The beautiful green grass and abundance of flowers are the first thing to catch your eye. There are five swimming pools, a gym that Bally's would be proud of,  laundry facilities, a well stocked library, a lovely dining room serving three meals a day plus a Bistro for quick or carry out meals, and an activity room that never closes.
Marilyn moved to the Square a few years ago and she is having the time of her life.  She has become a  competitive Wii bowler, attends fitness and yoga classes, plays memory improvement games, that I can't understand, plus chair volleyball and a strange game played with swimming pool noodles that I can't fathom.  Something about whacking people with the longer blue noodles is involved.  I think it's best if I don't try to follow this activity.  
Marilyn turns in her puzzle card in each week hoping to be first with the right answers.  She has shared the puzzle cards with me but I've never been able to complete one. She and her cronies share a table to play Jeopardy.  They invited me to play one day and it was a hoot.  Nat chooses the category and dollar amount, agreeing on an answer is not easy but when they do Mary is the writer in charge of their white board, Marilyn is in charge of erasing the board because she is a neat freak, Brent collects and tallies the monopoly money winnings.  At the end of the session the table with most money wins. There are five or six tables playing and the competition is hot and heavy.   
Rummikub is played twice a week along with shuffleboard and Pinochle. This is in addition to bimonthly  meetings of the Conversation Cafe and TED talk discussions.    It wears me out just listing the activities, Marilyn is busy every day with something to keep both mind and body in shape.   
  The TED talk group has lively discussions on every imaginable topic. The religious backgrounds of this group are as varied as the states these folks refer to as home, they come from all walks of life, and backgrounds. I've noticed older folks hold to their opinions with gusto so the discussions are entertaining to say the least. All of it sounds like fun except the Pinochle.
Marilyn described her Pinochle experience last week . . . The game is set up.  Beverly is the first person to the right of the dealer she either bids or passes. After much hemming and hawing she decides to bid 20, Bertha is next, Beverly, did you pass? She doesn't wait for the answer but announces, I bid 19, no Bertha the bid is 20 to you, Ok I bid 21, I'll pass says Hazel, OK it's to you Beatrice, Spades. No, you have to bid more than 21 or pass, Oh I thought everyone passed.   
You gotta have a sense of humor to play Pinochle here, but considering one of the gals is 100 and the rest are in their 90's you have to give them credit for simply showing up! Marilyn just laughs and says she's gotta start hanging out with a younger crowd, at least for Pinochle.   
Nat and Brent are Marilyn's two big buddies.  She swears they only hang out with her because she still has a car and will do the driving.  I know that's not true.  They like to hang out with her because she is smart, funny,  quick to laugh,  and throughly entertaining.  On Sundays, when the dining room closes early, the three Musketeers  pile into her car and head out for the early bird special.  The latest coupon acquisition usually determines the destination.   
Brent is the kid on the block, I think he is everyones favorite son.  Brent moved into the Square just before Marilyn and is her closest neighbor, there is frequent window tapping to signal the next activity is about to being. Brent taught Marilyn to Wii bowl and they are both fans of volleyball and yoga.  They play Rummikub from 6 – 7 pm every night while having long discussions on everything from religion to ancient aliens, interspersed with the latest Square gossip.      
Nat broke his back a couple of years ago but he is bonding with a new walker.    I called Marilyn's house the other day and Nat answered.  We talked for a few minutes and I asked him to give Marilyn a message.  He responded, "I'll tell her if I see her, but I don't know where she is."  I didn't bother to ask why he was answering her phone if she wasn't even home.   
Another time Nat picked up soup from the Bistro and stopped at Marilyn's to eat while they visited.   She was napping in her chair, so he just sat down and ate his soup. Marilyn woke up about the time he was washing up his spoon.  Nat assured her she wasn't snoring so all was well. If Brent and Marilyn haven't seen Nat during the day they go to his place to check on him and raid his freezer for ice cream bars.  Nat has a buddy who takes him to Costco specifically for ice cream bars for the gang.  
Marilyn loves her ground floor, end apartment, everyone living in Villa II passes by her door all day long.  Actually I think it is a bit distracting, people coming and going all day, many tapping on her window and waving as they go by.   
Last week Nat called Marilyn and the conversation went something like this –  
Nat- I found a pair of ladies black panties in with my laundry.   They are little panties, they could be yours.  Do you wear little black panties? 
Marilyn – NO, I don't wear little black panties. 
Nat – Well, I don't know who these belong to, do you want them? 
Marilyn – NO!, I don't want someone else's panties.  Just take them back to the laundry room and pin them up on the bulletin board.  Whoever left them in the dryer will retrieve them.  
On his way to a doctor appointment the next morning  Nat hung the little black panties on Marilyn's door knob.   It was afternoon by the time she discovered the unmentionables hanging on her door.   She was standing by the door muttering OMG when the ladies from Pinochle wandered by.  Needless to say, Pinochle took a lively turn that afternoon.
Speaking of laundry, the Square is getting a facelift with all new washers and dryers.  Nothing like new appliances to throw these folks into a tizzy.  It's not surprising most of the residents liked the old machines better, they were noisy and not energy efficient but they knew which buttons to push.    
Marilyn has the dryers figured out and is passing along her new found knowledge to the others.  Last week, Biddy couldn't get the dryer to work and after some frustration he simply used his  Life Alert call button to signal for help.  It worked, Security came running, thinking there was a medical emergency. They were no help whatsoever, they couldn't figure out the dryer instructions either.  They did  suggest Biddy try the maintenance people next time.  He should have just called Marilyn.  
The Life Alert system has been upgraded recently also and that is causing some problems.  The new call button can be worn as a necklace,  and during a hot game of volleyball Marilyn unknowingly  hit the button. When she got home there was a note on her door telling her security went in to check on her and didn't find her at home.  They should have checked the activity center, after all it was Saturday morning, after volleyball was yoga, memory games, and  Jeopardy.   
Marilyn and I have established a visiting routine and no one gets my time slot! My 1:00 Wednesday reservation is set in stone and as long as I leave by 3:00 she can get to Conversation Cafe or TED talks.  Otherwise I can call anytime and talk to her answering machine. 
I can hardly wait until I get old enough to have so much fun!
http://carriebonello.com/wp-content/uploads/2019/06/images-27-1.jpeg
175
288
Carrie Bonello
http://carriebonello.com/wp-content/uploads/2018/06/new-carrie-logo.png
Carrie Bonello
2019-06-20 15:51:41
2020-03-19 11:35:11
The Senior Village