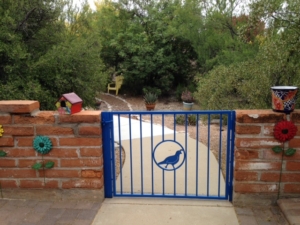 Several years ago Monty and I designed a winding path from the driveway to the front door. (you can see it in the distance) We hauled white rocks from the arroyo behind our house for a border and filled the walkways with gravel, it looked nice and I  liked the way it meandered thru the desert vegetation to our front door.  Monty wasn't quite as pleased with it because the cactus were always trying to overtake the path and that meant trimming them back on a regular basis.  Not to mention the snakes we've seen out there using the path like their personal super highway.
Friends and family have always used our back door, my guess is they've heard too many stories about the snakes. When people arrive at our back door they are welcomed into the kitchen first thing.  Most never leave the kitchen so I didn't have to worry about dusting the living room.   
Last year Monty decided we needed a sidewalk to the front door, the thought of the Fuller Brush man getting bit by a snake while fighting his way to the front door was keeping him awake at night. So we had a couple of guys come in and put in a nice sidewalk from the driveway to the front door.   
Since our friends never used our lovely winding path to the front door we never put much effort into fixing up the front of the house.  That didn't bother us too  much except now we have a sidewalk that practically invites people to the front door.  OK, one small step leads to another small step and pretty soon you are in the midst of a full scale project.    
The adobe half wall in the front of the house wasn't complete, we have no idea why, other than they just got tired of laying adobe and quit.  So we found a guy to put up nine feet of adobe wall.  Now we actually have a patio, well,  an enclosed space anyway.  It was still dirt and gravel with a dying potted cactus and a struggling bougainvillea that was over twenty years old.      
Several years ago we had a pavers installed for a path in the back yard.   We resurrected the receipt from the very thick file marked HOUSE and found Scott is still laying pavers. He arrived the next day and said he could squeeze us in later in the week and now we have something that looks like a patio.   All we need is a gate to make it look finished.
 There is nothing Monty likes better than a project he can get his hands on so off we went to Santa Rita Steel and Monty loaded up on stuff to  build a gate.  Ah, the  smell of a welder in the morning and the sound of a grinder in the afternoon and I have a happy hubby.  The gate turned out great, and after some experimenting learning to work with the adobe, Monty got it installed.  We couldn't be happier with it.  (intro picture)
In the meantime I was busy finding some cheery decorator touches and a couple of chairs. OK, my contribution to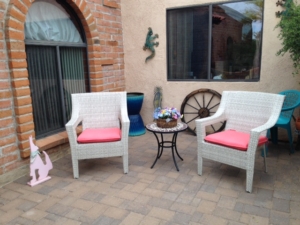 this project was more a supervisory role but I did paint the decorative metal screen door, and I don't want to disparage the cool Big Lots metal flowers that now adorn the patio wall. Although assorted pots with interesting plants would be ideal, we are determined not to add any more watering projects.  
In 1995, when we bought the house we did a complete re-model of the kitchen.  When we retired we expanded two bedrooms, one into a master suite and  the other an office/work area and extended the garage (that was the demise of the original sidewalk) Later we added a pantry and an eight foot window over our kitchen table.  We haven't been idle homeowners but for some reason we never got around to replacing the front door.  Let's face it, we never used it.  You can see the writing on the wall, now people are actually using the front door so another trip to Home Depot is in order.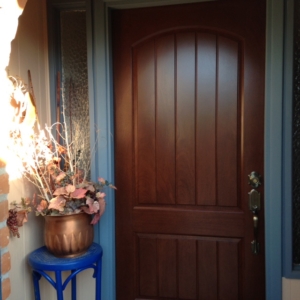 Monty and our friend Bob spent a Saturday morning putting in a new front door and it looks beautiful.  Monty and Bob work well together, they have a mutual interest in 'projects' and they are a good team.  Thanks Bob!
The new patio has been nice bright spot to have coffee in the morning and enjoy the shade in the afternoon. It is nice to have a welcoming front area, it is another one of those times you have to ask, 'Why didn't we do this years ago."  
Amazing what a sidewalk will do.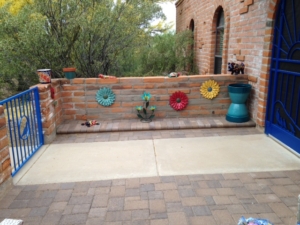 http://carriebonello.com/wp-content/uploads/2019/06/images-24.jpeg
260
194
Carrie Bonello
http://carriebonello.com/wp-content/uploads/2018/06/new-carrie-logo.png
Carrie Bonello
2019-06-06 16:34:38
2019-06-07 08:51:01
Voila a Patio!