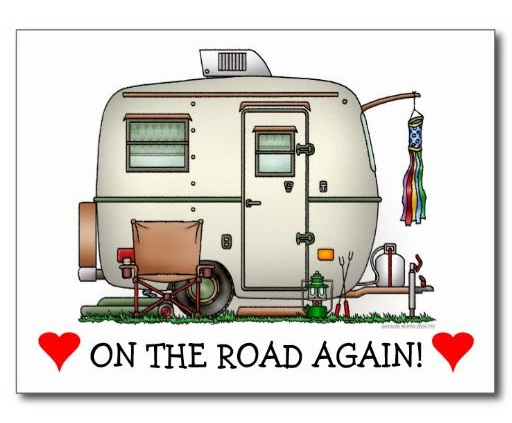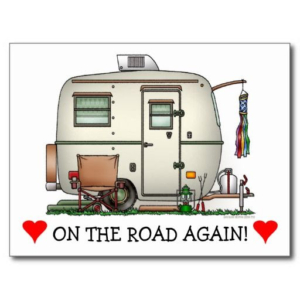 On the Road Again, not only one of our favorite songs, but our favorite activity.  Miss Daisy seem pretty happy about the traveling thing.  First she gets to sit on mom's lap while we travel down the road and then at night she manages to snag the prime spot in the bed, right between her people.  One morning we woke up to find her favorite Scooby Doo toy, on the pillow between us. When Daisy sees me reach for my nighty she jumps on the bed and claims the spot in the middle making a nice nest of covers.  
This trip is taking us back to Colorado but with an added perk.  Susie and Bob Bowers are our traveling companions and we've never had more fun.  Susie and I worked together at the UofA,  I retired in 2002 and helped her mark off the years until she retired in 2017.  It was quite a wait but, be we are making up for it now.  You might have met this couple in Musings, Susie in Clutter and Bobby in the New Patio.  They are much closer to our kids age than ours but they generously overlook that fact and treat us like peers.  
Forget the gorgeous mountains, green grass, tall trees and sunny 78 degree days, a trip to Durango is worth it for the produce alone.  The farmers market has locally grown organic produce, takes orders for grass fed beef and even has almond bear claws, from local bears!  We fill up on peaches, apricots, cherries and tomatoes that not only look like the real thing but taste like it.  
The local pet store advertises, 'Fresh Kittens, Stock Up Now'.  They encourage you to cuddle with the kitties but we know where that leads and don't want to take a chance.  The veterinarian office down the street has a  two sided marquee, one side states, 'Your dog called and said you were having fun' the flip side says, 'If cats could text, they wouldn't'. This is the same vet that had a sign last year that stated 'Our vet is hot, we shitzu not'.  In other words this is a fun place.  
We started the trip with our usual first overnight in Flagstaff, Bonito campground remains one of our favorites.  No cell service there, so there is no distraction from the wind rustling the pines.  The place was surprisingly  crowded for a Thursday night, almost every campsite was occupied. 
The next morning we headed through Tuba City and stopped for lunch at the Burger King in Kayenta.  This is not just any Burger King, this one houses an moving memorial to the Code Talkers of WWII.  We were impressed when we stopped to see this display about thirty years ago.The display cases have been refurbished and the memorabilia they hold is a testament to the courage of the group of twenty-nine Navajo code talkers.  Chester Nez, the last surviving member of this group, recently passed away at the age of 93.     
At Four Corners we stood on the surveying spike to have our pictures taken with feet and hands in all four states.  Susie had her picture taken here when she was ten years old. It was fun to watch her re-create that picture. 
We are looking forward to sharing one of our favorite National Parks, Mesa Verde.  Over the years we have enjoyed this park many times and we are never disappointed.  Our most recent trip here was in 2012 when we brought our grandson, Tommy.    Susie was here when she was a little girl, but this will be the Bobby's first experience at Mesa Verde. 
We gals enjoyed watching a group of Hopi children sharing some of the their traditional culture, dancing on the patio of the visitor center.  The guys were busy trying to secure tickets to see the dwellings.  Many things have changed since our first trip here many years ago, and one of them is the need to purchase ($5.00) tickets to see the various dwellings.  We secured tickets to Cliff Palace, the largest and most photographed dwelling, and Balcony House, a kids favorite, that includes a 30 foot ladder climb and the crawl through tunnel. This time the guys managed to snag tickets to Long House on Whetherhill Mesa.  This was a more rugged experience.  Lots of climbing, with a steep decent into the canyon and a difficult climb out and across the mesa. After the Long House hike we were ready for lunch and a siesta, then it was time to head out again for the Balcony House tour.  By group vote we decided, we'd had enough for one day and instead took a drive around the canyon loop road.  We had cameras and binoculars ready for great views of dwellings from the lookout points.  It made for a very enjoyable afternoon and we were ready for the Ranger talk in the evening. 
On the hike to Cliff Palace a young woman had a beautiful golden retriever service dog.  His collar stated he was a seizer alert dog.  There were stairs and narrow crevices to negotiate and the dog did fine. When the ladders came into play the young man accompanying the girl simply put the dog into a sling and carried him on his back up the ladders.  It was really something to see.  
After two evenings at Mesa Verde,  we headed for Durango.  Monty and I really love this town, it has a great feel, the weather is about perfect and the green grass and huge trees add warmth to the red mountains. I think this is the perfect place to spend the summer.  We have been here many times and have just started getting serious about spending more time here.  We love the RV park near the narrow guage Durango to Silverton railroad, the sound of the whistle a couple times a day makes us smile. The dog park is a fenced, grass covered acre.  Dogs of every shape and size play together while the owners share travel stories.     
We had tickets to ride the train last year but a wildfire closed the train and we were unable to ride.  Everything looked good this year and we had a plan that worked out perfectly.  The four of us rode the train together on separate days.  We took care of the Bower's dog, Brodie, while they rode from Durango to Silverton and they took care of Daisy while we rode the next day.  We drove the 50 miles up to Silverton, picked up Susie and Bob and had pasties (a miners lunch) at a local restaurant. We were anxious to show them some of the places where we have spent time in the Silverton area, they graciously let us drag them to waterfalls and regale them with tales of past trips and awesome hikes we made in our younger years.   (They are such good sports) 
We made our reservations separately for the train and selected different accommodations.  Susie and Bob selected the parlor car with real grown up amenities and we chose the car with a living history narrator.  The Bowers' enjoyed adult beverages and we enjoyed hearing  about Durango and Silverton in their heyday as told by the pioneer, Victoria Day.   She was indeed a lady before her time and had great stories to tell. We loved not only the incredible scenery but the whole experience.   We had to laugh when Victoria told about Durango in the 1800's with 57 liquor establishments and one church.  The preacher, wearing his six guns,  went from bar to bar to preach and took up offerings. He lived quite well on his take.  The young men who mined the Silverton area worked in shifts, and shared a bed, the night shift crawled out of bed and the day shift crawled in the same bed.  The mine owners were afraid the miners would bolt when they got paid so some companies  only paid them twice a year, on the 4th of July and Christmas.  What an incredible time in history.   
Susie and Bob spent one morning on zip lines running at tree top-level through the forest.  No cameras allowed, or we would have been there snapping pictures for their photo album.  As it was we had to wait until they landed to hear all about it.  Their smiles said it all, they had a grand time.
Not exactly a zip line thrill but, Susie, Bob and Monty took advantage of the Alpine Slide at the Purgatory Ski resort.  This is such a fun ride, Monty has raced down the hill on two separate occasions with grandsons, Daniel and Tommy and he gave a good run to Bobby this time.  Susie was looking good as she flew across the finish line.  I'm the official photographer.  We loved seeing all the activities with kids, parents and grandparents all cheering kids on the zip line, trampoline, bouncing castle and a new roller coaster that looked way too scary.  In the winter this place is a full fledged ski resort but they aren't letting the lack of snow slow them down in the summer. 
Since we are hanging with a younger couple we had burgers and beer at outdoor venues with music.  Big Boozer and the Suitcase Queen played  in the oil change area of a converted Chevron station, food trucks lined the parking lot. The food was a mix of tacos, sliders, sushi and Thai. Dessert was Thai ice cream made while we watched.  The cream is poured on a frozen slab, it is mixed, chopped and  eventually it is smoothed into a wide slab of frozen goodness.  Then a wide spatula is used to roll the frozen concoction into roll ups and placed into a cup, whipped cream and toppings are added and voila you have a unique yummy desert. 
As you might guess, this is Chapter 1 of our summer vacation.  Stay tuned.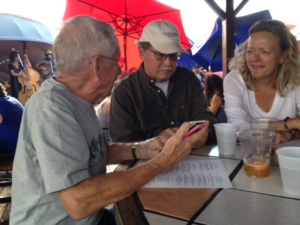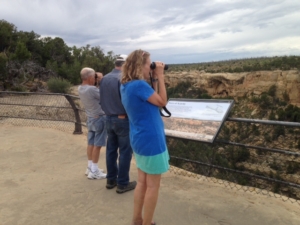 http://carriebonello.com/wp-content/uploads/2019/07/unnamed-1.jpg
512
512
Carrie Bonello
http://carriebonello.com/wp-content/uploads/2018/06/new-carrie-logo.png
Carrie Bonello
2019-07-10 08:40:10
2019-07-10 08:40:10
Summer 2019 Part 1