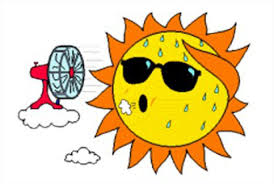 Hotter than a pepper sprout – thanks Johnny and June 
Hot as H-E double toothpicks – we said this growing up,  it was like      swearing and we giggled. 
It's a dry heat, – then some smart ass will say, 'Yeah but so's an oven but,  I don't want to live in one'
Hot as the hinges on the gates of Hell – my personal favorite
I remember an old saying about putting a frog in a pot of cool water on the stove, when the stove is turned on the frog will stay in the pot until he is cooked.  On the other hand, you can't put a frog in a hot pot of water, he will jump out. 
This is like a Tucson summer.  It starts out nice, just like that pot of water, April is nice, then begins to warm up in May. June is just plain hot and dry, July comes along and we start to think about late July and August rains.  With the monsoon on the horizon we cheer up at the thought of cool showers.  The humidity is up and the temps haven't really fallen that much. So now it is 105 degrees and 65% humidity.  Like the frog we just sit here and wait, oh, we complain a bit but like the frog, we just stay in the pot.  
That's the secret to surviving the summer in Tucson, stay in the pot.  If you spend a week at the beach in San Diego or the mountains of Colorado you realize there are actually places that have cool refreshing mornings, you might even need a light blanket at night while you sleep with the windows open. 
Once again we made the rookie mistake of spending some time in Colorado enjoying those wonderful cool mornings, walking barefoot in the grass, sitting in the yard under a great shade tree in the middle of the afternoon, taking a walk after dinner and remembering to grab a sweater.  
On our recent return trip to Tucson we got up early (4:30!)  to make the trip through Phoenix and that God forsaken wasteland before arriving at the outskirts of Marana.   The air conditioning in the motorhome was acting cantankerous on Thursday and on Friday it just brought in hot air from the 160 degree asphalt.  In the old days we said we had 440 air conditioning, 4 windows rolled down (it really was the old days)  and drive 40 MPH.  In the motorhome we didn't have that option. 
Someone turned the sun to broil and we were sitting in a giant soup can, surrounded by very large windows collecting every bit of heat.     I dug out some ice cubes and let Daisy eat them out of my hand.  Monty was busy muttering about the gates of hell.  I thought we might just burst into flames.  
Reaching our turn off at I-10 and River Road, we starting counting the minutes to our house.  Little did we know the city finally decided to re-pave River Road between Oracle and 1st.  What is normally a maze of pot holes to be avoided, turned into one lane of traffic backed up for blocks.  Monty had  several suggestions for the city, most of which are unprintable, but one thought was worth looking into.  Why doesn't the city adjust the traffic lights when they turn a major street into one lane.  Can't they just right click and make the light longer for the blocked traffic?   
The air conditioning at the house was set at 89 degrees while we were away so the house wasn't exactly cool, but cooler than the 105 registering in the motorhome. You know what they say about a little bit of knowledge, it's dangerous, now we know there are places that actually celebrate summer.  We want to be there to sit in the shade and help the folks eat tree ripe peaches, garden tomatoes and cherries right from the tree.   
I grew up in Tucson so I know if you never leave the Old Pueblo in summer, life just goes on, you get used to staying indoors with the air conditioner set on chill.  I used to think, it's no big deal, we just go from the air conditioned house to the air conditioned car to the air conditioned library or grocery store but now I'm thinking what happened to the great outdoors? 
Oh yeah, that's WINTER in Tucson. 
http://carriebonello.com/wp-content/uploads/2019/08/Unknown-8.jpeg
184
274
Carrie Bonello
http://carriebonello.com/wp-content/uploads/2018/06/new-carrie-logo.png
Carrie Bonello
2019-08-01 08:59:51
2019-08-19 09:11:22
Hotter Than . . .