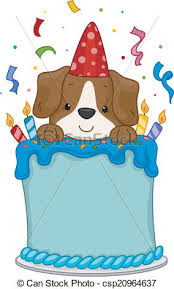 Miss Daisy is celebrating her first birthday this week.  It is hard to believe, it was just last fall we were up in Washington picking up our little bundle of fluff.
 As the saying goes, time flies when you are having fun.  Daisy has turned out to be the perfect fun size.   Knee high and about 35 pounds, exactly what we wanted.  We've met a few Goldendoodles that are bigger than a standard poodle (Yikes) and some that are much a smaller dog than we wanted. So like Goldilocks said, "This is just right". 
Daisy is bright, exuberant and fun loving, she thrives on being  brushed and enjoys snuggling together on our outdoor bench. She is also full of mischief, listens when it suits her, and carries on whole conversations with herself when she isn't pleased about something.  I never met a dog that actually mutters to herself.  I'm sure she didn't learn it from us.  
Daisy is a fierce throw rug fighter and can whip a throw rug into submission before we can perform the treat for rug trade.  We have no throw rugs anymore, I guess they were a nuisance anyway.    
If you've read postings about Miss Daisy you know she earned a graduation certificate from puppy school and enjoyed an outdoor fun puppy class.  Those were both good times but we needed a bit more help so we called in a life coach.  Karyn has been the perfect coach to help us maneuver through this year.  From Daisy's prospective she is thrilled to have Karyn teach mom and dad how to fit into her life here.   One of the best lessons we learned is the command, 'to your spot'. (for Daisy not us!)  Daisy knows her spot and stays there until released.  
The first time we put little Miss Daisy in the back seat of the car she quickly squeezed under the counsole and was in my lap before Monty started the engine.  She managed to squirm all over the front seat. We figured that wouldn't to work so Monty rigged up some cardboard and created a barrier to keep her in the back seat.  Daisy was OK with that and simply picked her spot to ride next to the window.  For months she jumped in the car and sat in her spot.  We took down the barrier and she still jumped in the car and moved to her spot, until the  day she stopped in the middle of the seat and looked up front. We could read the realization on her face, wait a minute, I can just step right between those front seats and sit up there with my people, mom and I can share a seat.   At least Daisy isn't a Great Dane!  Maybe we can get her a doggie car seat for the back.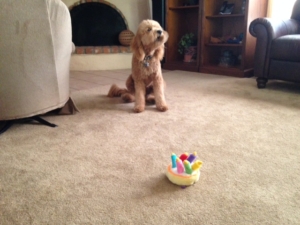 Daisy spent her birthday morning getting a bath, haircut and her nails done. Tuesday is senior discount day at Petsmart.  In the afternoon she got a stuffed birthday cake toy and of course, ice cream.  The toy is a cute stuffed cake with candles for chewing.  When the cake is squeezed it plays Happy Birthday.  Daisy was stunned the first time it played music.  She dropped it like a hot potato, cocked her head and barked the whole time it played.  When the music stopped she pounced on the cake.  
Living with a puppy is a constant work in progress, we have learned a lot about patience, apparently something we were lacking.  It helps to  be nimble on your feet to avoid being tripped and the constant stooping to pick up the scattered toys has become part of our regular fitness program.   
Karyn says we need some work, but we are catching on and will turn out to be just the parents Daisy wants.  Apparently Daisy sent her a text.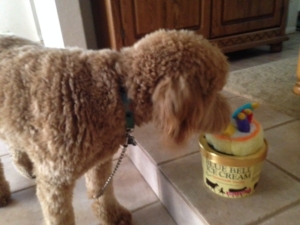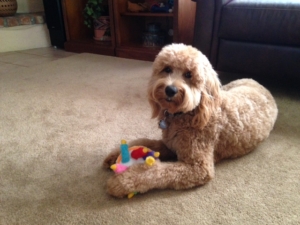 http://carriebonello.com/wp-content/uploads/2019/08/Unknown-9.jpeg
289
174
Carrie Bonello
http://carriebonello.com/wp-content/uploads/2018/06/new-carrie-logo.png
Carrie Bonello
2019-08-08 16:04:55
2019-08-08 16:04:55
Miss Daisy's 1st Birthday