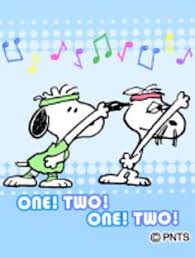 About two years ago I decided to join an adult fitness class sponsored by the Pima County Council on Aging.  I  had spent many years enjoying Jazzercise, but since my right arm isn't very cooperative anymore I decided to change to a class where everyone can work at their own level without being a distraction.  Little did I know I would discover a group of people who would enrich my life and become 'my peeps.'
The first day I attended the class, I was met by Zelda, a little slip of a woman who looked 'up' at me, a first for me, and announced, "I don't think I know you, who are you?"  Zelda has some trouble with her vision but after we were introduced she never forgot my name and always asked about our travels and our new dog.  One Monday I asked about her weekend she said it was a bit boring, she'd like to have a tad more excitement.  Zelda was a PE teacher in her younger years and it's pretty obvious when she shows off her soccer kicks.  She uses leg weights and hand held weights and only takes her chair when the rest of us do.   
Zelda arrives at the recreation center via the Sun Tran van and sometimes rides an hour before getting to the center. She never complains about the ride but says she sees some interesting neighborhoods.  In the summer, Zelda spends a month with her nephew in Las Vegas .  When she returned last summer I asked if she had a good time she  had a twinkle in her eye when she  replied, "You know what they say, what happens in Vegas, stays in Vegas".  Zelda is 96. 
Anne has become my role model, her enthusiasm for life and fun is contagious.  Anne has a spot in the back row of the exercise group so she can jump around and dance to the beat without disturbing those who are less energetic.  She is a busy gal, on Monday mornings she works in her church office,  she'll tell you she just sharpens pencils but anyone who's met her knows she is answering phones, taking messages, setting appointments, writing welcome notes to visitors, and yes, sharpening pencils.  Anne is a reading volunteer and Tuesdays mornings you will find her in a tiny chair reading to pre-school children.  She is the designated driver when she and her cronies go downtown to attend the monthly plays on Wednesdays. Thursday evenings is dinner out with the dinner bunch from the rec center.  They take turns choosing a different restaurant each week.    Sunday, of course, is church and lunch. Saturday must be her only day to put her feet up and relax.  Anne has traveled to more countries than I can name and has been to many of them several times.  Last summer she took a cruise around the UK, stopping to learn about the history and culture of each port.  This summer she is going to Iceland with her son and his wife.
During the holiday season she has a houseful of company when kids, grandkids and great-grandkids converge on her home to spend a week celebrating.  She says it is a whirlwind of activity from morning to night.   In the two years I've know Anne, I've never seen her without a smile or heard a discouraging word or disparaging remark about anything or anyone. Anne just celebrated her 89th birthday in October.  When I grow up I want to be just like her!  
Carole is relatively new to our class.  She attended the class that meets before ours and started staying for our class also.  Twice a week she meets with a former exercise group at another gym.  I feel like I have to sit down after hearing about all of her activities.  I was amazed to think that she looks to be my age  and is going to more than one exercise class a day.  The day I found out she was eight years my senior,  I almost turned in my tennies.  
I can't write about the fitness group without mentioning Millie.  Millie is a tiny little lady who uses a walker, and carries her portable oxygen tank with her to class.  In bygone years Mille taught fitness classes for people with osteoporosis. I'm not sure Millie is here because she likes to exercise, I think it is more because her daughter insists she needs to exercise.  The class serves as an important part of her social life, she arrives early and enjoys visiting with everyone while we wait for class to start and then she enjoys harassing the instructor about doing  'sits to stands'.  Nobody likes to do sits to stands, it is hard work!!  Millie celebrated her 90th birthday last summer.   
While this class has grown to a regular group of about thirty people there are ten or twelve of us who can be counted on to arrive early just to visit. The exercise is certainly beneficial and enjoyable but I wouldn't miss the opportunity to visit beforehand.  
There are a lot of youngsters, you know, folks in their 60's or 70's in this fitness class and everyone works hard to meet the challenges of these  seniors.  
If you look up 'inspiration' in the dictionary you might find a picture of my peeps.  These super seniors are truly an inspiration  not only in encouraging an active lifestyle but in their friendly all inclusive welcome.
http://carriebonello.com/wp-content/uploads/2020/01/images-6.jpeg
258
195
Carrie Bonello
http://carriebonello.com/wp-content/uploads/2018/06/new-carrie-logo.png
Carrie Bonello
2020-01-23 16:00:48
2020-01-23 16:00:48
My Fitness Peeps