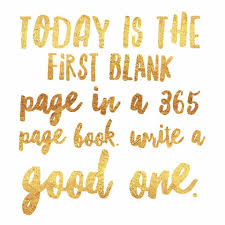 I love this idea. The New Year provides an opportunity to close the book on last year and start with a fresh page.  Think of it as a story yet to be written.               
When Monty and I finish breakfast I pick up the Daily Word and read the affirmation for the day and the short homily.  It has become a habit, one of the good ones we have embraced.
Throughout the year I find favorite affirmations that seem to resonate with me and I post those on the wall by the treadmill.  Whenever we take a walk we have some inspiration to brighten our journey.  Our treadmill is old and doesn't have a fancy screen to provide moving scenery or the latest sitcom, it's just a belt that goes round and round. We have to provide our own vision.      
I love the colorful affirmations posted at jaunty angles. These are just a few of the reminders that life is good and we have reason celebrate:
          I am gratefully and wonderfully blessed
          I celebrate the abundant nature of life
          For every life question, there is a Divine answer 
          Healing love flows in and through me. 
          Joy is the simplest form of gratitude 
     Posted along with these affirmations are some of the original  pages from the Daily Word that I've found especially enlightening.  One of my favorites is a post from 2017,  Life:
                                       One with God, I am the architect of my life, I build my best life.
          I am the architect of my life.  My thoughts and actions shape my experience.  As I think positively and act             affirmatively, I affect every experience I encounter, bringing order to the world around me.
          If conditions in my life change in a way that is not part of my plan, I do not lose heart – rather I turn within and     realign.  I redraw the blueprint of my life, knowing divine order is the foundation on which my life stands.
          I view each change or challenge as an opportunity to realign.  I hold to my faith and let my inner light shine.  I embrace the moment and look for the blessings – what I can give to and what I can learn from each experience.  I continually create a life that is best for me.  
          As I look beyond the confines of my own story, I recognize the value that each person brings to my experience. I take a moment to give thanks for each one in prayer. 
     Whether we've been friends for many years, worked together, met on the tennis court,  played pickleball, or we've enjoy Jazzercise and fitness together or I've enjoyed your music with Monty, thank you for being part of my story.   Each of you have enriched my life.  
     When you find me in your morning in-box know that I have said,  'Thank you', every morning when I click your name.  
Want to join the group? Let me know, I love saying good morning  with a smile and a picture that Mother Nature provides.    
http://carriebonello.com/wp-content/uploads/2020/01/images-1.jpeg
225
225
Carrie Bonello
http://carriebonello.com/wp-content/uploads/2018/06/new-carrie-logo.png
Carrie Bonello
2020-01-02 17:33:29
2020-01-02 17:33:29
Page By Page