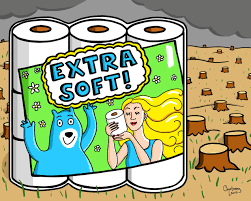 Coronavirus  – the mere whisper of the word sends America on a bee line to Costco for toilet paper. 
We did our part, we circled the parking lot three times and lined up with everyone else to get in the door. We weren't sure why we were there but everyone was desperate to get in and we didn't want to be left out.  We joined the Conga line of people inside the door closely following the lady in front of us wearing snug yoga pants.
I moved slowly in the single file line following the yoga pants while Monty grabbed three bags of our favorite trail mix and two bottles of a nice red blend. I was beginning to feel a bond with the lady in the yoga pants. My new BFF and I made our way through what was previously the paper aisle.  We were greeted by empty pallets.  Miss yoga pants was indignant about the lack of toilet paper and bought four six packs of Kleenex as a back up. I started to pick up some Kleenex but I don't like tissues in those little square boxes.  I prefer my tissues laid out nicely in the regular size box.  What was I thinking?  We might never find Kleenex again.  
People were looking a little frantic about the lack of toilet paper and seemed to be just grabbing stuff off the shelves.  I failed to understand how Tide detergent or Dawn dishwashing soap would take the place of toilet paper but I was afraid to ask.  
We cruised through the frozen food section and grabbed a box of fried rice and slowly made our way to the pharmacy area.    Multi vitamins are on coupon buy this month so we threw in a bottle of those and decided our job here was done.  
The end of the check out line was back in the no toilet paper area.  There we found Miss yoga pants, who was  talking to a manager about the TP situation.  I don't know why she was so upset, she had lots of Kleenex and that pallet was now empty.
I don't know what I was thinking when I passed up the Kleenex.  We have an extra roll or two of toilet paper but since I have a limited knowledge of origami that TP won't last long.  I have discovered that one square folded in fourths will work for a quick pee pee trip.  Any trip more serious than that and the one square deal won't work.  (don't ask me how I know).
I met a doctor a few years ago who mentioned TP was a wood product and not the best thing to use on delicate lady parts.   I thought it was an interesting observation but couldn't quite adjust to the drip dry concept.  I may have to re-think that.  
My daughter just told me about a great invention.  In lieu of a fancy bidet you can attach a sprayer (similar to the kitchen sink sprayer) to the fresh water tank on your toilet. NOTE it is very important that you  recognize the difference between the fresh bowl and nasty bowl while connecting this device.  Once you take care of business, just give your parts a quick spray,  no need for toilet paper.  
I think this is a great idea but there again is the drip dry problem.  I guess in the modern tiny toilet room there will be a need for towel hooks.  It might be just me, but I think 'his' and 'hers' towels might be best.   
Wash your hands!!!
http://carriebonello.com/wp-content/uploads/2020/03/images-5.png
201
251
Carrie Bonello
http://carriebonello.com/wp-content/uploads/2018/06/new-carrie-logo.png
Carrie Bonello
2020-03-16 12:30:34
2020-03-16 13:53:33
TP Gone Viral