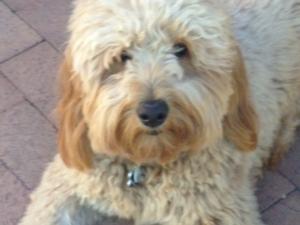 Mom said I could have the staring role in the blog today (just like everyday at home)  After dad and I go for our morning walk I'll get to work.  Let's see. . . ..
I'm a year and a half old now and I've have spent a lot of time teaching my people how to live with me, the Queen of the Universe. I admit at first, I  spent a lot of time trying to get their attention by untying their shoes, and tearing their pant cuffs.  When that didn't work I tried the scratch/bite method.  They kept tossing the ball and muttering encouraging words, at least I think that is what they were muttering.  
I gave up the shoelaces and ankle biting and I've won them over, to my surprise, it was the snuggling and lap sitting that did it.  I've heard rumors that some people don't let dogs on the couch or want a forty pound dog snuggling on their laps but I don't believe it.  My people love it.  In the winter we are all warm and toasty, summer might be a different story. 
Sometimes when mom and dad go to the store they come home with a surprise for me.  They must like toys almost as much as I do, I love my toys and keep them all over the house.  I have a birthday cake with candles and everything.  It used to play music but I accidentally pulled  the stuffing out.  Dad took the Happy Birthday song out of it, but I still carry the birthday pancake around.  My current favorite is a blue dragon given to me by my friend
Miller.  I haven't met Miller but I've seen pictures of him and he looks a lot like me.  My second favorite toy is a woodchuck I call Woodrow.  I like him so much I got one for Miller too. My toys are indoor/outdoor toys and if I forget and leave Woodrow outside when the family comes in the house, mom reminds me,  'Go get Woodrow'.  I run and grab him and hurry inside because it might be dinner time.
Meal time at my house is always different.  I have a big bag of kibble in the pantry and some of that goes in the bowl but the best part is the stuff on top.  Mom selects from a rotating menu of: eggs, cottage cheese, chicken, green beans, (I like the french cut ones best) carrots and sometimes there is a cherry tomato on top.    She is just like a chef, but she doesn't wear a funny hat.  
I wish I could show you all my favorite rocks, they are all over the house.  I like the smooth 'skipping' stones and the big ones almost as  big as dad's palm.  I bring them in and leave them on the floor in the bathroom, kitchen and on my shelf in the living room.  Every rock tastes different and it is hard to have a favorite.  Sometimes mom accidentally throws them out in the yard but, I can easily find them and bring them back inside where they belong.  When I was little I chewed on the rocks to sharpen my teeth, mom and dad were really impressed with how sharp I got those puppy teeth.  
Do you like birds?  My family spends a lot of time on the patio watching the birds.  Mom feeds them so there are a lot of different kinds of birds around all the time.  I love watching them fly across the yard. Sometimes they fly really fast between the trees and sometime I watch birds catch the thermal way up in the sky.   I'm intrigued by flying, I even like to watch airplanes, one time I saw one all light up at night.  It was beautiful. 
Everyone once awhile I run down on the patio and pretend to chase the birds, but I usually have the blue dragon in my mouth and the birds don't take me seriously, they know I'm a bit mischievous not malicious.  
Last week two quail came and sat on the window sill and tapped on the window, I know they wanted me to come out and play. I just sat real still watched them. I don't usually get to see them so close up.  They almost pecked right on my nose, I'm glad there was a window there or I might have been hurt.  
Mom and dad took down the agility stuff.  Talk about a stupid game, I was supposed to jump over some bars and when I got really good at it they raised the bars higher.  Talk about a motivation killer!  Once mom explained about the weaving poles it was fun to run through them weaving back and forth.  Mom and dad cheered and were so excited, really it wasn't that big a deal and after doing it a few times I figured, 'what's the point'.  Mom tried to entice me with chicken but I just couldn't figure out why I'd do that more than two or three times. I sat on the patio and watched mom weave between the poles but it seemed like a lot of trouble for a piece of chicken.  Mom didn't even eat the chicken!  
When we ride in the car people see us and laugh, I guess because we look like the three amigos. I like to ride up front with my people and look out the window with them.  Riding on mom's lap was perfect for me but not so much for mom; so dad built a metal frame with a wood top and covered it with carpet just for me.  Now I sit where the cup holders used to be and it is perfect.  Mom has to hold her own cup now but she said it is better than holding me.    
Along with birds, rocks and cuddling, the thing I like best is getting brushed. It's better than a massage, mom strokes my silky ears and if I turn this way and that she can brush me all over.  When I want to be brushed I lead mom to the couch and stretch up to get the brush off the shelf.  I think she has almost brushed the red color right off of me.  I used to be a bright red color like my dad but I'm beginning to look a bit like my mom.  (happens to all of us girls, I guess).  Mom was a beautiful cream colored golden retriever.  
Sometimes I wonder where my ten siblings are now.  I hope they have rocks, and toys to play with; birds to watch and good stuff on their dinners.   I love it here with my family.   
http://carriebonello.com/wp-content/uploads/2020/04/IMG_3302.jpg
480
640
Carrie Bonello
http://carriebonello.com/wp-content/uploads/2018/06/new-carrie-logo.png
Carrie Bonello
2020-04-30 09:56:26
2020-04-30 09:56:26
Daisy's Turn