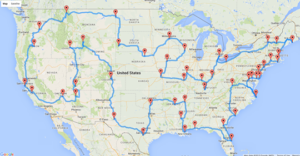 On the left you see the map of the most efficient road trip across America. (according to Mr. Google)  Apparently Mr. G doesn't recognize Southern Arizona! We've never taken a trip that looked like this, but then we've never put efficiency as a criteria either.   I'm thinking we've been to many of those places, we just got there at different times. I can see many places  we have visited that aren't on this map, so I guess you can assume one map will not cover it all.
Our first road trip was in the spring of 2002 to the Florida Keys, that was an easy one to start with, pretty simple really, head east.  Even in the beginning we tried to stay off the most traveled routes and take time to see the small towns and back roads.  We returned home after several weeks on the road and immediately started planning our next tip to see Washington and Oregon in the fall.  Considering we did this with a small camper on the back of the truck, towing a Geo Tracker  it was something that we never considered needing something bigger before planning our next rip.  
I know some folks just want to drive from point A to point B and the faster the better.  Luckily for us, Monty and I are on the same page, it's not the drive that is fun, it's seeing things along the way.  If you are going to travel to new places, research and planning are part of the fun.  The perks are numerous; new scenery, museums, historical sites, beaches, mountains, factory tours, local food, different cultures and customs. This doesn't just fall in your lap however,  it requires attention to detail, lots of travel articles filed away and access to the Internet for up to date information. 
We've always saved articles about out of the way places or special things to see.  We started this way before Al Gore invented the Internet and travel information was available at a click of a finger.  So we have a closet dedicated to travel, lots of little yellow stickies, magazine articles and maps.  
When we start planning a trip, we first decide on a final destination, then we work on the journey.  I start with a notebook, add index tabs for each state we'll travel through,  pull all the information we have for each state. Grab the three hole punch and go to work.  
The first page of the notebook is a calendar, invaluable to determine how many days at each stop.  As we make reservations etc, we use the calendar to keep track of when and where.   The first page of each section lists things we might want to see along with the location, phone numbers, hours of operation and cost. The rest of the section is comprised of articles we've saved through the years.  After the book is assembled we gather any additional material, like our travel bible, 'A Thousand Places to see Before you Die', the Good Sam Travel Guide and of course maps.  This all goes in a box we keep by the dinette so it is handy to consult each evening.  We stop at visitor centers because it is fun to talk to the docents and they offer great tips on places to see that we may have overlooked.  
When we return home I remove the hard cover notebook and clip the rest together.  You never know we might like to see it all again and the calendar and notes acts as a memory jogger.
The Northeast is a favorite destination for us. We love Maine and the whole lobster thing, we aren't interested in lobster rolls, we want the whole critter with the crackers to open the shell and the drawn butter for dipping.  A bib and lots of napkins are a requirement.   We love sitting in the sunshine at the picnic tables right on the water.  Most of the places are bring your own picnic baskets with wine, cheese and crackers to enjoy while you wait for the lobster to come out of the pot.  We enjoy hearing stories from the locals about living full time in Maine and sharing our road trip stories.  They can't believe we drive from Arizona just to enjoy what they consider routine.     
New Hampshire and Vermont are sprinkled with quaint villages, covered bridges and lovely homes.  I'm in awe of the well tended homes with so much grass it is almost green overload.  Upstate New York is beautiful and a stop at the Corning Factory is a must if you are in that area.  We've road tripped to the Northeast several times, but the journey getting there has been  different each time.   
We've come  up the East coast from Florida, enjoying the beach along the panhandle before spending time in St. Augustine, Savannah,  Charleston and Washington, DC, then heading further north.  
 One year we wanted to check out Missoula, Montana, and after enjoying this delightful community we headed east. We visited places in Wyoming, South Dakota and Minnesota, crossing the border into Canada at Stult Ste Marie, Michigan and visiting Montreal and Quebec before coming down into Maine to meet up with our lobsters.    
On one of our favorite trips we traveled through America's heartland.  What's not to love about corn as high as an elephant eye, produce stands along county roads and stock car races on Fridays nights.  We went back through Minnesota because  we wanted to see the  National Eagle Center in Wabasha, Minnesota.  We loved it and the slight detour was well worth it.  That trip we also stopped at the International Crane Foundation in Wisconsin and the a wildlife preserve in Ohio.  This trip wasn't all about critters we also enjoyed the Lincoln Museum in Springfield, Ill. On that trip we also toured the John Deere Factory.  Two of them to be honest.  The Five Island lobster shack was ready for us when we got to Maine.  
In our travels we've been to every state but North Dakota.  Actually we were within spitting distance last year but we were reminded of the guy who said the best thing to see in North Dakota was the sign  saying, 'Leaving North Dakota'.  We took that as a validation that we might not have missed much. 
One of the most important aspects of RV travel is the people we meet along the way. Monty and I enjoy reminiscing about the interesting characters we have met over the years.  The guy selling Tupelo honey along the road side in  Mississippi, the old gent fishing in the puddle (Gulf Coast) on the pier at the Ho Hum RV park in Florida, the couple on the beach in Florida that waited for us to return from a walk so they could tell us about fun things to see on the way to the Florida Keys. We took their recommendations seriously and stopped every place they suggested.  What a great time we had.  
In South Dakota we met a sculptor eager to show us pictures of her latest project. Several life-size sculptures depicting the Buffalo Jump. Kevin Costner commissioned the work for his new property, Tatanka near Deadwood. The grand opening for Tatanko was private but the next day we walked in a back gate (in our defense we didn't know it was the back gate) and Kevin Costner was there showing people around.  The sculpture is spectacular, Kevin looked pretty good too!
One of our very special memories is of an old woman in Nova Scotia.  We were walking on the boardwalk with our dog, Mattie. The woman was sitting at a picnic table eating ice cream.  She was all bent over with her head almost resting on the table. Her family was with her but they seemed to be ignoring her.  She glanced up and saw us with the dog, she slowly raised her hand and motioned us over.  Her eyes were moist and she was smiling while she stroked Mattie.  We stayed as long as she wanted to pet Mattie.  It was so touching, we can't mention her without our own tears.  These people are woven into the fabric of our lives.  That's what travel means to us.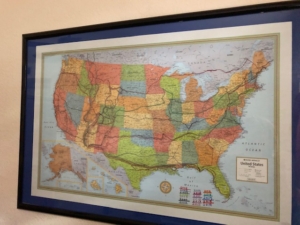 I've tried to get a picture of our travel map that looks nothing like the one at the beginning of this story.  The picture isn't very clear, at the bottom we have indicated the years (2002 – 2019) with different color pens .  (we ran out of colors several years ago!) Then we traced the trip with the corresponding color.   The lines across the South to Florida all blend together as do the ones leaving Tucson heading north through Flagstaff.  Lots of trips, all different, all memorable.  I compiled our trips into a book that we shared with family, we will always have a copy to enjoy while we sit in our rocking chairs on the porch.  When ever that happens!!     
http://carriebonello.com/wp-content/uploads/2020/07/unnamed.png
281
540
Carrie Bonello
http://carriebonello.com/wp-content/uploads/2018/06/new-carrie-logo.png
Carrie Bonello
2020-07-01 20:08:41
2020-07-02 07:56:50
Road Trip