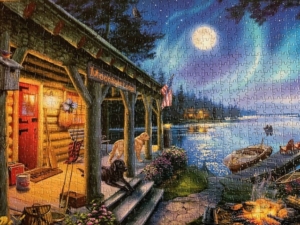 The mind is a terrible thing to waste.  With that thought we've been trying different activities here at the Bonello household.  
We picked up a couple of jigsaw puzzles and we have enjoyed working them.   I was at a disadvantage because by the time I was six or seven, my brother and sister were out of the house and starting their married lives.  I basically grew up as an only child.  Mom and dad didn't sit down to play games with me, and I don't remember ever having jigsaw puzzles around the house.  Santa brought a few for my children but then I was busy being the mom.  Like anything else learning the art of jigsaw puzzles take some time.  
Monty, grew up with two sisters around the house, and his spatial logic is very good.  When  the pieces are laid out he practically  knows where they go before I even find two edge pieces to stick together.  
The first puzzle we bought was just too daunting as far as I was concerned,  besides the fact that while I searched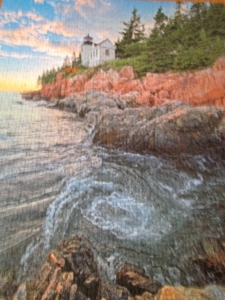 for matching edge  pieces Monty finished constructing the rugged Maine coastline like he lived there.   It was intimidating to say the least.   I gave up on that puzzle and simply applauded when he finished it. 
The next one was a stone castle with gardens and hot air balloons.   Monty realized I was beginning to catch on to the whole puzzle thing and let me do the fun stuff like the hot air balloons while he worked on castle part.  I was so proud when we finished that silly puzzle, you'd think I created a handmade quilt or something.  
The puzzle we are working on now should have said 2 – 5 years on the box, it might take us that long to complete it.  This 1,000 piece puzzle (pictured above) is from a lovely painting of a log cabin, on a lake, at night.  The log cabin is brightly lit with yellow and browns but the posts are in shadow and match the lake which matches the sky.  I realized if I sneak up on the puzzle and look quickly I might inadvertently see where a piece belongs, but sitting there for an hour produces no more results.    We've been dancing around the table for the last couple of weeks but our progress is measured in two or three pieces in place at a time. At this rate it shouldn't take more than two and a half years to finish.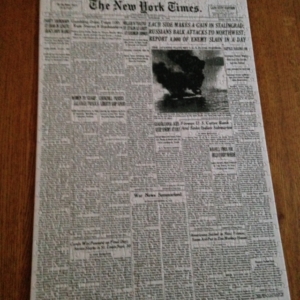 One of our grand daughters sent us a puzzle that was the front page of the New York Times the day I was born.  That was a challenge, the type was very small in those days, either folks had better vision or the Times was rationing  newsprint.  Whichever, Monty and I enjoyed the challenge and the news was interesting, this was September 1942. 
The point of the above story is the need to try something different, and something we might not do well.  Out of our comfort zone so to speak.  Along this same line I wanted to try my hand at Sudoku puzzles.   When I was in elementary school I had trouble grasping math concepts.  The teacher assigned me the task copying the four pages of tables in the back of the math book.  I dutifully did that while everyone else learned the real math stuff.  I did not get off to the best start, first because I felt stupid and second because everyone soon passed me by and I never did really catch up.  My confidence with numbers has always been bit shaky.    
I read the nine step instructions for the Sudoku beginner and the logic of the whole thing escaped me.  I went to my
source of all things and Monty patiently explained the basics to me.  I'd been watching him work on these puzzles with pencil and paper, and a good eraser.  I knew it required writing down a lot of numbers in little squares and then erasing them when you figured out which one  was correct. I know one thing for sure this game is much easier on an      I-Pad than with paper and pencil.  That's where I started and I know that made it a lot easier.  I wouldn't say I have mastered Sudoku but I have moved from Easy through Medium and now tackle the Hard ones.  Monty is nudging me toward the more difficult ones but I'm comfortable here.  Maybe that means I should move on. Monty does the expert level but we know he is an over achiever.  
Games are good for us especially now when we have less activities and we are spending more time at home. Remember then Trivial Pursuit was popular?  Back in the 90's Santa brought one to every family to promote harmony or whatever may result from good natured ribbing.  In my case I remember Monty and I brought one to his children for Christmas. We got out all the stuff and Monty chose to play with his daughter, Noel.  I played with Andrew, her younger brother.  I like to say the competition was fierce but it was no match. Monty and Noel seemed to have read all the answers, they didn't miss anything.  Andrew and I apparently knew stuff, but not anything to do with trivia.  At the end, Andrew announced he needed a smarter partner.  He's never been my favorite.  
I guess the object lesson here is to try new things and learn something in the process.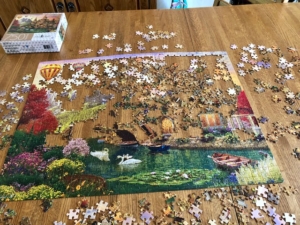 http://carriebonello.com/wp-content/uploads/2020/08/IMG_3481-rotated.jpg
640
480
Carrie Bonello
http://carriebonello.com/wp-content/uploads/2018/06/new-carrie-logo.png
Carrie Bonello
2020-08-29 10:47:32
2020-08-29 10:47:32
It's Puzzling