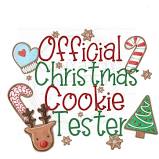 If everyone loves Christmas cookies,  why don't we make little green leprechaun cookies for St. Patrick's Day or turkey cookies for Thanksgiving, bunnies would be perfect for Easter?  I guess they are just a special because it is Christmas.    
I enjoyed making Christmas cookies with the kids when they were young, we made my mother's Swedish cookie recipe that she and her sisters made with their mom.  They were buttery, melt in your mouth goodness, a special holiday treat.  We dug out the cookie cutters and made reindeer, bells, and of course, Santas.  We were more likely to decorate with red and green sprinkled sugar than frosting. 
Making cookies always created kitchen chaos with bits of batter whipping off the beaters on to the cabinets and cooling cookies sitting on wax paper on every flat surface. Flour was everywhere and there was the occasional disagreement on who got to use the Santa cookie cutter first.  I don't remember anyone volunteering to help with the clean up, after all the fun stuff was done and when the kids had napkins full of cookies, the kitchen emptied out like the classroom when the last bell sounded.  The experience was fun and I consider it a great success because now my daughter,Tricia, makes those same cookies with her children.  These 'children' are all twenty-somethings but they still make cookies together.  
When I hear the word snickerdoodle, besides bringing a smile to my lips, I can almost smell that cinnamon goodness.   There is nothing better than the warm lusciousness of cinnamon and sugar on the sweet dough.  I like them warm from the oven and that might be the reason the microwave was invented.  Just pop yesterday's snickerdoodles in the in microwave for a few seconds they are just like fresh from the oven.  
My mom's go-to cookie was also a favorite of mine, oatmeal chocolate chip.  I probably made these cookies twelve or fifteen times a year for about forty years.  I haven't made them in a long time, it might have something to do with  eating a lot of the batter before they were actually cookies.  What could go wrong eating raw eggs and uncooked oats. Tummy aches happened even before the cookies were actually cookies.   
I rarely make cookies anymore, like I say about so many other things as I get older, 'it's just too much trouble'.  There is something about the whole cookie thing, having to organize the ingredients, get out the mixer and cookie sheets and then watch the oven like a hawk until the cookies reach that perfect cookie goodness.  I tend to wander out of the kitchen at the crucial moment  and the cookies reach an inedible crunch.    Really, it's not like I'm on a tight schedule here, I have the whole bloomin' day.  But it just doesn't happen.
Luckily for us we have a good friend who is not only a kitchen goddess, but a cookie legend.   Susie is not only a very special friend, she is an excellent cook and she is the one the Keebler elves call, Her Majesty .  Every year, at Christmas, Susie brings us a plate of her homemade goodness that is unparalleled in the cookie kingdom.  
Not only do we have a plate of special cookies but they come with Christmas Greetings and a complete legend of the cookies hiding inside the individually wrapped packets.  Each packet is identified with initials and match the legend.  This year there are thirteen very different cookies.  The pecan bars are a favorite and who doesn't love wedding cookies smothered in powered sugar.  There were two different cookies that had that melt in your mouth meringue thing going on. Cranberry, almond and also chocolate biscottis were perfect for coffee dunkin'. There were ginger snaps, and of course fudge.  There were chocolate covered peanut butter bonbons. I can't tell you how impressed I am with these, if you remember our failed attempt with chocolate dipped bourbon balls last year you know Susie is indeed the queen of cookie makers.    
We loved this years' new cookie,  cocoa, gram cracker crumbs, marshmallows bits and nuts rolled into marble size bites of goodness.  Susie said these cookies were very similar to the ones her mom used to make and she and her siblings loved.  She calls these cookies Betty's Gems in honor of her mom.  I'm sure her brothers and sister enjoyed reminiscing about their mom while savoring these morsels.  Every year Susie mails cookies across the country to family.  The postal service counts on her to keep them solvent.   
Alas, today we are finishing the last of the cookies. (sigh) Can't wait to see what next year brings!
http://carriebonello.com/wp-content/uploads/2020/12/Unknown-10-1.jpeg
159
159
Carrie Bonello
http://carriebonello.com/wp-content/uploads/2018/06/new-carrie-logo.png
Carrie Bonello
2020-12-17 08:33:28
2020-12-17 08:33:28
Christmas Cookies