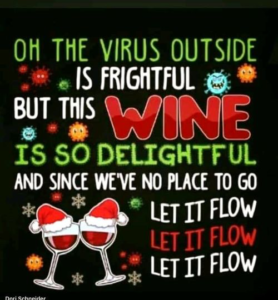 My daughter, Tricia, gave us a most unusual gift.  On the first of December she arrived with a large box, an Advent wine collection .  What fun, we get twenty-four days of wine tasting!  The box has round punch out holes in the top indicating the 24 days until Christmas.  Just poke out the perforated circle and pull up your bottle of wine.  The bottles are enough for a glass of wine for each of us.  At our house we consider a glass a good start!  But never fear there is an ample wine supply in the pantry to carry us through dinner.  
We aren't wine connoisseurs but we do enjoy trying new wines along with our usual standbys.  One look at the Discover bill will find Total Wine and More prominently displayed.  Our usual routine calls for Monty to check what's on the dinner menu and determine if it deserves a bottle from the wine cellar (OK I'm joking, we don't have a wine cellar, we do have a credenza full of the good stuff though)  and a pantry with 'better' boxed wines for a night of leftovers or hot dogs. We've never figured out if a nice red or a sparkling Chardonnay is better when the menu calls for waffles for dinner.   
I 'm perfectly happy with my boxed Rhine from Alamadin.  It has a refreshing taste and the box fits nicely on the refrigerator shelf.  It's better than having ice and water on the front of the fridge! Just open the door, push the button and fill the glass.  (as many times as you want, no one counts)   
  We do love reading the labels on the wine bottles, who can resist a Sauvignon Blanc with aromas of tropical fruit that led to a range of complex flavors with distinct mineral notes that finish clean and crisp. The Pinot Noir offers bright, ripe cherries and deep earthy flavors with spice and delicate texture. The Cabernet Sauvignon delivers an abundance of dark fruits, cinnamon, clove and toasty oak flavors.  This complex flavor profile compliments just about any well-seasoned meat, followed by a decadent chocolate dessert or espresso.  The cabernet should probably not be paired with hot dogs.  
The best part of this wine sampling is that Tricia and Erik also are trying the wines.  So each night we share a wine surprise.  This has led to Monty writing some sophisticated wine reviews.  I believe he really has a knack for this type of thing, he should write reviews for Total Wine and More, then we'd get the much needed, employee discount! 
Here's a sample of Monty's wine reviews:
Day One Review: I found the day one wine to be somewhat bold with flavors of dark berries and red fruits,  with just a hint of dark  chocolate from a mountain top sustainably farmed in a coastal rainforest.  I would liken the wine to a fair maiden beckoning 'come hither' but leaving you yearning and unsatisfied.
Day Two Review:A red blend created strictly from organic fruit hand picked by elderly ladies with gentle hands, leaving a carbon footprint no larger than a size five (and only AA widths).  A masterful blending of Cabernet Sauvignon, Merlot, and Norwegian SageBrush, and aged in discarded oil drums (once again the small carbon footprint).  The wine leaves a long finish on the palate, a pleasant fruity aroma, and occasionally a minor skin rash.  All-in-all a delightful experience and a bargain at half the price.
Day Three Review: The first thing I noted was this wine had a big nose, not unlike my Uncle Pug.  We used to say Uncle Pug's nose came around the corner several seconds before Uncle Pug did.  But, moving on….the wine delivered flavors of dark fruits (seems like a common theme going on here), cassis, and just a hint of a 13 year old's gym socks.  Bold on the palate with a strong finish, not unlike great sex, and a lingering sense of fulfillment (once again not unlike great….OK, ).  Pairs well with roast Musk Ox and flightless birds. Uncle Pug is gone but his schnoz is a family legend. 
Day Four Review: A Riesling, magically crafted with fruit from old, old California vines; dating back almost to the late-1980's.  Responsibly grown in a perfect microclimate, the tender ripening  grapes are only exposed to the sun during daylight hours.  Flowery aroma of Geranium (NOT the radioactive one) with notes of Casaba melon and burning cane fields.  Well balanced, like Olga Korbut on the beam.  A thrilling, crisp finish on the tongue (Oh, No, not going there!).  Pairs well with Krispy Kreme Donuts and sword fighting.
Day Five Review: This wine was an elegant addition to the wine event. Notes of tropical fruits (Hey, I don't just make this stuff up, you know!), day-old broccoli    and a hint of shrimp boat. The flavor profile is smooth and supple, yet tart, and very approachable.  Like a tart working the streets of Las Vegas.  Additionally there are wonderful toasty oak flavors; Sort of an oakey……toasty, okey……dokee thing goin' on.
We got an eye rolling emoji from Tricia, but I'm sure she is taking these reviews seriously. I think Monty has found his calling and this could be his perfect side hustle.   One of our favorite wines is Happy Camper, not so much for what's in the bottle, although it is a nice red,  but we love the label.  We never go camping without a bottle of Happy Camper.  
Speaking of labels, who can resist the titillation of Menage a Trois, the label says it all – Take a walk-on the wild side and explore the pleasures of our Menage a Trois.  Surrender to the seduction of dark, rich berry with a hint of peppers, a lush lingering finish leaving you wishing for more . .  
My goodness give me a heavy pour of that!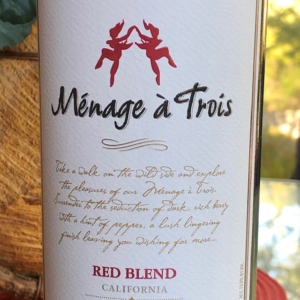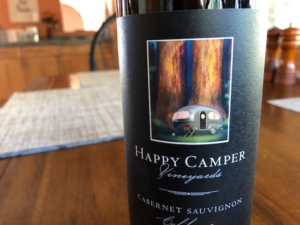 http://carriebonello.com/wp-content/uploads/2020/12/unnamed-1.png
540
500
Carrie Bonello
http://carriebonello.com/wp-content/uploads/2018/06/new-carrie-logo.png
Carrie Bonello
2020-12-11 08:54:48
2020-12-11 08:54:48
Wine for Two