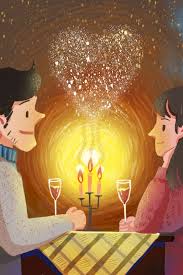 Last week we enjoyed a romantic candle lit dinner.  No special occasion, it wasn't planned, just sort of spontaneous, Ok the power went out, but still.  
I was busy warming up New's Eve leftovers when the lights flickered, hmmm that's odd. No big deal, then a longer S.O.S. sort of thing. Hmmm, do we have a flashlight? Too late, it's dark as the inside of a cow in here.  I say the first thing that comes to my mind:
Where are you?  
Looking for a flashlight. The flashlight is always in this drawer, why isn't it here?  
There is one in the bedroom nightstand.  Don't trip over the dog.
Where's the dog?  
I have candles, brand new ones, well this is a waste, no one uses new candles when there isn't company. 
Do we have matches? 
No 
How 'bout those lighter thingies for the grill?  
Are they in the garage? Where's the door? 
Try the junk drawer,  
Which one is the junk drawer?
On the end,
Good I found one, oh, it won't light, wait here's another one, where are you?  Do you have the candles?  Give me one, I'll go find a flashlight.   
I found it, boy these batteries are going.
The batteries are always going.  
I have to tell you, from my experience, the man of the house will complain about batteries for weeks.  There will be absolutely no changing the batteries because there is still a breath of life in them and no battery shall be put aside while it is possible to put out even a flicker.  There might be a dim glow emanating from the device.  Like something from an alien space ship,  but it's never bright enough to light the way to the mailbox in the dark.  I don't get it.  
We buy batteries at Costco because you can get fourteen D cell batteries for the price of seven at Walgreens.  Understand this is considered a lifetime supply, simply because we will never change the old batteries until the last dim light has passed. 
Strictly from a women's point of view, why own a flashlight if the damn batteries are so weak it might as well be a candle in the wind?  How many nights have we sat in front of the TV while Monty mashes on the remote because  the batteries are on their last breath?  I'm not exaggerating here, folks, we might go through this exercise for a week before Monty gives in and rips open the pack of forty, FORTY, AA batteries.  We could have new batteries in the remote on day two and save all the stress, cussing and lamenting 'these batteries are going'.  
It's a guy thing and I don't bother trying to change it.  
The dinner by candle light was nice, we'll have to do it again sometime, after all the new candles are used now.  
http://carriebonello.com/wp-content/uploads/2021/01/images-14.jpeg
275
183
Carrie Bonello
http://carriebonello.com/wp-content/uploads/2018/06/new-carrie-logo.png
Carrie Bonello
2021-01-09 13:30:46
2021-01-09 13:30:46
Dinner by Candle Light